PORSCHE WERKFOTO 1987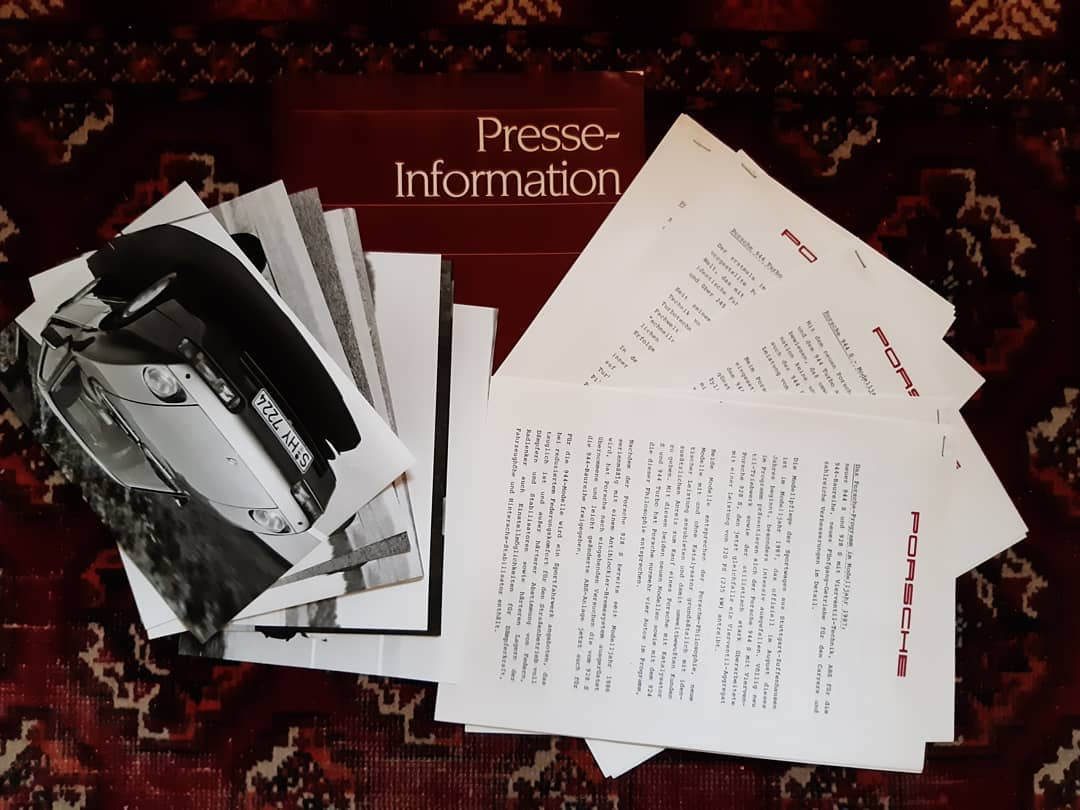 Here below you can find a general description of the cars and dedicated sections for each model of the 1987 Model Year. Original text in German, translated by NSL. Enjoy!
The Porsche range in model year 1987:
new 944 S and 928 S with four-valve technology, ABS for the 944 series, new five-speed gearbox for the Carrera and numerous improvements in detail
The facelift of the sports car from Stuttgart-Zuffenhausen was particularly intense in the 1987 model year, which officially begins in August of this year. Completely new to the range are the Porsche 944 S with four-valve engine and the stylistically heavily revised Porsche 928 S, which now also drives a four-valve unit with an output of 320 hp (235 kW).
Both models correspond to the Porsche philosophy of offering new models with and without a catalytic converter, basically with identical performance, and thus giving environmentally conscious customers an additional incentive to buy a Porsche with a catalytic converter. With these two new models and the 924 S and 944 Turbo, Porsche now has four cars in its range that correspond to this philosophy.
After the Porsche 928 S has been equipped with an anti-lock braking system as standard since model year 1986, Porsche has now approved the slightly modified ABS system adopted from the 928 s for the 944 series after extensive tests.
A sports suspension is offered for the 944 models, which is fully suitable for road use with reduced suspension comfort and, in addition to harder coordination of springs, dampers and stabilizers and harder wheel control arm bearings, also includes setting options for damper force, vehicle height and rear axle stabilizer.
While this sports suspension is available for all 944 models, the Clubsport package is limited to the two models 944 S and 944 Turbo. It is primarily intended for a very sporty driving style when used in racing and club sport competitions and corresponds to the equipment of the vehicles used in the 944 Turbo Cup.
With this equipment, which can be supplemented with a roll cage, bucket seat and six-point belt, the 944 S and 944 Turbo become sports equipment that is ideally suited to sports use, but which is still approved for road traffic. Comfort features such as air conditioning, power windows and seat adjustments are not available for these vehicles.
The most important innovations in the classic six-cylinder 911 Carrera are the now hydraulically operated and therefore more smooth-running and maintenance-free clutch and the new five-speed gearbox. The 1987 Carrera can be recognized by a new and more graceful design of the gear lever and the slightly modified rear end, which now has two rear fog lights integrated into the red light band.
In order to recommend that environmentally conscious 911 buyers buy a model equipped with a catalytic converter, the performance of the Kat Carrera has been increased from 207 to 217 hp and thus almost the performance of the 231 hp 911 without a catalytic converter.
New colors and additional leather appointments for all models are also among the innovations of 1987, as are fully electrically adjustable comfort seats with additional lumbar support and new radios with theft coding, which become inoperable after violent theft.
The favorable guarantee conditions that the Stuttgart sports car manufacturer was the first European automobile manufacturer to introduce have remained unchanged. The following conditions apply to a newly acquired Porsche:
two-year guarantee with unlimited mileage,
three-year paintwork guarantee,
ten-year guarantee against rust perforation,
twelve-month guarantee on Porsche spare parts.
With the model year 1987, new prices come into force. The non-binding price recommendations
(editor's note: in Germany, Deutsche Mark)
valid from August 1, 1987 (old prices in brackets):
| | | |
| --- | --- | --- |
| 924 S | 43,750.00 | (41,950.00) |
| 924 S automatic | 46,230.00 | (44,250.00) |
| 944 | 52,950.00 | (50,950.00) |
| 944 automatic | 55,430.00 | (53,250.00) |
| 944 S | 74,980.00 | ( - ) |
| 944 Turbo | 58,950.00 | (72,500.00) |
| 911 Carrera Coupé | 75,250.00 | (72,000.00) |
| 911 Carrera Targa | 79,250.00 | (76,000.00) |
| 911 Carrera Cabrio | 85,250.00 | (82,000.00) |
| 911 Turbo | 125,000.00 | (119,000.00) |
| 928 S Four-valve | 119,500.00 | ( - ) |
| 928 S Four-valve automatic | 123,750.00 | ( - ) |
The surcharges for models with catalytic converter are for the
| | | |
| --- | --- | --- |
| models 924 S, 944 and 944 S | 1,365.00 Deutsche Mark | |
| for the 944 Turbo and 911 Carrera | 1,575.00 Deutsche Mark | |
| and for the Porsche 928 S | 1,865.00 Deutsche Mark. | |