PORSCHE WERKFOTO
Porsche 944 Turbo - MY 1987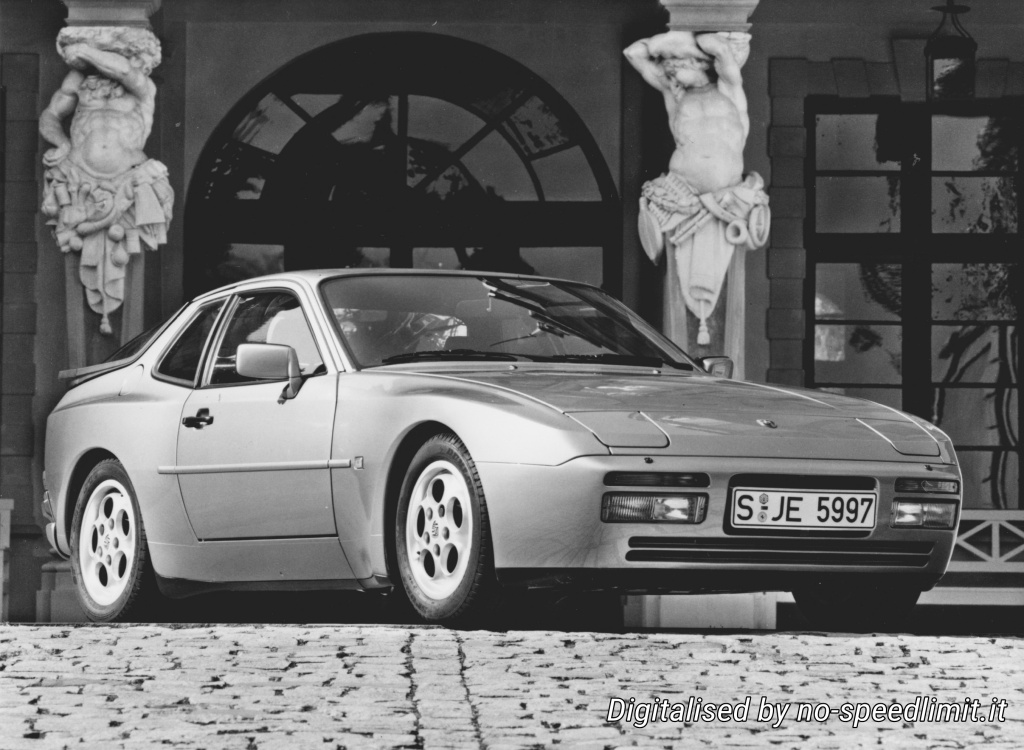 The Porsche 944 Turbo, first presented to the international press in the spring of 1985, is considered to be the first car in the world that has the same horsepower and driving performance with and without a catalytic converter - namely 220 hp (162 kW) and over 245 km / h top speed.
Since its debut, concentrated high-performance technology, fully packed four-cylinders with water-cooled and turbo-charged technology, has received a lot of recognition. The professional world celebrated it as the "cleanest sports car," the fastest cat car in the world ", and also in motorsport in the world, the Porsche 944 Turbo has already achieved success.
In the USA, the Stuttgart-Zuffenhausen turbos are always at the top of a racing series with near-production automobiles, and in Germany the Porsche Turbo Cup is considered the most spectacular racing formula of the year: the drivers in the catalytic converter Porsche, which runs on unleaded petrol, deliver it most exciting battles for positions of all.
But also two other events that Porsche wanted to use to document the reliability and durability of the catalytic converter in a high-performance vehicle were spectacular. An absolutely standard 944 Turbo covered German expressways in just 33 days, and a few months later the exact same car circled 50,000 kilometers in the fastest time in automotive history - 42,000 kilometers unleaded in 31 days.
The most important innovation in model year 1987 is the introduction of the ABS system for the 944 Turbo. This model is supplied as standard with the light alloy rim in perforated disc styling that was used from the start; the forged rim known from the Porsche 928 S is available for an additional charge.
Also new to the range are fully electrically adjustable seats with lumbar support that can also be adjusted electrically.
Technical data Porsche 944 S
Body:
two-door coupé body, 2 + 2 seats, loading flap in the rear
Engine:
longitudinal, 4 cylinder four-stroke in-line overhead camshaft 4 valves per cylinder, 2 balancer shafts for mass balancing, water-cooled, exhaust gas turbocharger
Bore:
100 mm
Stroke:
78,9 mm
Displacement:
2479 ccm
Compression:
8,0 : 1
Power:
162 kW at 5800 rpm (220 hp)
Max.torque:
330 Nm at 3500 rpm (33.6 mkp)
Transmission:
Front motor, transaxle unit and gearbox in the rear, screwed to a rigid drive unit by means of a connecting pipe
Brakes:
hydraulic dual circuit brake system, internally ventilated brake discs on the rear axle and optionally with ABS
Weight:
DIN empty weight 1350 kg
permissible total weight 1670 kg
Performance:
Acceleration from 0 to 100 km/h in 6,3 sec
Top speed 245 km/h
Fuel consumption (l/100 km):
at 90 km/h 6,4
at 120 km/h 8,8
city driving 12,4
See also: