PORSCHE WERKFOTO
Porsche 911 Carrera - MY 1987
More sophisticated than ever and more contemporary than ever, the classic sports car introduced 23 years ago is entering the new model year. While the Carrera engine with 231 hp (170 kW) and a displacement of 3.2 liters, which was introduced in model year 1984, remained unchanged, many detailed improvements guarantee that driving in its most beautiful form will continue to be valid.
The most important innovations are the now hydraulically operated and therefore very smooth-running and maintenance-free clutch and the new five-speed gearbox (
Author's note: the G50
), which has a modified shift pattern: until now (
Author's note: with the old 915
) reverse gear was bottom right, whereas with the new gearbox it is front-left.
A new and somewhat delicate, fancy shift lever visually signals the new transmission, which can be shifted more easily and more precisely than the one previously used. The rear of the fast six-cylinder also shows subtle differences compared to the 1986 model year. In the new year, the rear fog lamp installed on the left of the bumper is missing, now in duplicate with one that has since been integrated into the red light band under two rear headlights.
Larger wheels on the front axle 195/65 VR 15 instead of the previous 185/70, a more accessible adjustment of the electric mirrors, a light point on the door handle that reflects in the dark as an orientation aid and - on the Porsche 911 Carrera Targa - improved door seals and a rain bar are among those things which are now offered new and as standard.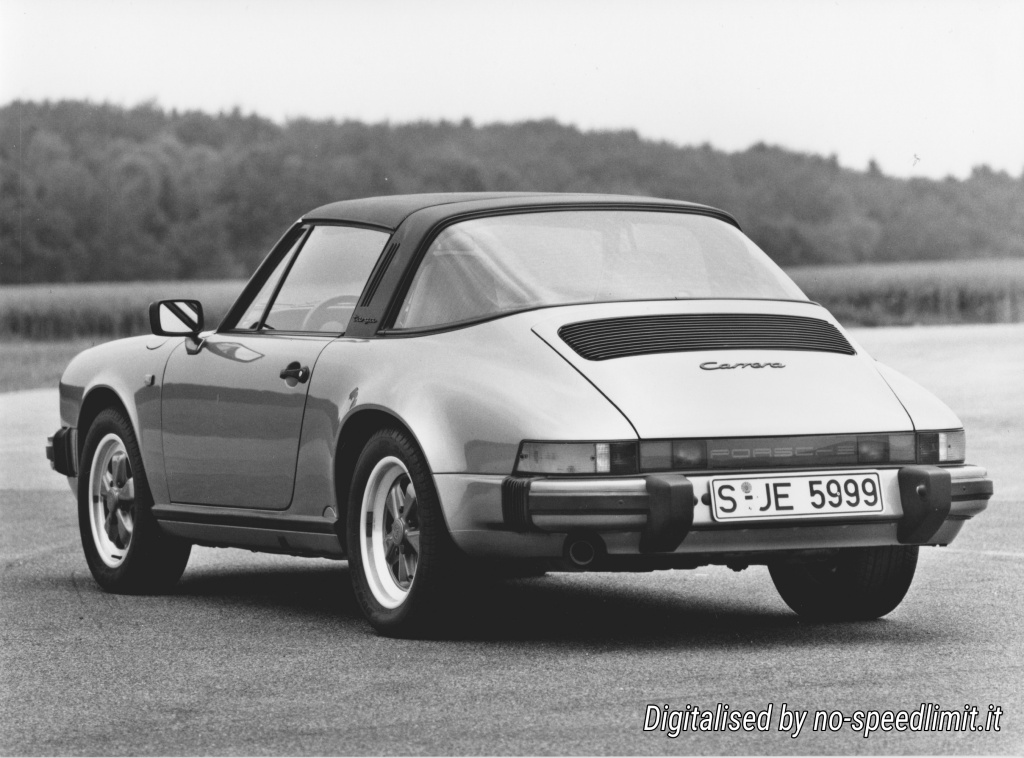 For a surcharge, fully electrically adjustable comfort seats with additional lumbar support and a headlight range control that can be operated from the dashboard are also available.
In the 1987 model year, the Porsche Carrera with catalytic converter offers more power and thus more driving pleasure: instead of the previously 207 HP (152 kW), the unleaded Euro Super fuelled Kat Carrera now climbs to 217 HP (160 kW) and rom the previous top speed 235 to 240 km/h.
Only in the catalytic converter version does Porsche equip the Carrera as standard with a thermostatically controlled oil cooler fan installed in the front right wheel arch, which keeps the oil balance of the environmentally friendly Porsche in order even in stop and go operation.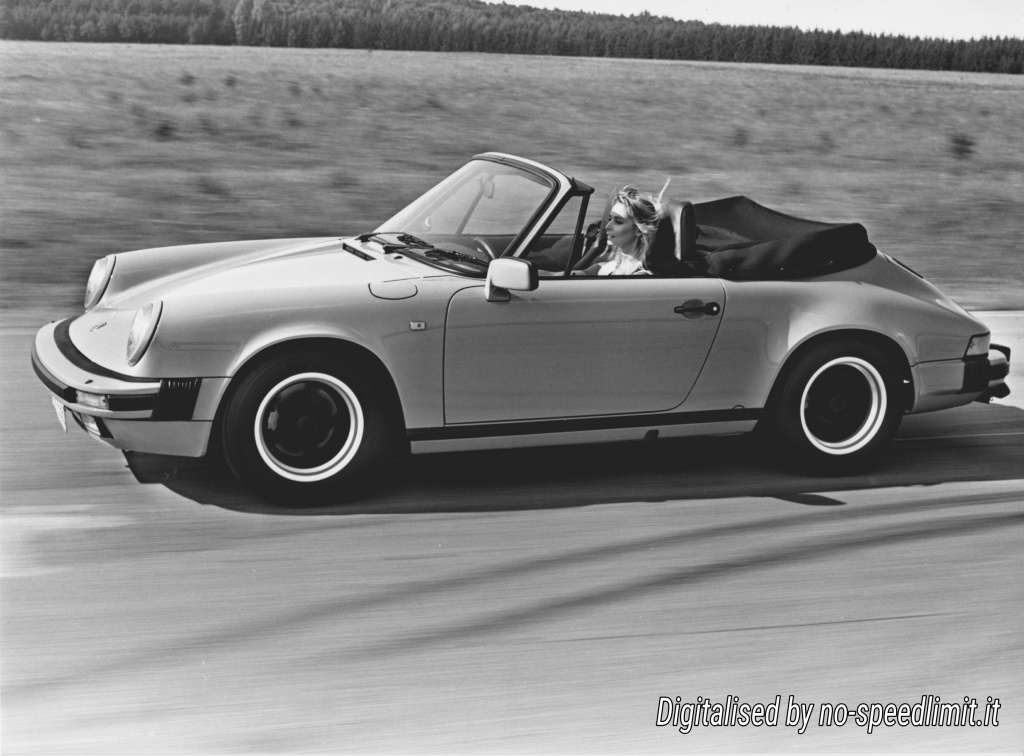 Technical data Porsche 911 Carrera
Body:
two-door body, 2 + 2-seater, Coupé-Targa-Cabriolet
Engine:
air-cooled 6 cylinder four-stroke engine with 2 opposite cylinder rows (boxer engine)
Bore:
95 mm
Stroke:
74,4 mm
Displacement:
3164 ccm
Compression:
10,3 : 1
Power:
170 kW at 5900 rpm (231 PS)
Max.torque:
284 Nm at 4800 rpm (29.0 mkp)
Transmission:
Motor and gearbox in the rear, bolted to form one drive unit
Brakes:
hydraulic with dual-circuit brake system, 4 internally ventilated disc brakes, brake booster
Weight:
DIN empty weight 1210 kg
permissible total weight 1530 kg
Performance:
Acceleration from 0 to 100 km/h in 6,1 sec
Top speed 245 km/h
Fuel consumption (l/100 km):
at 90 km/h 6,8
at 120 km/h 9,0
city driving 13,6
Technical data Porsche 911 Carrera catalytic converter version
Body:
two-door body, 2 + 2-seater, Coupé-Targa-Cabriolet
Engine:
air-cooled 6 cylinder four-stroke engine with 2 opposite cylinder rows (boxer engine)
Bore:
95 mm
Stroke:
74,4 mm
Displacement:
3164 ccm
Compression:
9,5 : 1
Power:
160 kW at 5900 rpm (217 hp)
Max.torque:
265 Nm at 4800 rpm (27.0 mkp)
Transmission:
Motor and gearbox in the rear, bolted to form one drive unit
Brakes:
hydraulic with dual-circuit brake system, 4 internally ventilated disc brakes, brake booster
Weight:
DIN empty weight 1210 kg
permissible total weight 1530 kg
Performance:
Acceleration from 0 to 100 km/h in 6,7 sec
Top speed 240 km/h
Fuel consumption (l/100 km):
at 90 km/h 7,9
at 120 km/h 9,8
city driving 14,9