PORSCHE WERKFOTO
Porsche 944 S - MY 1987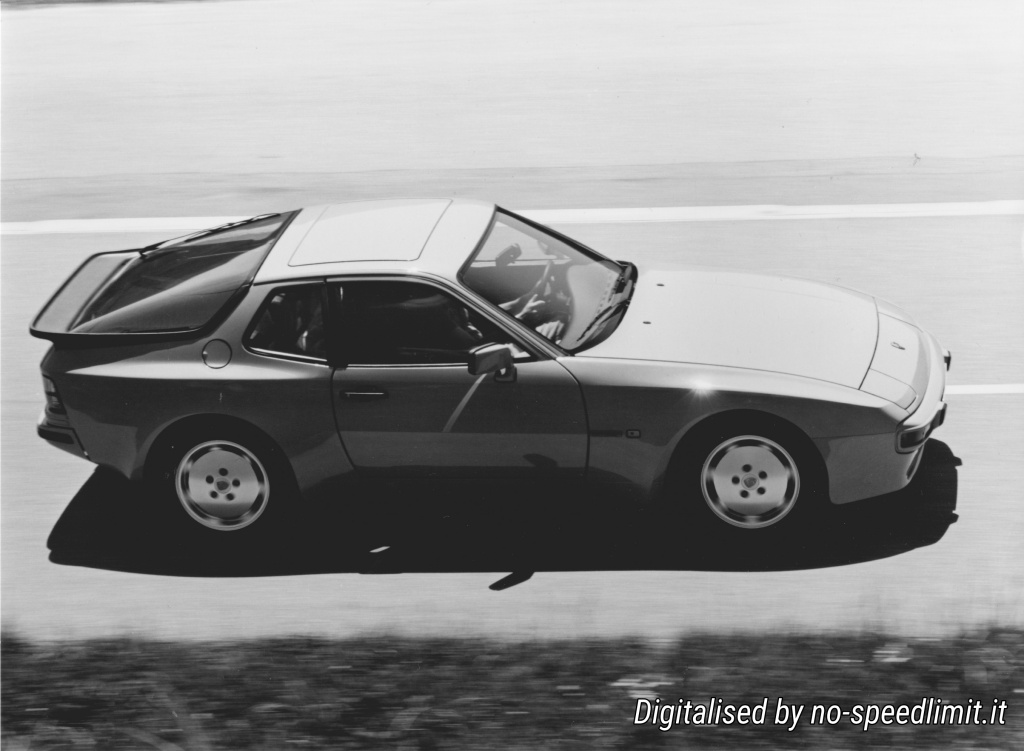 With the new Porsche 944 S, which is located between the normal 944 and the 944 Turbo, Porsche has once again proven that environmentally friendly technology and sporting fascination do not have to be mutually exclusive. The 944 S with and without a catalytic converter always has the same output of 190 hp (140 kW).
Four-valve technology is used in the Porsche 944 Sw with the aim of achieving lower pollutant emissions and low fuel consumption at the same time as the 944 has significantly increased performance. The double camshaft to cylinder head with 16 valves, the redesigned combustion chamber with a central spark plug arrangement and the knock control that has already proven itself in the 944 Turbo enable a high compression of 10.9: 1 and thus an excellent utilization of the fuel energy.
The automatic knock control proves to be particularly useful when driving in countries where the quality of the gasoline is not always guaranteed and where irreparable damage to the engine has occurred in the past. If the 944 S is refueled with "bad" gasoline with a low octane number, the knock control protects the engine by reducing the ignition point while reducing power.
Visually, the almost 230 km / h fast sports car with the large and practical tailgate differs only slightly from the 944: The marking is limited to the "944 S" - on request - a lettering integrated into the side protection strips in front of the doors sills reading "16-valve".
With the introduction of the Porsche 944 S, an anti-lock braking system is now available for the entire 944 series, which is largely identical to the ABS system of the 928 S. In order to achieve optimal driving stability in addition to steering ability when braking, the front axle was converted to a negative scrub radius.
In addition to the additional equipment already known from the 944 and 944 Turbo, such as power steering, air conditioning, electric windows or an electric lifting roof, the range includes:
a hi-fi sound package with amplifier, equalizer and ten speakers,
a split rear seat backrest with individually foldable backrests and a luggage compartment cover the type 928 S
comfort seats with electrical height, length and backrest adjustment and can be combined with seat heating and lumbar support.
Technical data Porsche 944 S
Body:
two-door coupé body, 2 + 2 seats, loading flap in the rear
Engine:
longitudinal, 4 cylinder four-stroke in-line overhead camshaft 4 valves per cylinder, 2 balancer shafts for mass balancing, water-cooled
Bore:
100 mm
Stroke:
78,9 mm
Displacement:
2479 ccm
Compression:
10.9 : 1
Power:
140 kW at 6000 rpm (190 PS)
Max.torque:
230 Nm at 4300 rpm (23.5 mkp)
Transmission:
Front motor, transaxle unit and gearbox in the rear, screwed to a rigid drive unit by means of a connecting pipe
Brakes:
hydraulic dual circuit brake system, internally ventilated brake discs on the rear axle and optionally with ABS
Weight:
DIN empty weight 1280 kg
permissible total weight 1600 kg
Performance:
Acceleration from 0 to 100 km/h in 7,9 sec
Top speed 228 km/h
Fuel consumption (l/100 km):
at 90 km/h 6,7
at 120 km/h 8,3
city driving 12,5
See also: