PORSCHE WERKFOTO
Porsche 924 S - MY 1987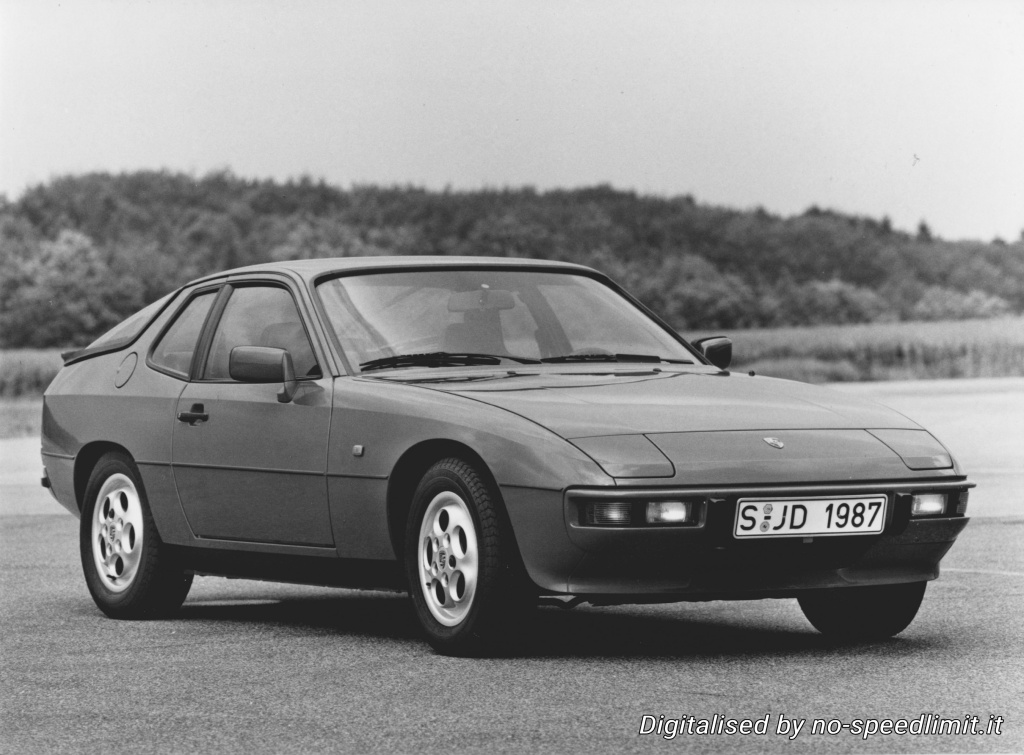 In the Porsche model range, the 924 S, made up of the two components that have been tried and tested by the Stuttgart sports car manufacturer, the 944 engine and 924 body, has secured a permanent place. With the new engine, a 150 hp variant of the 944 power unit, the extremely aerodynamic sports car with a drag coefficient of only 0.33 impresses with its excellent performance and particularly high economy. The economical model from the transaxle series consumes only 8.1 liters at a speed of 120 km / h, the top speed is 215 km / h.
The 2.5 liter engine is satisfied with regular petrol (91 RON), although the version without a catalytic converter also digests unleaded petrol. The 924 S with catalytic converter is - after the Porsche 944 Turbo - the second car in the Porsche range that has the same performance with and without a catalytic converter and therefore does not reduce the pleasure of driving a catalytic converter model through reduced performance. It is therefore not surprising that 28 percent of the 924s in Germany are now ordered with a catalytic converter package.
The Porsche 924 S rolls on a wide foot as standard: 195/65 VR 15 tires are mounted on six inch wide, light metal die-cast rims in a perforated disc design, and forged rims in 6 x 16 format with 205/55 are also available on request VR 16 tires offered.
New to the range for the Porsche 924 S in model year 1987 are, in addition to new colors, the ignition and door key combined with a small lamp, which makes it easier to unlock and start the car in the dark. To make work more difficult for thieves, the radios used at Porsche from model year 1987 onwards are provided with a theft code: after the theft, the radios secured in this way can no longer be used and pun are thus worthless.
Numerous additional items of equipment that make driving easier and more comfortable are among the things that can be ordered on request and at an additional cost in model year 1987: power steering, cruise control, air conditioning system, electric windows, sports seats and a removable pop-top roof.
Technical data Porsche 924 S
Body:
two-door coupé body, 2 + 2 seats, loading flap in the rear
Engine:
longitudinal, 4 cylinder four-stroke in-line with two balance shafts, water-cooled
Bore:
100 mm
Stroke:
78,9 mm
Displacement:
2479 ccm
Compression:
9.7: 1
Power:
110 kW at 5800 rpm (150 hp)
Max.torque:
190 Nm at 3000 rpm (19.4 Kpm)
Transmission:
with front engine transaxle unit and gearbox in the rear, by means of a connecting pipe screwed to a rigid drive unit
Brakes:
hydraulic internally ventilated front power booster, dual-circuit brake, brake discs on and rear axle
Weight:
DIN empty weight 1210 kg
permissible total weight 1530 kg
Performance:
Acceleration from 0 to 100 km/h in 8,5 sec
Top speed 215 km/h
Fuel consumption (l/100 km):
at 90 km/h 6,1
at 120 km/h 8,1
city driving 12,3