PORSCHE WERKFOTO
Porsche 944 - MY 1987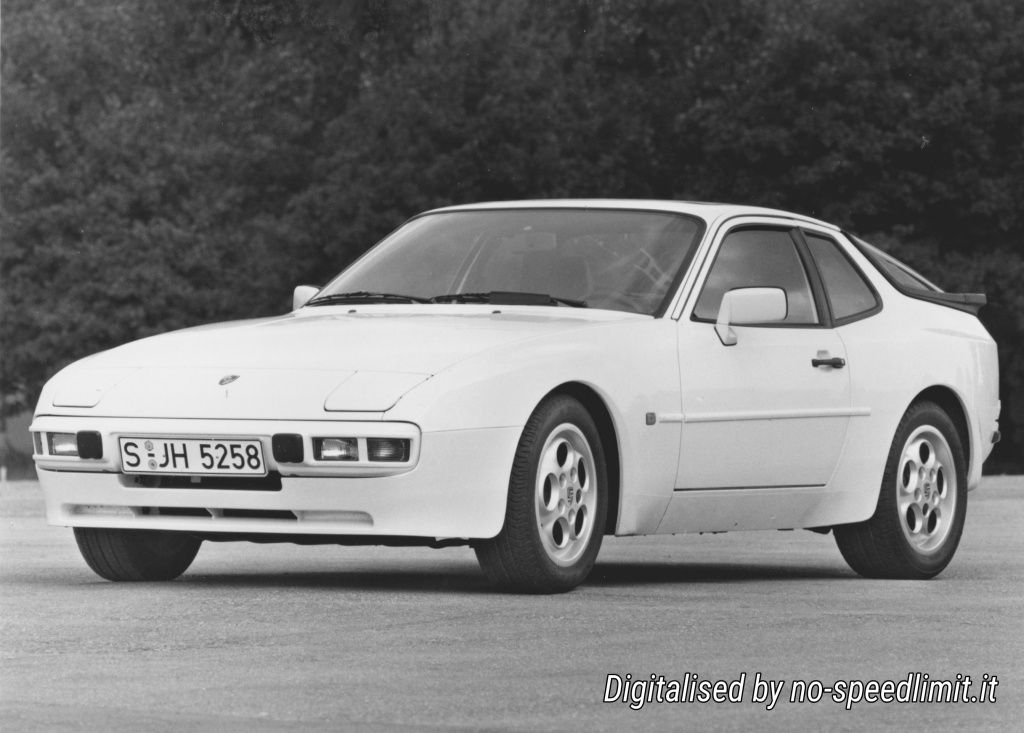 The Porsche 944, located between the four-cylinder 924 S, 944 S and 944 Turbo, is now one of the most successful sports cars in the world - since production began in January 1982, the 162 hp (120 kW) transaxle automobile already sold over 75,000 copies.
Although the successful Stuttgart racer, which despite its high performance and the associated top speed of over 220 km / h is satisfied with just 8 liters of premium gasoline at 120 km / h, was not revised and modernized in many points until the spring of 1985, got also in model year 1987 some innovations.
In addition to useful additional equipment such as central locking, Sekuriflex windshield or refrigeration system, some new colors are offered at the factory. Leather upholstery, which, in addition to the seats, also includes door panels, center console, cassette box lid, dashboard and door pull handle, is also new for 1987. Can be supplied with electrically adjustable lumbar support on request.
An important safety factor is the anti-lock braking system, which is available from model year 1987 and offers decisive advantages in emergency situations, especially on wet or snow-covered roads. The ABS system made it necessary to give the 944 a modified front axle with a negative scrub radius. As standard, the 944 is equipped with the light alloy wheel in the typical Porsche perforated disc styling, forged seven and eight inch wide rims in disc styling (tire dimensions 205/55 VR 16 and 225/50 VR 16) are available as additional equipment.
Technical data Porsche 944
Body:
two-door coupé body, 2 + 2 seats, loading flap in the rear
Engine:
longitudinal, 4 cylinder four-stroke in-line overhead camshaft driven by toothed belt, 2 balance shafts for mass balancing, water-cooled
Bore:
100 mm
Stroke:
78,9 mm
Displacement:
2479 ccm
Compression:
10.6: 1
Power:
120 kW at 5800 rpm (163 PS)
Max.torque:
205 Nm at 3000 rpm (20.9 mkp)
Transmission:
rear wheel drive with front engine transaxle unit and gearbox in the rear, by means of a connecting pipe screwed to a rigid drive unit
Brakes:
hydraulic internally ventilated discs with brake booster and optionally with ABS 2-circuit brake system
Weight:
DIN empty weight 1240 kg
permissible total weight 1560 kg
Performance:
Acceleration from 0 to 100 km/h in 8,4 sec
Top speed 220 km/h
Fuel consumption (l/100 km):
at 90 km/h 6,4
at 120 km/h 8,0
city driving 11,5
See also: