PORSCHE PRESSKIT 1999 - 911 (996) Carrera Coupé and Cabriolet
1999 Porsche 911 Carrera Cabriolet Makes North American Debut at 1998 New York International Auto Show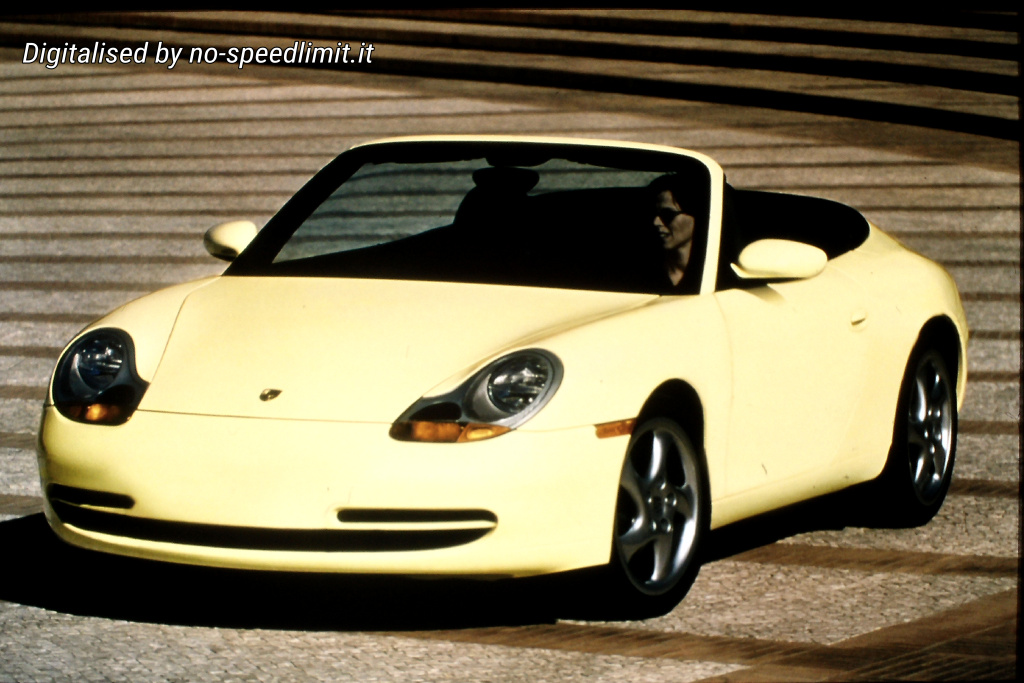 Content
New 911 Model Emphasizes Comfort, Convenience and Safety in Open-Top Motoring
Porsche introduces its 1999 911 Carrera Cabriolet sports car to the North American market this week at the 1998 New York International Auto Show. The new open-cockpit model is a companion to the 1999 Porsche 911 Carrera Coupe which debuted earlier this year. Together, they represent the first all-new Porsche 911s in the 34-year history of the famed sports car model.
The new 911 Carrera Cabriolet is equipped with an
electronic soft top
which raises or lowers in just 20 seconds. This procedure can be initiated by either pushing a button on the center console or turning the key in the door lock. To maintain the model's sleek appearance, the top folds beneath a metal body flap when lowered. For durability, the top is made of elegant "Sonnenland" fabric. Inside, the roof rods are covered by a headliner. This feature, combined with intensive acoustic detail work, has significantly reduced wind noise with the top raised.
For added versatility, an optional
aluminum hardtop
is included at no extra cost. Weighing just 71 pounds (32 kilograms), it features a heated rear glass window, hat shelf, and two-shell construction for added strength and reduced wind noise. It can easily be installed by two people with a few simple flicks of the wrists.
Passive
safety
on the new 911 Carrera Cabriolet is exemplary. The newly designed body structure not only was developed for engineered deformation during crashes, but also offers significantly higher strength. Full-size driver and front passenger air bags are standard equipment as are large 30-liter
which provide protection for the head, chest and pelvis even with the top and side windows down.
For added safety in the event of a rollover, the new 911 Carrera Cabriolet is equipped with two supplemental safety bars. Discreetly hidden behind the rear seats, they are triggered by spring pressure when a tilt sensor determines the risk of a rollover.
Developed concurrently with the Porsche Boxster to maximize production
efficiencies
and keep
costs
under control, the 1999 Porsche 911 Carrera Coupe and Cabriolet share many design, technological and engineering features with the two-seat roadster which was introduced last year. Among the shared features are totally new liquid-cooled engines, brake systems, optional child seats which can automatically deactivate the passenger air bag system" and, clearly, a strong family appearance.
From both a design and engineering perspective, however, the 1999 911 Carrera Coupe and Cabriolet are quite obviously Porsche 911s. As with every 911 model since its introduction in 1965, the new Carrera Coupe and Cabriolet are powered by horizontally opposed, six-cylinder,
boxer motors
mounted behind the rear axle. The new engine is more compact, yet more powerful and fuel efficient, than its predecessor.
The new six-cylinder boxer engine displaces 3.4 liters (207 cubic inches), has double overhead camshafts, Porsche's VarioCam valve timing system, resonance intake system, Bosch Motronic M 5.2 ignition/fuel injection controls, and develops
296 horsepower
(221 kw) and 258 ft. Lbs. (
350 Nm
) of torque.
While the new 911's body is longer, wider and sleeker than any before it, offering greater passenger cabin space and refinement, its
design
distinctively is an
evolutionary
one, inspired by the car's heritage.
The Porsche heritage is also evident in the engineering beneath the new sheet metal. The new 911 Carrera has independent, aluminum alloy front and rear
suspensions
, four-wheel disc
brakes
with antilock system (ABS), power-assisted rack-and-pinion steering and a six-speed manual
transmission
. An optional new five-speed
automatic transmission is also available.
An automatic climate control system, power mirrors and locks (with integrated security system and remote control), leather seating surfaces, AM/FM/cassette audio system, sunroof (Coupe) and cruise control are among the interior
comfort
features standard on the new 911 Carrera.
Rounding out the list of standard features for every 1999 911 Carrera sold in the United States and Canada is a four-year (doubled from two), 50,000-mile (80,000 kilometer) limited
warranty
.
Both the 1999 Porsche 911 Carrera Coupe and Cabriolet models will arrive in authorized North American Porsche dealership showrooms beginning in mid-April. Manufacturer's Suggested Retail
Price
(MSRP) begins at $65,030 ($95,200 Canadian) for the Coupe and $74,460 ($109,000 Canadian) for the Cabriolet.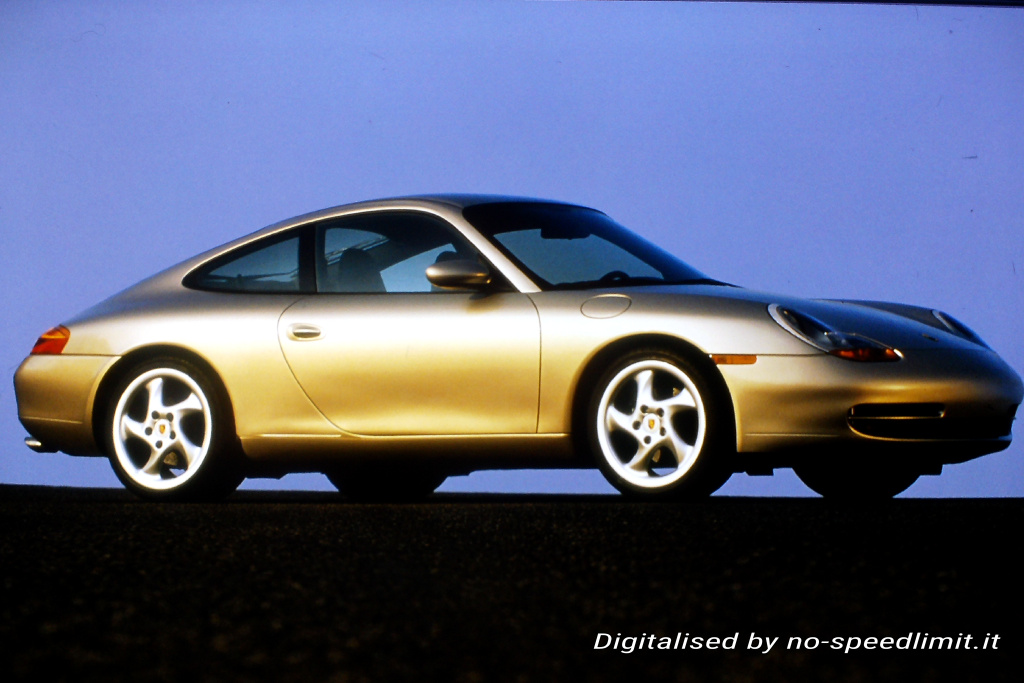 Familiar Shape
Over the previous model's lifetime, its
body
had been refined several times. However, in the course of its 34-year life, the roofline and windshield had always remained the same as the original 1965 model. For 1999, the roofline as well as the windshield and every other body section is
totally new
.
Dimensions
: the car's wheelbase has been increased to 92.6 inches (2350 mm), or 3.2 inches (78 mm) more than the previous model. Its overall length has grown to 174.5 inches (4430 mm), an increase of 6.8 inches (170 mm). Its width has grown 1.2 inches (30 mm), up to 69.5 inches (1765 mm) from 68.3 inches (1735 mm). Though the car stands the same 51.8 inches (1315 mm) tall, its laden ground clearance is now nearly one inch (20 mm) less than before. In effect, it's taller as well. Besides more interior space, there is also more storage space thanks to a larger front luggage compartment and more stowage behind the rear seats.
By smoothing the 911's flanks, raking the windshield more, designing windows that fit flush to the sheetmetal, and minimalizing joints and seams, Porsche's designers have reduced the 911's
coefficient of drag
from the previous model's 0.34 to 0.30.
From its front bumper to the
windshield
, the 911 shares its look and contours with the Boxster. From the front
A-pillars
back, the Carrera is unique. The Coupe's A pillars have a more rakish angle than ever before, as the windshield angle has been revised from the previous 60 degrees to 55 degrees.
The car's body is largely constructed of high-strength steel and helps form the vehicle's structure. In fact, the new body is even
structurally stiffer
than its predecessor. Torsional stiffness, or resistance to twisting motions, has been increased by 45 percent. Bending stiffness has been increased by 50 percent. These increases in structural rigidity increase handling performance as well as improving ride comfort and reducing interior noise. Predetermined deformability of the steel plate body helps to minimize loads acting on the car's occupants in an accident.
The quieter, smoother ride is complemented by the 911's new passenger cabin.
Larger interior than before
with more space in every dimension, the Carrera's passenger compartment offers a new dashboard design, instrument panel layout, dual front and side air bags, a telescoping steering column and an automatic temperature control system. Also noteworthy-for the first time, the 911 has suspended brake and clutch pedals. The accelerator pedal is still floor mounted.
Porsche's new
Side Impact Protection System
incorporates both energy-absorbing door linings and door-mounted air bags which cover the entire side areas regardless of driver and passenger seating positions. The design enhances protection of the driver's and passenger's head, chest, arms and hips.
With its additional wheelbase and increased length, the 1999 911 Carrera has more front and rear
legroom
as well as cargo space behind the rear seats. Thanks to the lower floor and reshaped roofline, there is also additional
headroom
. In fact, the new 911 Coupe with a sliding sunroof has more headroom than the previous model had without one.
Like the instrument panel of the Boxster, the Carrera offers redundant speedometers-a
digital speedometer
at the bottom of the prominent tachometer echoes the
analog
unit beside the tach-as well as a coolant temperature gauge.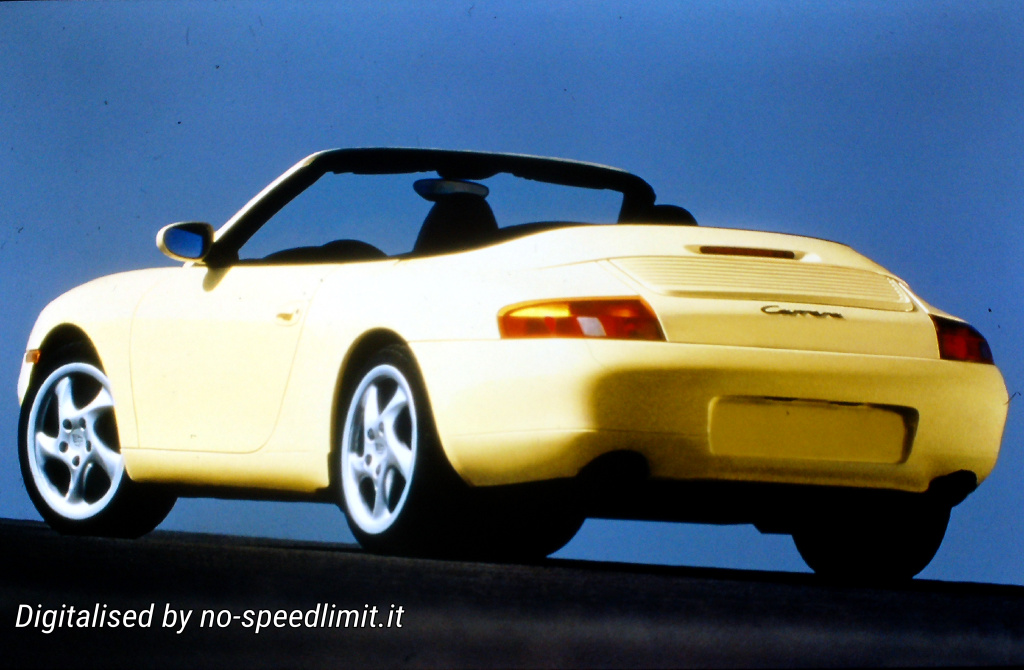 New Engine
As has been the car's history, the 1999 Porsche 911 is powered by a six-cylinder boxer engine, mounted in the rear. However, for the first time in its 34-year life, the 911 engine is fully
liquid cooled
. Porsche engineers decided to use a six-cylinder horizontally opposed engine for the same reasons as previously: the engine's low center of gravity, compactness, smoothness and durability.
Engine specs:
in its most modern form, the Porsche 911 engine displaces 3.4 liters (207 cubic inches). It has a compression ratio of 11.3:1 and develops 296 horsepower (221 kW) at 6800 rpm and 258 ft. Ibs. (350 Nm) of torque at 4600 rpm, with 220 ft. Ibs. (300 Nm) available between 2700 and 7000 rpm. This represents a five-percent increase in peak power despite a six-percent reduction in displacement.
The engine's block and cylinder heads are constructed of pressure-cast aluminum alloy. The motor features dual overhead camshafts, four valves per cylinder, Porsche's
VarioCam
variable intake camshaft timing system, a dual-stage intake system, Bosch Motronic M 5.2 engine management with a direct-ignition coil at each cylinder, and hot-film air-mass sensing.
Besides its basic configuration, the new engine
design
shares many features and specifications with its predecessor. The 11.3:1 compression ratio is the same as before, as are its bore centers, which are spaced 4.65 inches (118mm) apart. These are the same bore centers as the Boxster engine to allow efficient manufacturing and reduced costs. Efficiencies are further increased with the 911 engine's two cylinder heads being identical and interchangeable. However, unlike its predecessor, this engine's oil reservoir is integral with the engine, not a remotely mounted tank. Porsche refers to this design as integrated dry sump lubrication. Other innovations to the engine include a dual-stage intake system with a computer-controlled valve and the lack of an ignition distributor-each cylinder has its own ignition coil attached directly to its spark plug.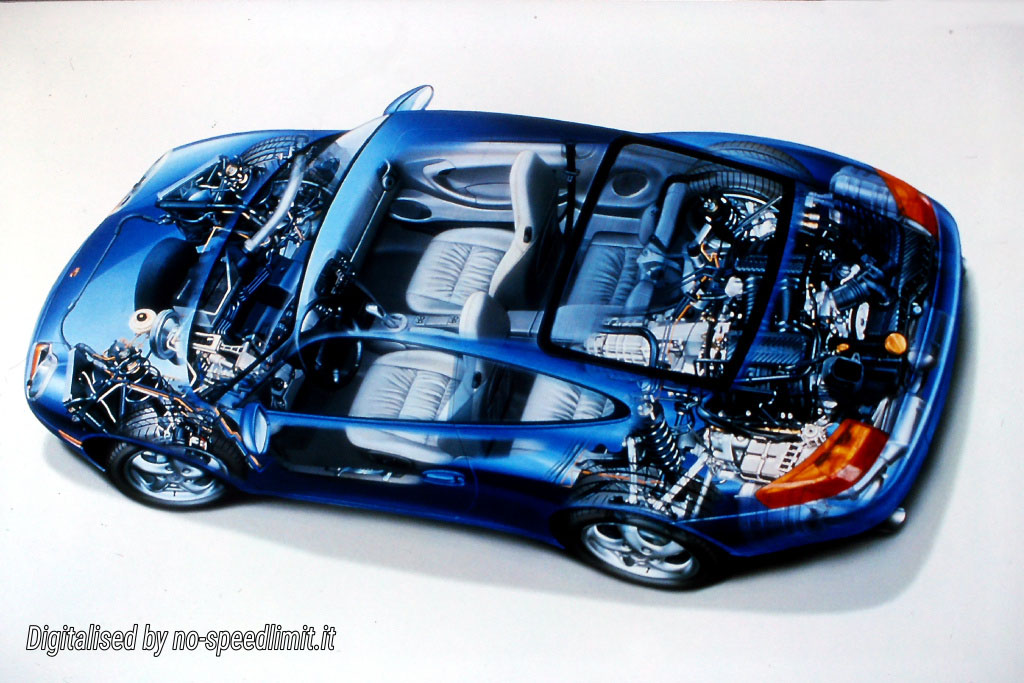 New Transmission
The new Porsche 911 Carrera may be equipped with either a
manual transmission
or, as an option, Tiptronic S
automatic gearbox
driving a limited-slip differential. Both transmissions have been substantially refined and changed from their predecessors.
The manual gearbox is more compact than its predecessor, has six forward speeds with closer gear ratios than before, and is equipped with a hydraulically operated clutch and cable-actuated shift mechanism. The optionally available Tiptronic S has five forward speeds, a lock-up torque converter, revised shift console pattern from previous models, steering wheel spoke actuator buttons for manual operation, and five automatic shift mode programs for specific driving styles and conditions.
As with the Boxster, the Carrera uses a
dual-mass engine flywheel
and a
cable-type shift mechanism
to isolate the driver and the shift lever from movement and noise from the manual transmission. The ergonomically designed aluminum shift knob follows a four-column shift pattern.
The
six-speed manual gearbox
features full synchronization, including reverse, with external dual-cone synchronizers. To better take advantage of the new engine's torque and power characteristics, the 911's gear ratios have been altered from the previous model, though its final drive remains the same. Sixth gear is an overdrive, and the car's top speed is attained in sixth.
As on the previous 911 and the Boxster, the
five-speed Tiptronic S
offers the driver the choice of allowing the transmission to shift through the gears automatically or to manually shift up and down. For 1999, the Carrera's Tiptronic S, like the unit in the Boxster, has five forward gears, with closer gear spacing than before, for better use of the engine's power and torque. Fourth gear is a direct 1:1 drive, while fifth is an overdrive for reduced fuel consumption and noise while cruising. Leaving the gear selector in "D" allows the transmission to operate like other automatic transmissions, while moving to "M'' means the steering wheel spoke mounted buttons control up- and downshifts according to driving style and conditions.
When left in the fully automatic drive setting, the Tiptronic S bases its gear changes on inputs from several electronic sensors. There are five distinct shift "maps" programmed into the Tiptronic's electronic control unit. Based on the driver's style and the driving conditions, the control unit adapts the appropriate program. To further ensure smooth shifts, the electronic control units of the Tiptronic S and the engine work together to briefly suppress engine ignition during each shift.
For 1999, the Carrera may also be equipped with Porsche's
automatic brake differential
(ABD), a traction control system to help start the car moving on slippery surfaces. The system relies on both the ABS and engine management electronic control units to apply and release the brakes (cycling in fractions of a second) to prevent each driving wheel from spinning. ABD also prevents the two driving wheels from spinning concurrently by adjusting both the ignition and fuel injection to reduce engine power.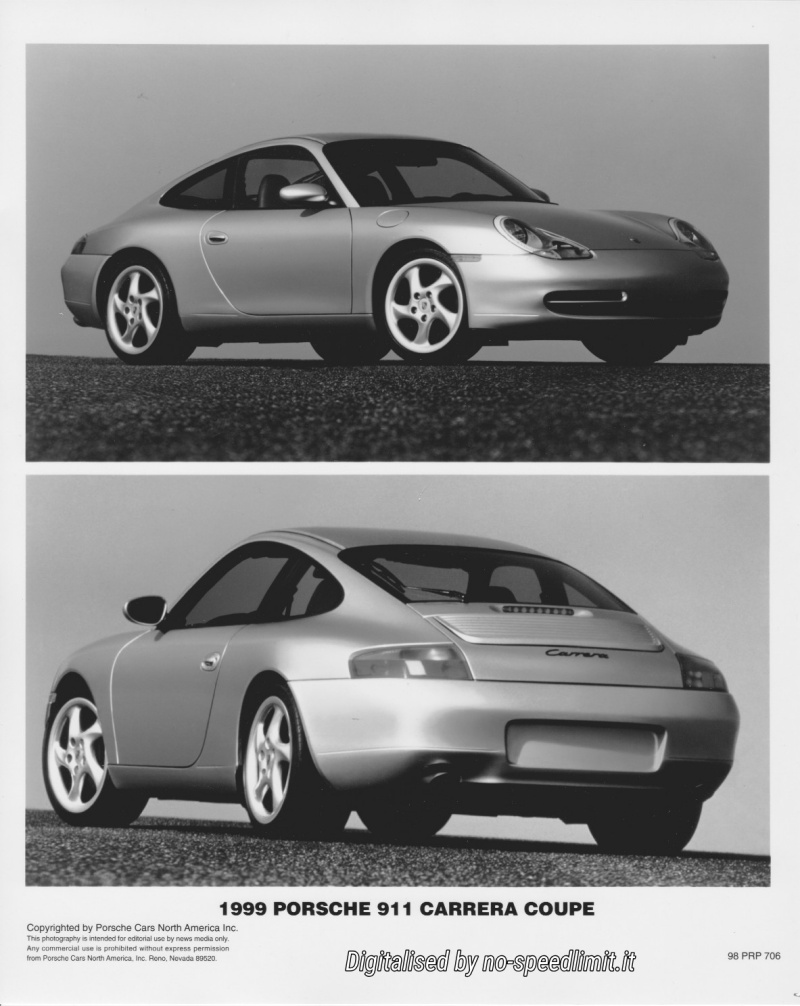 New Suspension and Steering
As befits an ultra high-performance sports car, the new 911 has an independent suspension system. Like the Boxster and previous 911 models, the 1999 Carrera uses a MacPherson strut-type front suspension. The rear suspension is a unique five-link setup with Porsche's "Weissach" toe-in/toe-out correction for neutral behavior during cornering. In addition, the car features force-sensitive power-assisted rack-and-pinion steering as well as four-wheel disc brakes with ABS.
Both
front and rear suspensions
are made of forged and cast
aluminum components
and are attached to the car's structure via aluminum alloy subframes for improved isolation and chassis stiffness, Gas-charged shock absorbers are used front and rear.
The steering wheel features a telescoping adjustment and can be moved a total of 1.6 inches (40 mm) toward or away from the driver to comfortably accommodate any driver from a fifth percentile female to a 95 percentile male. With the new steering gear, for the first time mounted ahead of the front axle to
improve steering response
, the 911's turning circle has been reduced to 34.8 feet (10.6 meters).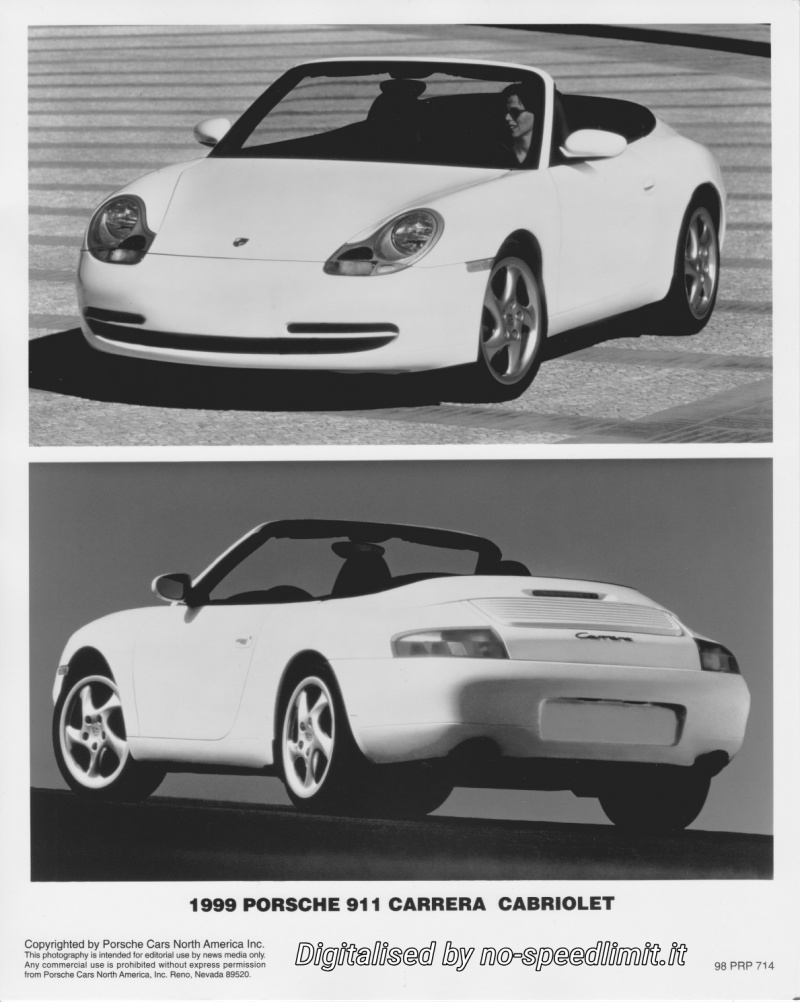 New Brakes
Furthering Porsche's signature braking ability, the new Carrera is equipped with vented, cross-drilled front and rear brake discs equipped with four-piston single piece (
monobloc
) aluminum calipers. The monobloc calipers represent a 21 percent weight savings over the previous design and provide better brake pedal feel and superior brake cooling. These brakes are derived from Porsche's LeMans race cars.
To ensure
lock-up free braking
and continued steering control under emergency braking, even on slippery surfaces, the brakes are equipped with the latest Bosch ABS 5.3 anti-lock system. The front rotors are 12.53 inches (318 mm) in diameter and 1.10 inches (28 mm) thick. The rear rotors measure 11.78 inches (299 mm) in diameter and 0.95 inches (24 mm) thick.
Wheels and Tires
Specifications
: standard wheels are 17-inch diameter light alloy. Optionally available are 18-inch, hollow spoke wheels. The standard tires are 205/50 ZR-17, front, and 255/40 ZR-17, rear. Optional tires are 225/40 ZR-18, front and 265/35 ZR-18, rear. Tires are available from several manufacturers.
The 1999 911 Carrera is equipped with a high-pressure
spare tire
, replacing the previous model's collapsible unit. And, due to an increase in its size, the front luggage compartment now easily holds a flat tire.
Warranty
Every 1999 Porsche 911 Carrera sold in the United States and Canada is covered by a four-year, 50,000-mile (80,000 kilometer), bumper-to-bumper limited warranty, which includes Porsche's roadside assistance program. The galvanized body and 26-step paint and anti-corrosion process enable Porsche to warrant each car against rust perforation for 10 years and unlimited mileage.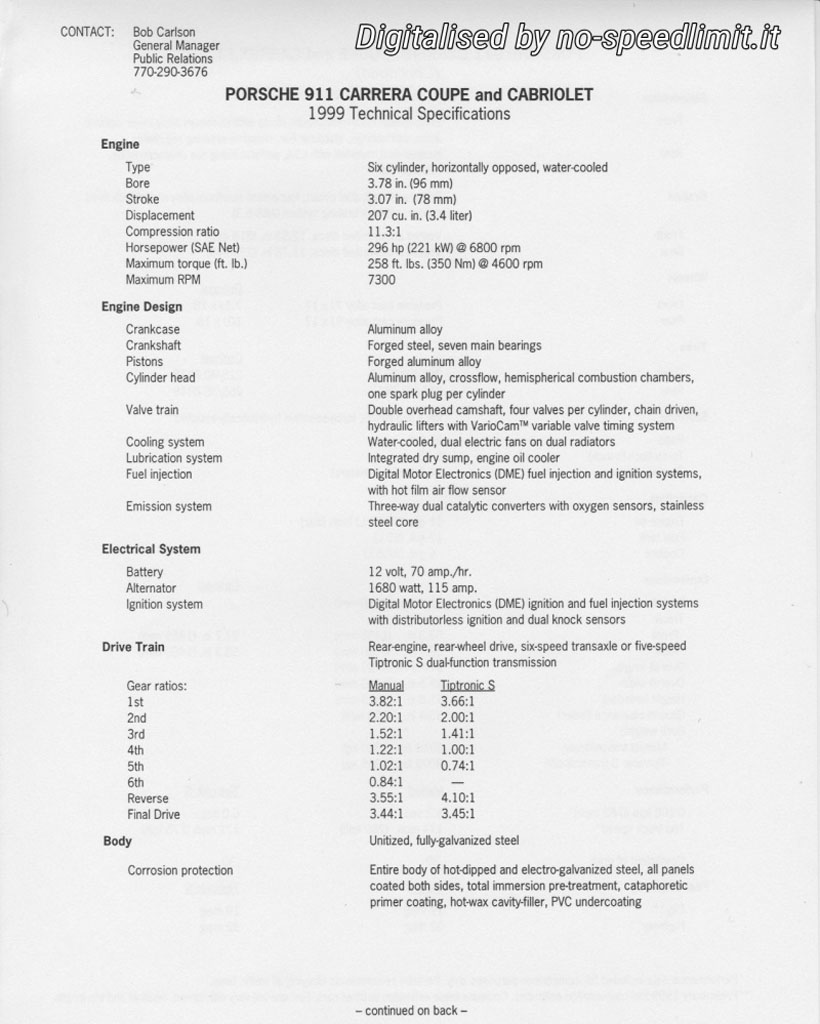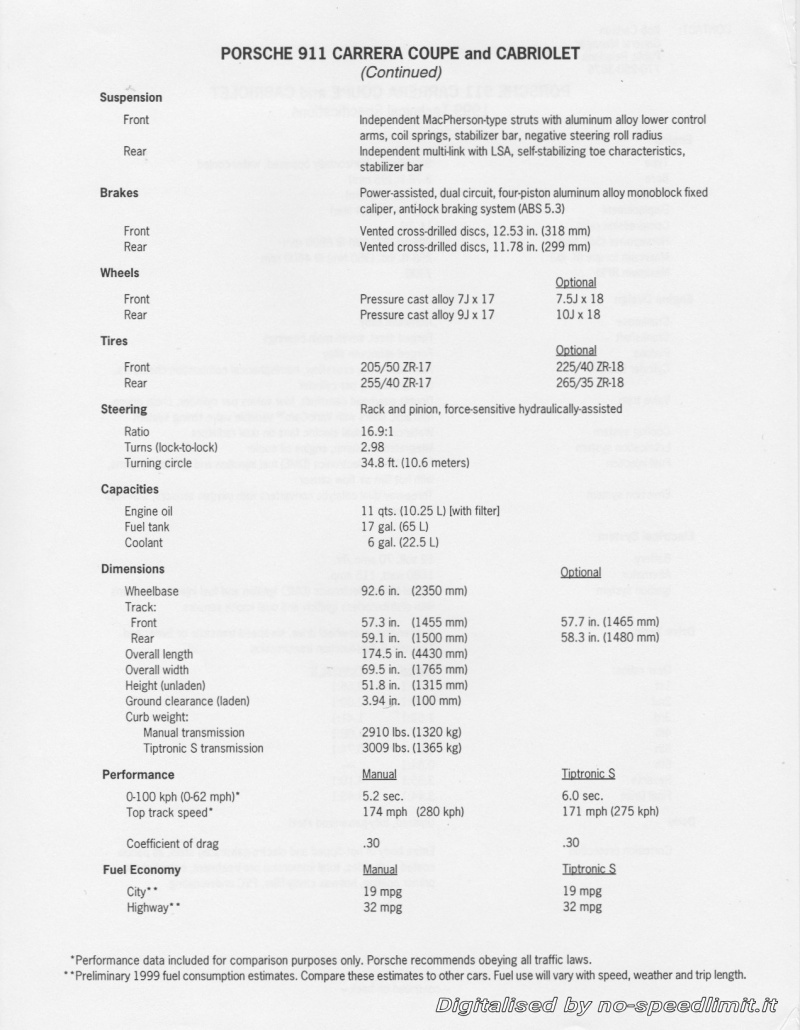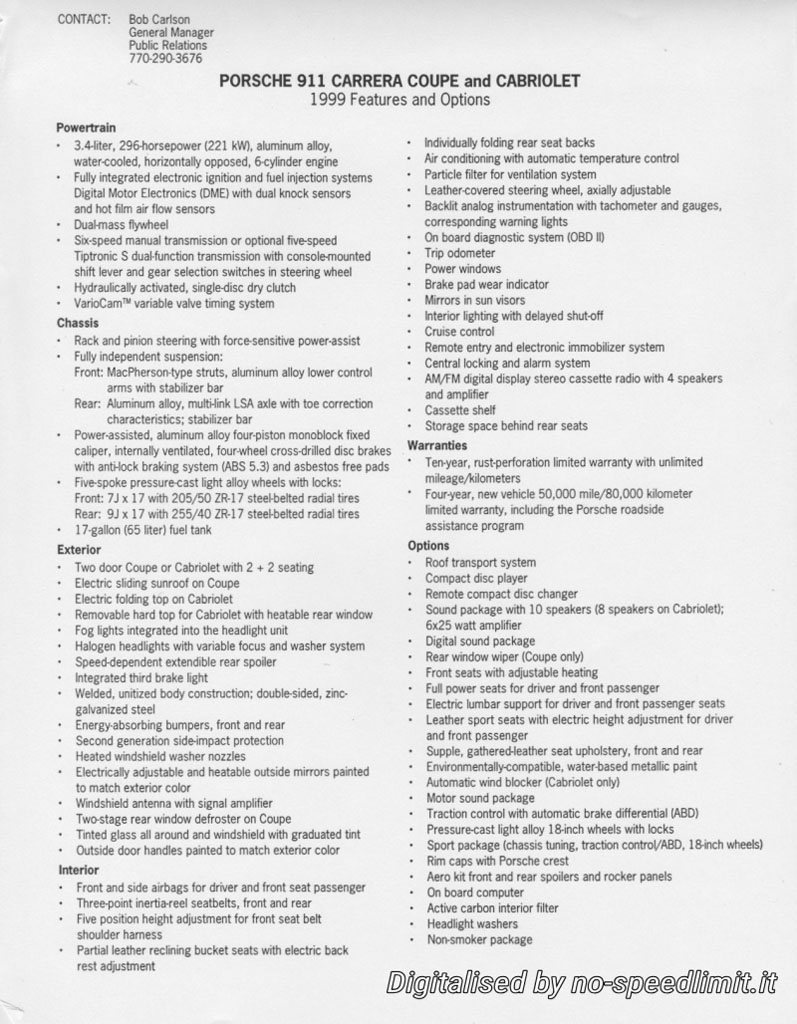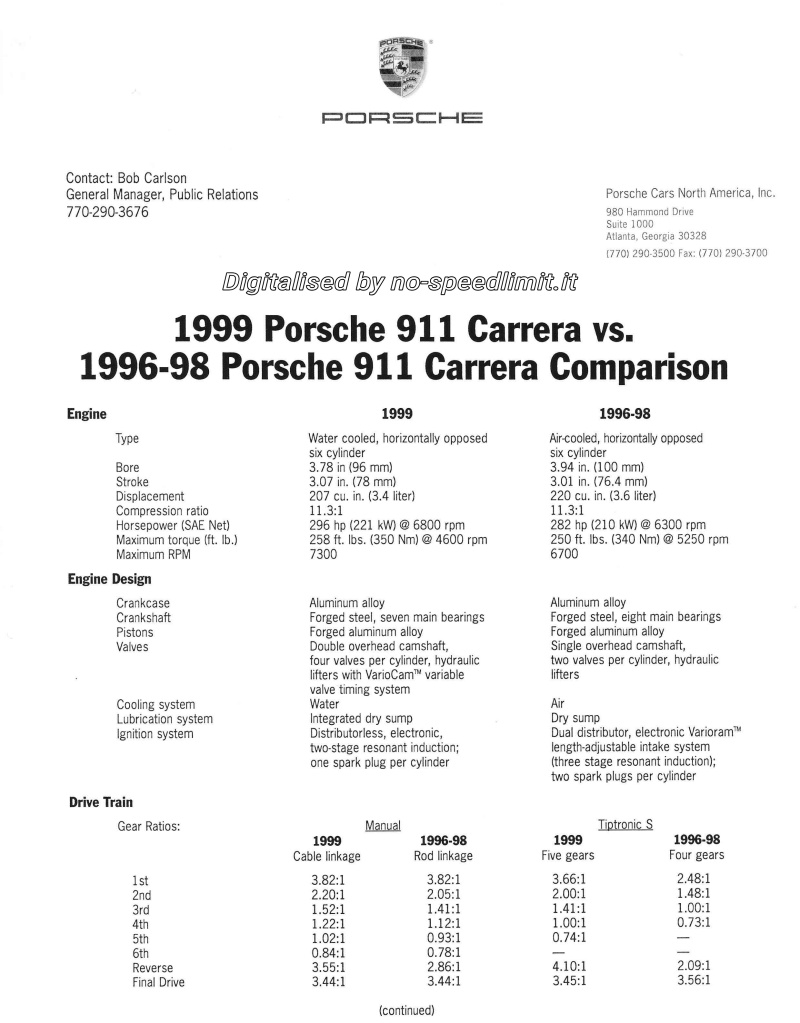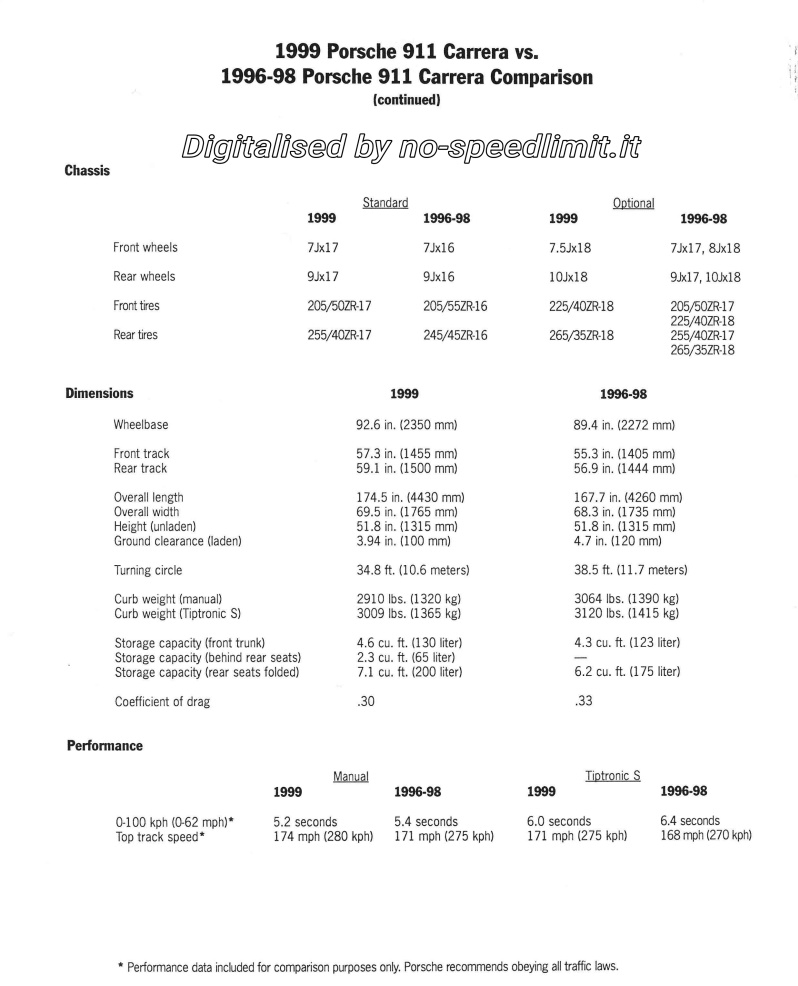 See also: