PORSCHE WERKFOTO 1987
USA Market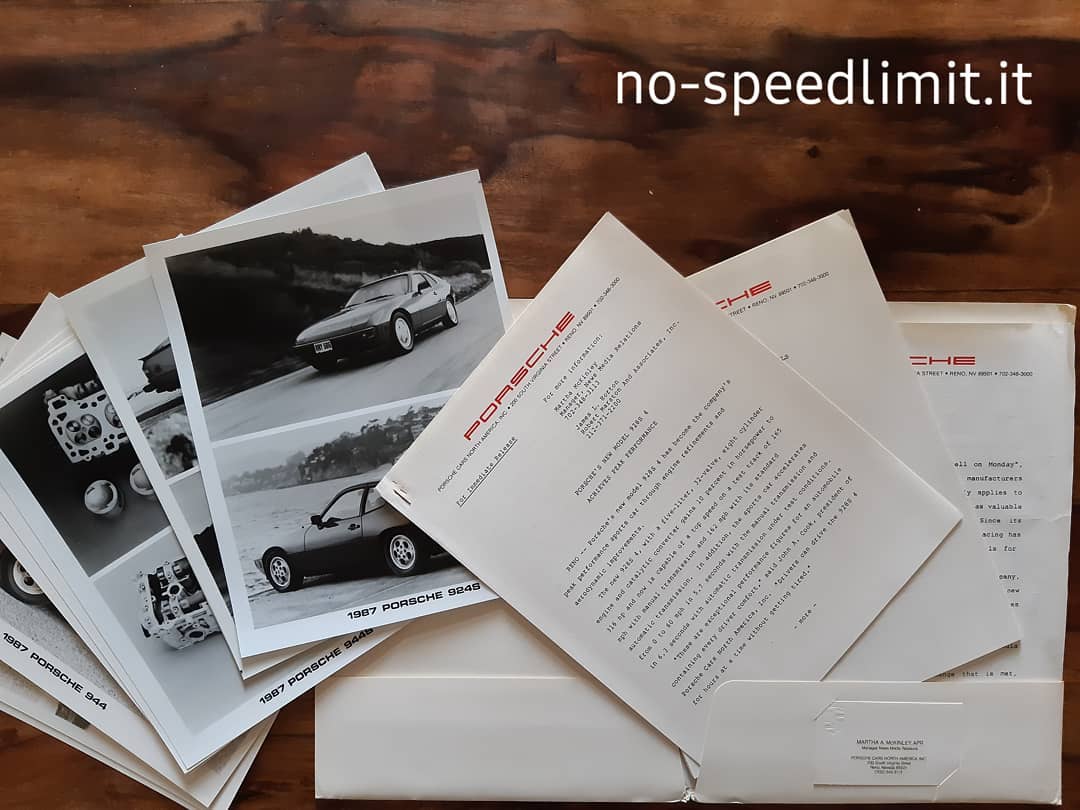 Here below you can find a general description of the cars and dedicated sections for each model of the 1987 Model Year in the USA market. Enjoy!
(Warrington, PA) "Win Sunday; sell on Monday", is a time-honored saying among automobile manufacturers involved in motor racing. The phrase certainly applies to many car companies who view their racing programs as valuable marketing tools designed to sell automobiles. Since its first car rolled onto a racetrack 37 years ago, racing has had two different and slightly less direct appeals for Porsche.
First of all, since Porsche is an engineering company, each racing activity is carefully selected to offer a new engineering challenge. This constant quest for new challenges has led Porsche into endurance sports car racing, international professional rallying, and even, with the
TAG/McLaren engine
(designed by Porsche), into the Formula One arena.
With each racing engineering challenge that is met, it adds to the body of talent available among Porsche engineers to solve other problems -- perhaps in areas more directly applicable to immediate consumer needs. For instance, experience gained in building and racing the
Porsche 956
for the World Endurance Championships made possible the engine now available in the Porsche 928S street car.
Secondly, racing furnishes Porsche with valuable learning experiences. For young Porsche engineers in particular, working on race car provides a unique form of training. More so than anywhere else in the company, they can work on a total automobile in an atmosphere where development schedules are extremely short, quality is maintained at the highest level, and feedback from success or failure arrives promptly in either a victory or a loss on the racetrack.
So to Porsche, a "Win on Sunday" means much more than "Sell on Monday." It means another engineering challenge has been met by well-trained staff of engineers whose technical innovations are eventually incorporated into street Porsches that, in the words of Dr. Ferry Porsche provide "driving in its most beautiful form."
PORSCHE'S 1987 MODELS FEATURE GAINS IN PERFORMANCE, HANDLING AND STYLING
RENO -- Improvements in performance, handling and styling characterize Porsche's 1987 model sports cars, with several new features adopted directly from racing.
The company's three families of vehicles -- four, six and eight cylinders -- offer a total of nine separate models, each providing a different driving "feel."
"The selection of Porsche models provides drivers with their choice of sensational driving experiences. Porsches are known for state-of-the-art engineering proven in all environments, including the racetrack," said John A. Cook, president of Porsche Cars North America, Inc., the U.S. importer and distributor for the famed West German sports cars.
Developments from Porsche racing heritage have been incorporated in the 1987 model engines including the expanded use of engine management electronics which is an essential part of fuel conservation in motorsports; optimization of combustion chambers based on Porsche's racing engine development program; and application of four-valve-per-cylinder technology from Porsche endurance race cars to the four-cylinder engine.
Four-cylinder Family -- New Performance
Porsche's new 944S is the extra-performance version of the car often called "the benchmark of modern sports cars" -- the 944. The 944S couples four-valve-per-cylinder technology and engine electronics to Porsche's leading edge work on emissions control, producing a power train with the same performance worldwide, The 188-horsepower car has a top speed on the test track of 142 miles per hour and a 0 to 60 mph time under test conditions of 7.7 seconds.
All 944 models have new safety features, accessories and other options. Porsche is the first manufacturer to offer airbags for both driver and front seat passenger. Dual airbags are standard in the 944 Turbo and optional in the 944S and 944. Porsche offers an optional anti-lock braking system on all 944 models as well.
New accessories include a new rear seat unit with individually folding backs to permit better passenger and load handling. In early 1987, a sound package will be available which includes a Blaupunkt BEA 80 booster/equalizer that allows adjustments to each of 10 built-in speakers.
The 1987 model 924S introduced in June, 1986 is powered by the same Porsche water-cooled, 4-cylinder, twin balance shaft engine as the two-valve 944. The engine produces 147 horsepower and a top speed of 134 miles per hour on a test track. Its acceleration time from 0 to 60 mph under test conditions is 8.3 seconds with a five-speed manual transmission and 9.8 seconds with the automatic transmission.
The 911 Carrera Family -- Continued Improvements
Improvements to the 1987 model 911 Coupe, Targa and Cabriolet -- Porsche's classic race-bred sports cars -- include a hydraulically assisted new clutch, a new five-speed gearbox and a gain in horsepower through use of optimized combustion developed from the company's racing engines.
The new clutch and transmission allow smoother movements from gear to gear, with a changed gear pattern.
The six-cylinder Carrera engine with optimized combustion has gained 14 horsepower without any total weight increase and now produces a total of 214 hp with a top speed on a test track of 149 mph and a o to 60 mph time of 6.1 seconds under test conditions.
The 911 Turbo produces 282 hp with a top speed on the test track of 157 mph and a 0 to 60 mph time of 5.5 seconds under test conditions.
The 911 Carrera has fresh colors and additional leather trim options as well as new fully adjustable electric comfort seats with additional lumbar support.
The 928S 4 -- Peak Performance
"The new 928S 4 joins the 911 Turbo as Porsche's highest performing car," Cook said. "It is the best kept secret in the automotive industry. It is the only exotic car with a dealer network to support it."
For the 1987 model 928S 4, Porsche's engineers redesigned the sports car's resonant induction system to provide powerful and continuous torque across a broad range and added two new knock sensors to the engine to allow peak performance on a wide range of unleaded fuels.
The 928S 4, with its five-liter, 32-valve, eight-cylinder engine and three-way catalytic converter, produces 316 hp and reaches a top speed on a test track of 165 mph with manual transmission and 162 mph with automatic transmission. It accelerates from 0 to 60 mph in 5.7 seconds with the manual transmission under test conditions and in 6.3 seconds with the automatic.
The 928S 4's aerodynamic qualities were improved to a Cd of 0.34 from 0.39 with a new aerodynamic nose, carrying fog and driving lights, a new, integrated front spoiler, a new tail with altered rear lights and a new rear spoiler. Porsche's engineers combined electronics and louvers to adjust air flow through the engine compartment so internal airflow is minimized.
Rear tires on the 928S 4 have been widened to enhance handling and are now 245/45 VR 16s, mounted on eight-inch, forged rims.
Porsche also added comfort features with a new seating adjustment system, called Positrol, that "remembers" three positions for the driver and passenger's seats and outside mirrors to accommodate multiple-driver households.
PORSCHE CARS NORTH AMERICA: 1987 MODEL CARS
MANUFACTURER'S SUGGESTED RETAIL PRICES
| | |
| --- | --- |
| 924 S | $19,900* (Through November 16,1986) |
| 944 | $25,500 |
| 944 S | $28,250 |
| 944 Turbo | $33,250 |
| 911 Carrera Coupé | $38,500 |
| 911 Carrera Targa | $40,500 |
| 911 Carrera Cabrio | $44,500 |
| 911 Turbo | $58,750 |
| 928 S 4 | $58,900 |
* Porsche 924S price as of November 17, 1986 will be $21,900
PORSCHE 1987 MODEL YEAR
EPA FUEL ECONOMY DATA CAR
| | | |
| --- | --- | --- |
| CAR | CITY MPG | HWY MPG |
| 928S 4 Manual | 15 | 23 |
| 928S 4 Automatic | 16 | 21 |
| 911 Turbo | 16 | 22 |
| 911 Carrera | 18 | 25 |
| 944 Turbo | To be announced | To be announced |
| 944S | 19 | 26 |
| 944 Manual | 20 | 29 |
| 944 Automatic | 19 | 23 |
| 924 Manual | 21 | 27 |
| 924 Automatic | 19 | 23 |