Porsche 1987 MY: the 944S USA model
PORSCHE'S 16-VALVE 944S COMBINES STRONG PERFORMANCE WITH FUEL EFFICIENCY AND PRECISE EMISSIONS CONTROL
RENO -- Porsche's new 1987 model 944S 2 + 2 sports car uses racing technology and sophisticated electronics to combine strong performance with excellent fuel efficiency and precise emissions control.
The extra-performance version of a vehicle often called the "benchmark" of modern sports cars - the Porsche 944 - adapts four-valve-per-cylinder technology directly from Porsche racing developments.
"Porsche went to four-valves-per-cylinder when it developed the model 956 racer - the most successful endurance racer ever produced," said John A. Cook, president of Porsche Cars North America, Inc. "Since then, it has led to fuel consumption savings in race engines of up to 35 percent. Porsche began adapting this technology to production sports cars, beginning with the eight-cylinder, 32-valve model 928 and now, with the four-cylinder , 16- valve 944s
He added that the 944S follows Porsche's policy of making environmentally sound sports cars without hurting performance.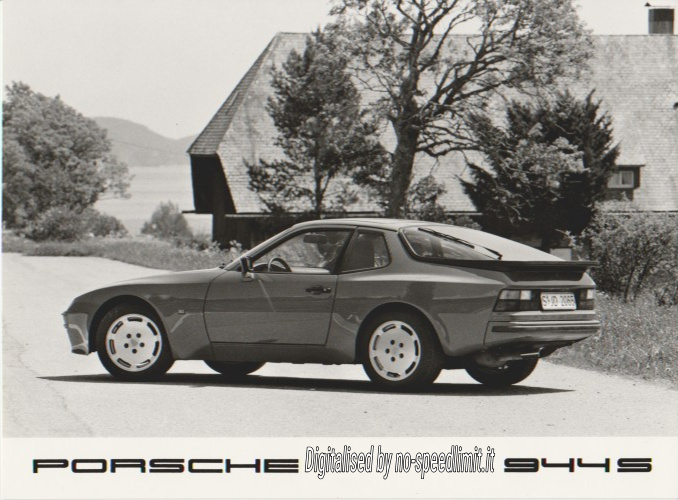 "Six years ago, few thought it possible to combine a catalytic converter with a powerful engine while maintaining performance
and
improving fuel efficiency," Cook said. "The 16- valve 944S has equal performance worldwide, with or without catalytic converter, and excellent fuel efficiency."
Achieving these gains in the 944S required complex and integrated engineering which affected several engine components.
Four-valve-per-cylinder technology -- which means two intake and two exhaust valves in each cylinder -- improves the fill rate and the mixing of fuel and air in the combustion chamber. That, combined with a spark plug re-positioned by Porsche's engineers into a central location, allows the flame from the plug to travel a shorter distance and give better combustion through a more even burning of the air-fuel mixture. Better combustion allows a higher compression ratio of 10.9:1 for a cleaner, more complete burn using less fuel.
Because the valves in four-valve system are smaller in mass than two-valve configurations, they can open and close at higher speeds, but this requires a stronger camshaft belt drive on the twin-camshaft cylinder head which operates the valves. This led Porsche's engineers to design a new and simpler camshaft belt tensioner for the 944S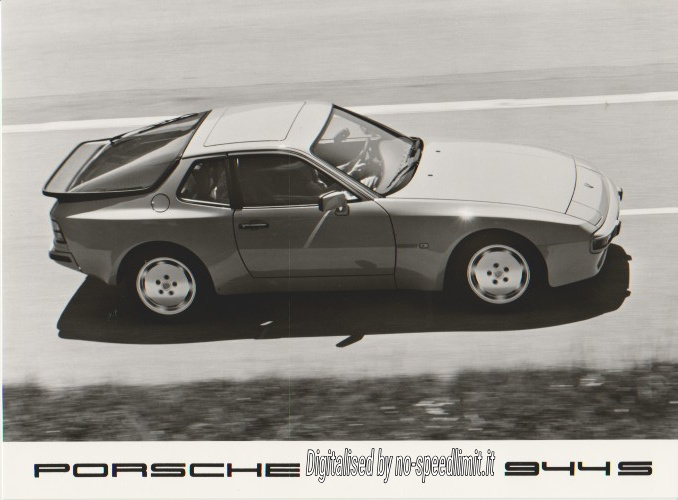 To handle a wide range of quality among unleaded fuels going into the new 944S engine, three electronic sensors were added -- two knock sensors attached to the crankcase and a third sensor connected to the camshaft drive wheel. These adjust the engine to operate at all times near but not over the line where premature combustion causes power loss.
In addition, Porsche's engineers used electronics to get stable idling under all conditions through regulation of the fuel-air mixture. This means that whether air-conditioning is switched on or power steering is used, idling remains steady at 840 rpm.
In summary, the extensive use of advanced electronics greatly reduces the need for mechanical adjustments.
"The result of this extraordinary engineering is a 27 percent boost in horsepower to 188 hp and 21 percent gain in torque over the two-valve-per-cylinder 944 engine with almost identical fuel consumption figures," said Cook.
"Top speed under test conditions has risen to 142 mph, and o to 60 mph times under test conditions have dropped to 7.7 seconds," he added.
He said the five-speed manual transmission in the new 944S been strengthened to handle the car's increased torque.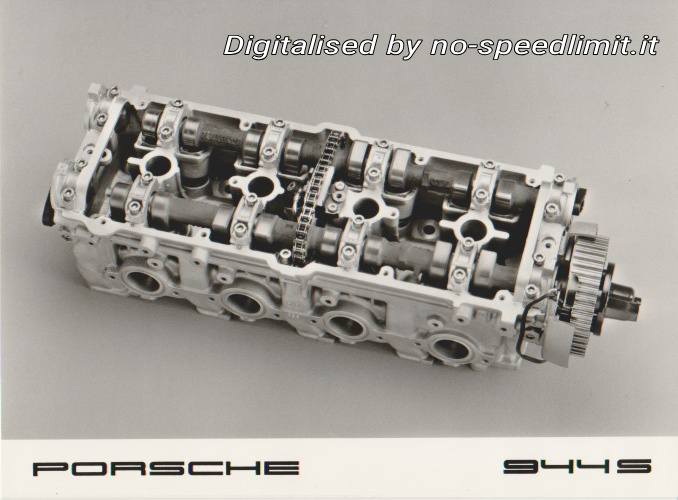 "The finely honed balance and driving feel of the 944 is retained in the 944S, but with a perceivable increase in performance," Cook said.
The 944S has optional anti-lock braking specially developed for Porsche sports cars and a modified front suspension to steer and brake well with the new braking system.
Beginning in early 1987, the 944S will come with a new sound package which allows individual adjustment of 10 integrated loudspeakers in the car and a newly developed rear seat unit with individually folding seat backs for better load adjustment. Optional comfort seats are available with electric fore and aft, height and back adjustments along with an optional airbag system for both the driver and passenger.
"Customers who choose the 944S will get a highly sophisticated sports car capable of outstanding performance," Cook said. "It is a worthy extra-performance version of the 944."
PCNA price was set at $28,250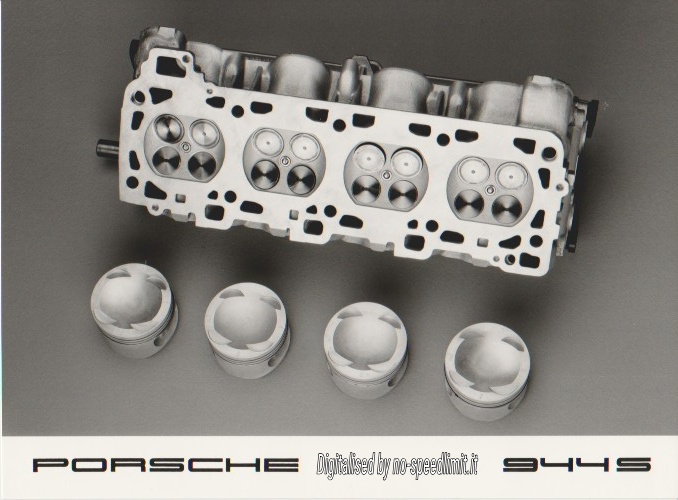 TECHNICAL DATA
ENGINE
Bore in inch
3.94
Stroke in inch
3.11
Displacement in in.3
151
Compression ratio
10.9:1
net. power SAE J 1349 in HP
188
At engine speed in rpm
6000
net. torque SAE 1349 in lbft
170
At engine speed in rpm
4300
net. power SAE J 1349 in HP/l
76.6
Max engine speed in rpm
6840
Speed governed by stopping fuel flow at rpm
6800±40
Fuel grade in CLC (RON) unleaded fuel
91CLC (95 RON)
Engine weight (dry) lbs
385.5
Battery
12V 63amp
Alternator power
1610W/115A
Cooling System Type
Closed coolant circuit system with antifreeze for -25°C
Fan drive
2 electric fans with thermo switch
Engine Lubrication and oil cooling
Crankshaft driven with crescent gear pump. Oil full flow heat exchanger in coolant bypass circuit integrated in crankcase
Emission Control
3-way cat. conv. with heated oxygen sensor
meas. ahead of cat. conv.
Fuel System Type
DME
Fuel Delivery
1 electric pump

POWER TRANSMISSION
Front mounted engine and rear mounted transmission bolted together with a connection pipe to make up a rigid drive unit - transaxle
Clutch
Hydraulic operated, single plate, dry clutch with diaphgram spring plate in pulled version
Transmission
Number of gears (ranges)
5 forward, 1 reverse
Manual Transmission
Type
AGP
Transmission weight in lbs.
dry
ready for installation

119
123
Gear Ratios
1st gear
3.500
2nd gear
2.059
3rd gear
1.400
4th gear
1.034
5th gear
0.829
Reverse
3.500
Final drive
Hypoid drive
Final drive ratio
3.89:1
LSD (M-equipment) locking value
40%

RUNNING GEAR
Front Axle
Independently suspended wheels on control arms and spring struts
Spring
(Mc Pherson) one coil spring per wheel
Shock absorbers
Double action hydraulic absorbers in spring struts
Steering
Power assisted rack and pinion
Steering wheel dia. in inch
14.96
Steering wheel dia. in inch (M equip. ?)
14.17
Steering wheel ratio in center position
18.85:1
Turning circle dia. in ft.
33.8
Number of steering wheel turns from lock to lock
- Stadard
- M-equipment

3.24
3.24/-
Rear Axle
Independently suspended wheels on trailing arms
Springs
One each round torsion bar transverse installation
Shock absorbers
Hydraulic double-acting
Brakes
Service Brake

Hydraulic, đual circuit brake system with axle division, brake booster, vented brake discs on front and rear wheels
Brake disc diameter in inch
Front
11.12
Rear
11.38
Effective brake disc dia. in inch
Front
8.84
Rear
9.53
Brake disc thickness in inch
Front
0.81
Rear
0.79
Effective total pad area in sq.in.
48.05
Wheel Rims and Tires
Standard tires
Tire Size on rim
Front
60 VR 15 7Jx15
Rear
60 VR 15 7Jx16
Wheel Rims and Tires
M-equipment tires
Tire Size on rim
Front
205/55 VR 16 7Jx16
Rear
225/50 VR 16 8Jx16
Winter tires
Tire Size on rim
Front
195/65 SR 15 7Jx15
Rear
195/65 SR 15 7Jx15
Dimensions (inch)
Lenght
168.90
Width
68.3
Height
50.20
Wheelbase
94.49
Track (with rims) inch
Front
58.2
Rear
57.1
Ground clearence (at total max weight) inch
4.72
Curbed surface clearence (at total max weight) inch
2.09
Weight
Curbweight (front) lbs
1430
Curbweight (rear) lbs
1430
Curbweight (total) lbs
2866 (?)
Max. axle load lbs
*Front
1606
*Rear
1980
Max total weight lbs
3520
Permissible */** rack load lbs
165
*The max. total weight, however, must not be exceeded.
**Applies only if the basic rack of the original Porsche Roof Transport System is used.
If old type Porsche ski and luggage racks are used the permissible roof weight is 77 lbs.
Capacities US gal
information in Owner's manual is valid
Engine oil
1.72
Engine coolant
2.24
Manual transmission + differential
0.53
Power steering
n/a
Fuel tank
21.12
Brake fluid
0.05
Washing fluid
1.57
Performance
Top speed in mph
142
Acceleration in seconds
0 to 60 mph
7.7
1/4 mile from standing start - sec
14.1
Transmission Oil Specification:
Manuals:
Hypoid gear lube SAE 80 to MIL-L 2105
API Classification GL 4
Automatic Transmission (US gal.):
ATF Dexron 11D, approx. 1.58 total volume;
approx. 0. 74 converter volume;
approx. 0.92 ATF change volume, watch mark on oil filler tank.
Differential of automatic transmission (US gal.):
final drive: approx. 0.26 of SAE 80 to MIL-L 2105B
API Classification GL 5 (filled for service life).
See also: