Porsche 1987 MY: the 928S 4 USA model
PORSCHE'S NEW MODEL 928S 4 ACHIEVES PEAK PERFORMANCE
RENO -- Porsche's new model 928S 4 has become the company's peak performance sports car through engine refinements and aerodynamic improvements.
The new 928S 4, with a five-liter, 32-valve, eight cylinder engine and catalytic converter gains 10 percent in horsepower to 316 hp and now is capable of a top speed on a test track of 165 mph with manual transmission and 162 mph with its standard automatic transmission. In addition, the sports car accelerates from 0 to 60 mph in 5.7 seconds with the manual transmission and in 6.3 seconds with automatic transmission under test conditions.
"These are exceptional performance figures for an automobile containing every driver comfort," said John A. Cook, president of Porsche Cars North America, Inc. "Drivers can drive the 928S 4 for hours at a tíme without getting tired."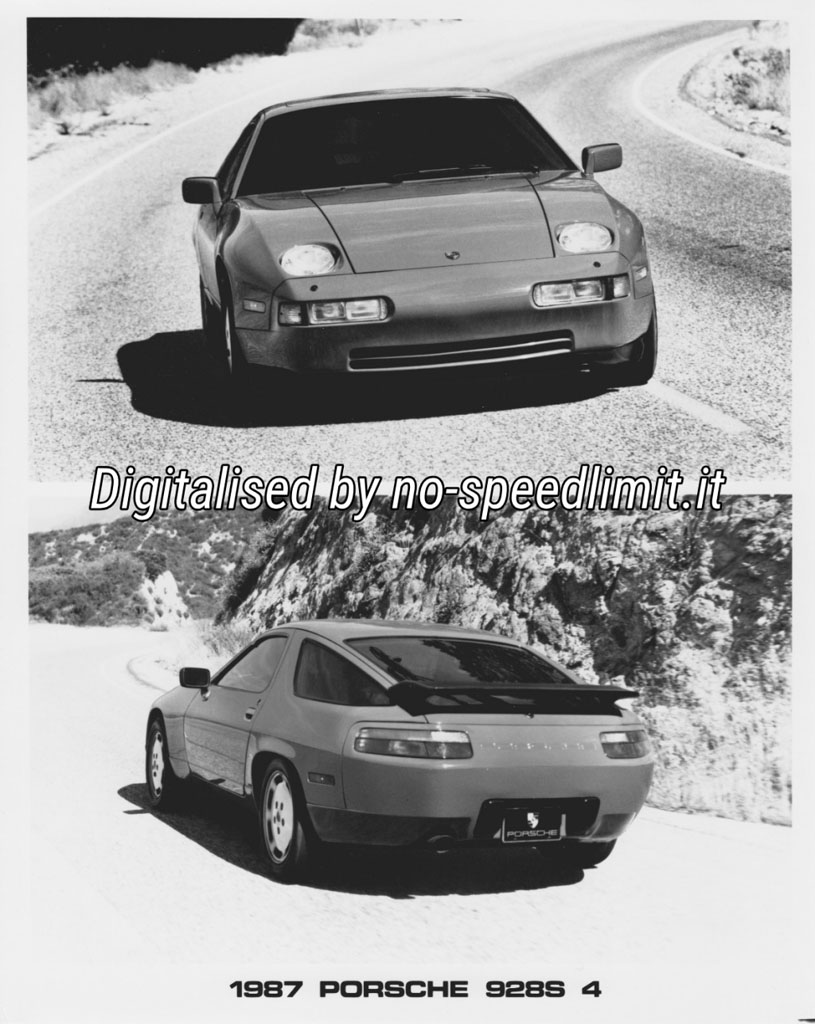 Cook said that the 928s 4's increased performance came from using optimized combustion, a redesign of the sports car's resonant induction system to provide powerful and flat torque characteristics across a broad range, and improved aerodynamics through the redesign of the nose, tail, undercarriage and engine compartment.
"In designing the 928S 4's resonant air induction systems, Porsche engineers have taken the ram induction principle that has been used in earlier models a step further," Cook explained. "By designing the induction systems to resonate at a particular engine rpm, the engineers developed a method force air into the engine's combustion chambers, developing higher torque at that rpm.
"For 1987, portions of the intake system are tuned to be resonant at more than one frequency -- specifically at 3,000 and 4,000 rpm," Cook continued. "Depending upon engine rpm, the engine breathes through one or both of the intake systems, thus delivering almost constant torque across a broad rpm range.
In addition to resonant induction, the 928S 4 now incorporates two electronic knock sensors which allow it to run on a the a wide octane range of unleaded fuels. Knock sensors allow the engine to operate as close as possible to optimal combustion conditions which, in turn, result in maximum power and fuel efficiency.
It was in the area of aerodynamic improvements that Porsche's engineers reached some elegant solutions," Cook said. The 928S 4's coefficient of drag is now 0.34 with virtually no lift at high speeds. With its new, wider 245/45 VR 16 rear tires on eight-inch, forged rims, the car handles easily in all driving situations."
Porsche's engineers and designers incorporated a new nose and front spoiler into the car which carries fog and driving lights and openings for engine and brake cooling. The 928s 4's new tail has "wraparound" stop lights and a new, detached rear spoiler to reduce lift. A belly pan was fitted below the engine compartment to improve air flow beneath the car.
Inside the front of the 928S 4, engineers fitted a computerized louver system to regulate air flow throughout the The louver system opens and closes based on engine compartment. temperatures in the cooling systems and, as a result, minimizes airflow internally to lower drag.
Porsche has added more comfort features for drivers with a new seating adjustment, called Positrol, that remembers three positions for the driver's and passenger's seat and outside mirrors.
"With the touch of a button, the driver can set the seat and mirrors precisely to his dimensions for maximum driving comfort: then with another touch of the button another driver can do the same, Cook said.
PCNA price was set at $58,900.
TECHNICAL DATA
ENGINE
Bore in inch
3.94
Stroke in inch
3.11
Displacement in in.3
302.5
Compression ratio
10.0:1
net. power SAE J 1349 in HP
316
At engine speed in rpm
6000
net. torque SAE 1349 in lbft
317
At engine speed in rpm
3000
Fuel grade in CLC (RON) unleaded fuel
91CLC (95 RON)
Engine weight (dry) lbs
582
Battery
12V 72amp
Alternator power
1610 W
Cooling System Type
Liquid cooled
Fan drive
2 electric motors
Engine Lubrication and oil cooling
Wet sump with crescent oil pump full-flow filter
Emission Control
Twin 3-way catalyst, oxygen sensor, secondary air injection
Fuel System Type
LH-Jetronic
Fuel Delivery
Electric pump

POWER TRANSMISSION
Clutch
Hydraulic torque converter (automatic)
Single disc diaphragm-type (manual)
Transmission
Transaxle, rear
Convert dia. inch
11.4
Torque Converter efficiency
98%
Stall speed in rpm
2150-400
Transmission weight wet in lbs.
238
Number of gears (ranges)
4 forward, 1 reverse (automatic)
5 forward, 1 reverse (manual)
Gear Ratios
Drive Range 1
i=3.686
Drive Range 2
i=2.419
Drive Range 3
i=1.440
Drive Range 4
i=1.000
Reverse
i=5.132
Final drive ratio
2.20:1
LSD (M-equipment) locking value
40%
Manual Transmission
Transmission weight in lbs.
150
Gear Ratios
1st gear
i=4.067
2nd gear
i=2.714
3rd gear
i=1.934
4th gear
i=1.463
5th gear
i=1.000
Reverse
i=3.571
Final drive
Direct beveled drive
Final drive ratio
2.20:1
LSD (M-equipment) locking value
40%

RUNNING GEAR
Front Axle
Independent, double A-arms, negative steering roll radius
Springs
Coil springs
Shock absorbers
Hydraulic double-acting
Steering
Power assisted rack and pinion
Steering wheel dia. in inch
14.96
Steering wheel ratio in center position
17.75:1
Turning circle dia. in ft.
37.7
Rear Axle
Independent "Weissech" axle with self-stabilizing toe-in characteristic
Springs
Coil springs
Shock absorbers
Hydraulic double-acting
Brakes
Service Brake

Dual circuit, division by axles, power assisted, vented discs with Anti-locking Brake System (ABS)
Brake disc diameter in inch
Front
11.96
Rear
11.77
Effective brake disc dia. in inch
Front
9.87
Rear
9.88
Brake disc thickness in inch
Front
1.25
Rear
0.94
Effective total pad area in sq.in.
65.71
Wheel Rims and Tires
Standard tires
Tire Siye on rim
Front
225/50 VR 16 7Jx16
Rear
245/45 VR 16 8Jx16
Dimensions (inch)
Lenght
178.1
Width
72.3
Height
50.5
Wheelbase
98.42
Track (with rims) inch
Front
61.06
Rear
60.9
Ground clearence (at total max weight) inch
4.72
Curbweight (total) lbs
3549 (automatic)
3505 (manual)
Max. axle load lbs
*Front
2028
*Rear
2425
Max total weight lbs
4232
Permissible */** rack load lbs
77
*The max. total weight, however, must not be exceeded.
**Applies only if the basic rack of the original Porsche Roof Transport System is used.
If old type Porsche ski and luggage racks are used the permissible roof weight is 77 lbs.
Capacities US gal
Engine oil
1.97
Engine coolant
4.22
Manual transmission + differential
1.20
Automatic Transmission with torque converter
1.92
Differential of automatic transmission
0.79
Power steering
0.18
Fuel tank
22.7
Brake fluid
0.05
Washing fluid
1.97
Performance
Top speed in mph
Manuals
165
Automatics
162
Acceleration in seconds (manuals)
0 to 60 mph
5.7
1/4 mile from standing start - sec
Manual
14.1
Automatic
14.7
Acceleration in seconds (automatics)
0 to 60 mph
6.3
Miscellaneous: Oil level is measured with oil dipstick. Information in Owner's Manual is applicable.
Engine Oil Specification:
Approved:
API SE SF with combinations
API SE/CC - SE/CD - SF/CC - SF/CD
Multigrade Oil: As approved by factory - see Technical Information on engine oils.
Transmission Oil Specification:
Manuals:
Multigrade gear lube 75W90 to MIL-L2105B or API Classification GL5
Automatic Transmission (US gal.):
ATF Dexron 11D, approx. 1.58 total volume;
approx. 0.74 converter volume;
approx. 0.92 ATF change volume, watch mark on oil filler tank.
Differential of automatic transmission: (US gal.)
final drive: approx. 0.26 of SAE 90 to MIL-L 2105B
API Classification GL 5 (filled for service life).
See also: