Porsche 1987 MY: the 911 USA model
Opening the era of the new G50 gearbox with revised pattern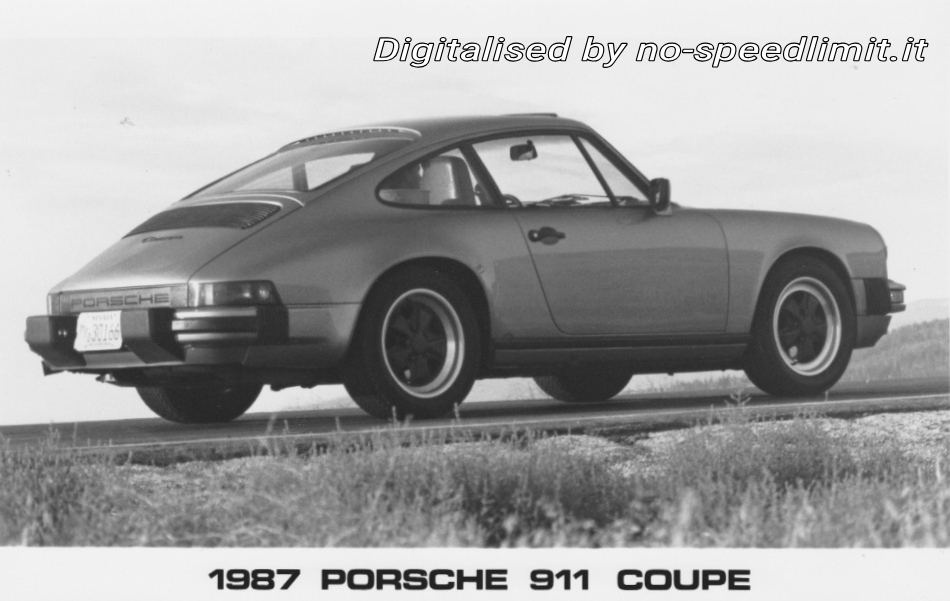 Improvements to the 1987 model 911 Coupe, Targa and Cabriolet -- Porsche's classic race-bred sports cars -- include a hydraulically assisted new clutch, a new five-speed gearbox and a gain in horsepower through use of optimized combustion developed from the company's racing engines.
The new clutch and transmission allow smoother movements from gear to gear, with a changed gear pattern. The six-cylinder Carrera engine with optimized combustion has gained 14 horsepower without any total weight increase and now produces a total of 214 hp with a top speed on a test track of 149 mph and a 0 to 60 mph time of 6.1 seconds under test conditions.
The 911 Carrera has fresh colors and additional leather trim options as well as new fully adjustable electric comfort seats with additional lumbar support.
PORSCHE CARS NORTH AMERICA: 1987 911
MANUFACTURER'S SUGGESTED RETAIL PRICES
| | |
| --- | --- |
| 911 Carrera Coupé | $38,500 |
| 911 Carrera Targa | $40,500 |
| 911 Carrera Cabrio | $44,500 |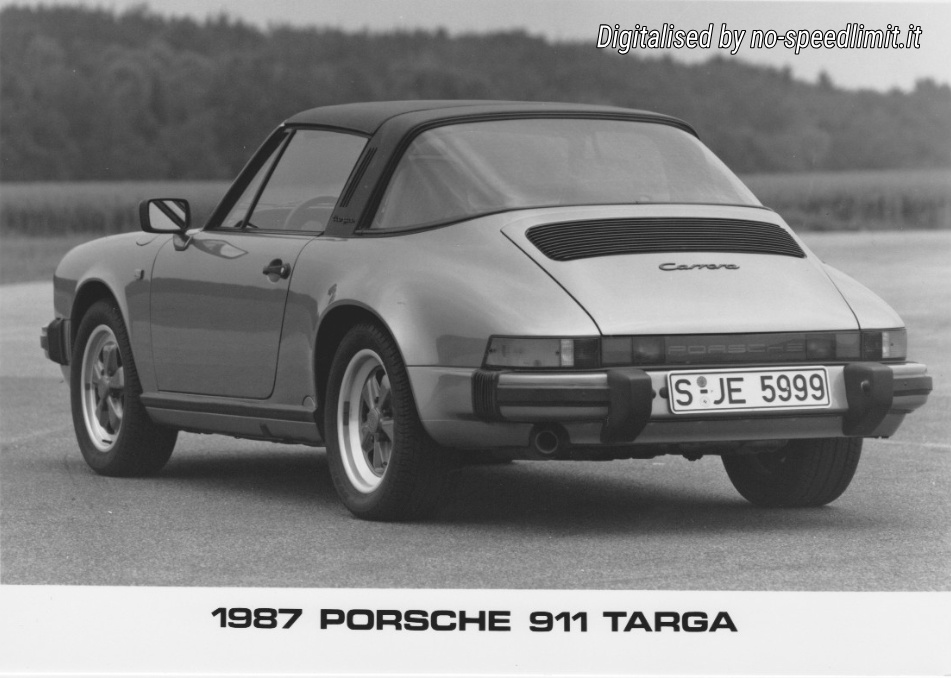 TECHNICAL DATA
ENGINE
Bore in inch
3.74
Stroke in inch
2.93
Displacement in in.3
193.1
Compression ratio
9.5:1
net. power SAE J 1349 in HP
214
At engine speed in rpm
5900
net. torque SAE 1349 in lbft
195
At engine speed in rpm
4800
Speed governed by stopping fuel flow at rpm
6250±50
Fuel grade in CLC (RON) unleaded fuel
91CLC (95 RON)
Engine weight (dry) lbs
485
Battery
12V 88amp
Alternator power
1260 W
Cooling System Type
Air cooled
Fan drive
Crankshaft via belt
Engine Lubrication and oil cooling
Dry sump with separated oil tank thermostatically contolled oil cooling, full flow oil filter
Emission Control
3-way catalyst, oxygen sensor, secondary air injection
Fuel System Type
DME
Fuel Delivery
Electric pump

POWER TRANSMISSION
Clutch
Single disc, dry, hydraulically activated
Transmission
Engine mounted, rear
Number of gears (ranges)
5 forward, 1 reverse
Gear Ratios
1st gear
i=3.500
2nd gear
i=2.059
3rd gear
i=1.409
4th gear
i=1.125
5th gear
i=0.889
Reverse
i=2.857
Final drive
Hypoid drive, pinion & differential
Final drive ratio
3.44:1
LSD (M-equipment) locking value
40%

RUNNING GEAR
Front Axle
Independent MacPherson strut
Springs
Torsion bars
Shock absorbers
Hydraulic double-acting
Steering
Rack and pinion
Steering wheel dia. in inch
14.96
Steering wheel ratio in center position
17.78:1
Turning circle dia. in ft.
35.9
Rear Axle
Independent semi-trailing arms
Springs
1 transverse torsion bar per wheel
Shock absorbers
Hydraulic double-acting
Brakes
Service Brake

Power assisted, ventilated discs
Brake disc diameter in inch
Front
11.12
Rear
11.41
Effective brake disc dia. in inch
Front
8.97
Rear
9.60
Effective total pad area in sq.in.
39.83
Wheel Rims and Tires
Standard tires
Tire Siye on rim
Front
195/65 VR 15 6Jx15
Rear
215/60 VR 15 7Jx15
Dimensions (inch)
Lenght
168.94
Width
65.04
Height
52.0
Wheelbase
89.45
Track (with rims) inch
Front
53.9
Rear
54.3
Ground clearence (at total max weight) inch
5.12
Curbweight (total) lbs
2756
Max. axle load lbs
*Front
1433
*Rear
2094
Max total weight lbs
3417
*The max. total weight, however, must not be exceeded.
Capacities US gal
Engine oil
3.42
Manual transmission + differential
0.80
Fuel tank
22.5
Brake fluid
0.05
Washing fluid
2.12
Performance
Top speed in mph
149
Acceleration in seconds
0 to 60 mph
6.1
1/4 mile from standing start - sec
15.2
Miscellaneous: Oil level is measured with oil dipstick. Information in Owner's Manual is applicable.
Engine Oil Specification:
Approved:
API SE SF with combinations
API SE/CC - SE/CD - SF/CC - SF/CD
Multigrade Oil: As approved by factory - see Technical Information on engine oils.
Transmission Oil Specification:
Manuals:
Multigrade gear lube 75W90 to MIL-L2105B or API Classification GL5
Automatic Transmission (US gal.):
ATF Dexron 11D, approx. 1.58 total volume;
approx. 0.74 converter volume;
approx. 0.92 ATF change volume, watch mark on oil filler tank.
Differential of automatic transmission: (US gal.)
final drive: approx. 0.26 of SAE 90 to MIL-L 2105B
API Classification GL 5 (filled for service life).
See also: