PORSCHE WERKFOTO - 1984
Porsche 944. The new hit in the Porsche business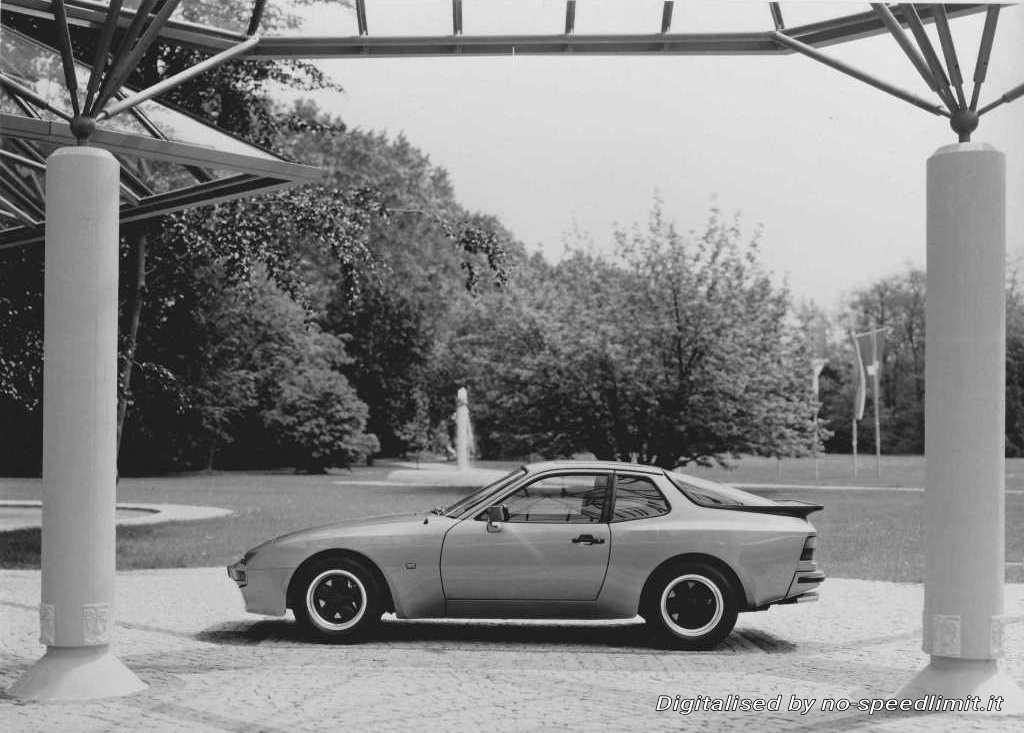 The 2.5 liter four-cylinder Porsche 944 has already found around 30,000 buyers since it started production in early 1982. It owes its strong worldwide demand to the future-oriented concept: it combines all the characteristics that sports car lovers demand from their vehicle with the smooth running of six- or eight-cylinder engines and the economy of almost small cars. Despite its engine output of 163 hp (120 kW) and its top speed of 220 km / h, it consumes only 7 liters at 90 km / h, 120 liters at 8.7 km and 11.4 liters of fuel per 100 km in heavy city traffic.
The aerodynamically optimized shape of the 944 with large spoilers at the front and rear, small cross-sectional area and an excellent Cd value of 0.35 results in the very low total drag Cw x A = 0.64. Like the 924, the 944 is one of the most streamlined production cars on the world market. The transaxle design combines the advantages of even weight distribution, high drive traction and favorable space ratios.
The Porsche 944 is entering its third year after further careful model maintenance, which also extends to the available special requests. The driver can now unlock the tailgate electrically from his seat without having to remove the ignition key and get out.
Makeup mirrors can be found in the sun visors on the left and right. The interior design program has also undergone changes. A brake pad wear indicator provides additional safety.
In conjunction with the forged rims, which are available on request, the rim stars are also available painted in "grand prix white" or "platinum metallic". Also as a special request, the 944 is now available with the automatic speed control "Tempostat". The removable roof is now equipped with an electrical lifting device: it can also be raised or retracted while driving.