Porsche unveils modular experimental prototype car
Press release 06/87 - 01.05.87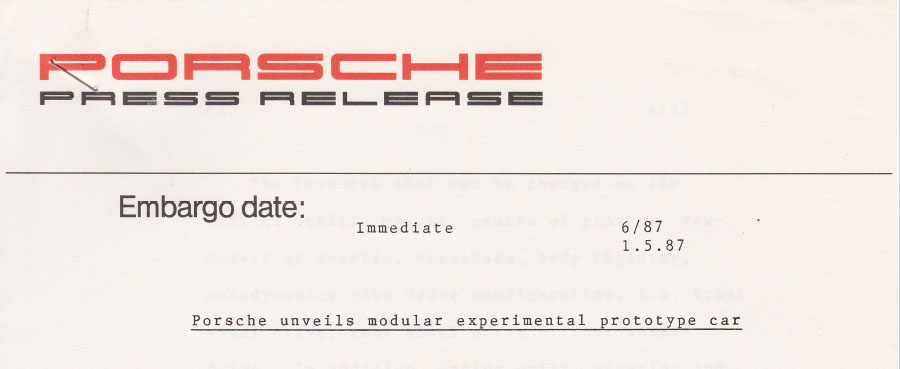 The Porsche Research and Development Centre at Weissach has developed an interesting vehicle for undertaking basic research into driving dynamics. The Porsche Experimental Prototype (PEP) is of modular design and allows engineers to change its technical data and therefore its driving dynamics at will.
The advantage of PEP is that it allows theoretical research to be conducted on driving dynamics without the need to build several cars, thus saving time and expense. Furthermore, by employing one constant basic test vehicle at all times, PEP ensures that engineers only measure the effects of variables introduced and not variances caused by slight changes in chassis construction.
The features that can be changed on PEP include vehicle weight, centre of gravity, moment of inertia, wheelbase, body rigidity, aerodynamics plus drive configuration, i.e. front wheel drive, rear wheel drive or four-wheeldrive. In addition, engine units, steering and suspension can all be changed so that any combination of design is possible.
The chameleon-like properties of PEP are made possible by its modular design. The four basic components are a central monocoque module, a spaceframe front axle module, a spaceframe rear axle module and a drive module. In design concept it is similar to the universal SAVE and ORBIT variable building block systems developed by Porsche for rescue and fire fighting services in the mid-seventies.
In unveiling PEP, Porsche has quashed recent press speculation that the car sighted was indeed a new low-entry level model or a successor to the 911.