PORSCHE PRESS KIT: 1964 LANDING PAGE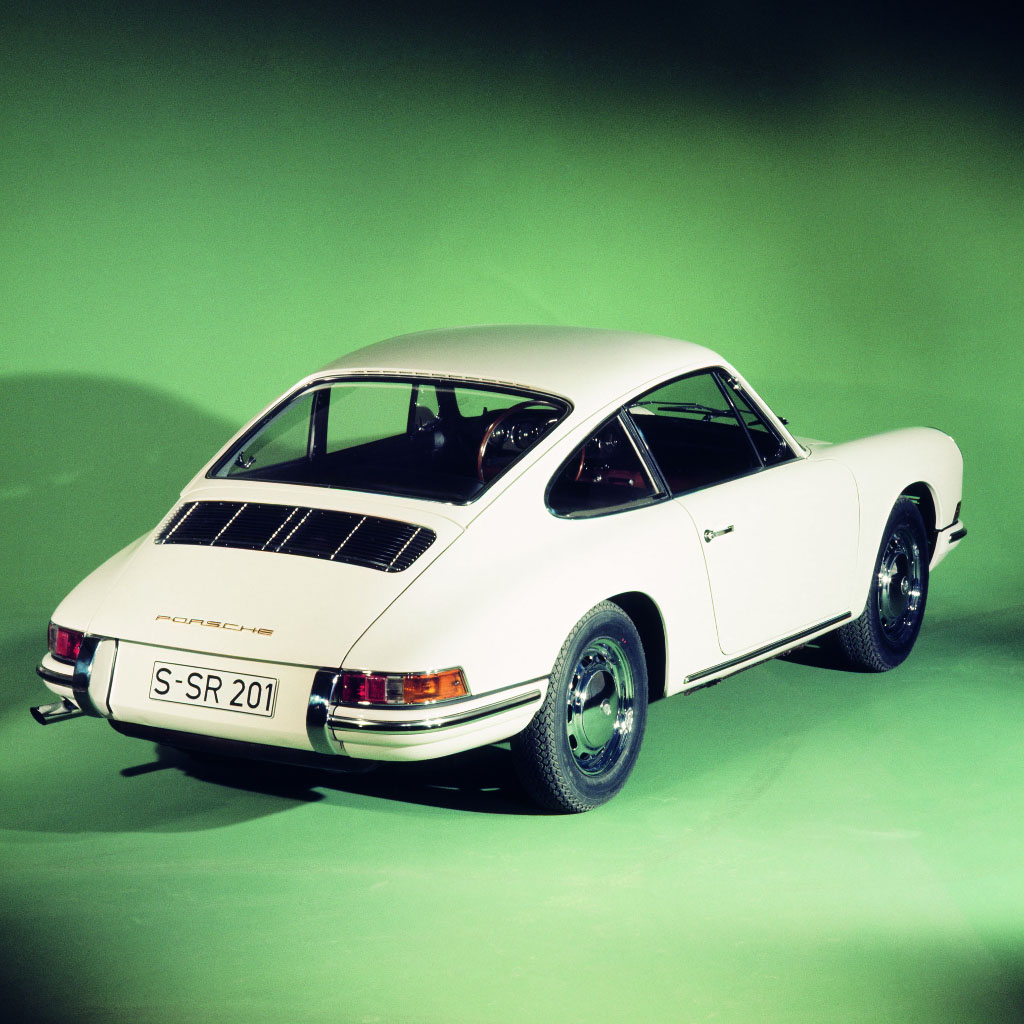 One of the first Porsche 901 (later 911) Coupé, 1963
Highlights
Sep. 12, 1963: a prototype of the new
Porsche 901
, later to be re-named the
911
, is for the first time presented at the Frankfurt IAA Motor Show. Succeeding the Porsche 356 selling very successfully in the market at a total volume of approximately 78,000 units, the 911 was designed with the key contribution of
Ferdinand Alexander "Butzi" Porsche
, the eldest son of Porsche President
Ferry Porsche
. The fundamental role of
Erwin Komenda
and other senior Porsche staff had always been downplayed for internal "political" and marketing reason.
In addition to a six-cylinder engine with overhead camshafts, the successor to the now-legendary Porsche 356 features a suspension with semi-trailing arm rear axle, and a self-supporting body.
Distinguishing features setting the new model aside from the 356 were extra space inside, a higher standard of driving comfort, and, for the first time, a six-cylinder replacing the four-cylinder. Major factors remaining unchanged were the engine mounted at the rear, once again an air-cooled horizontally-opposed power unit.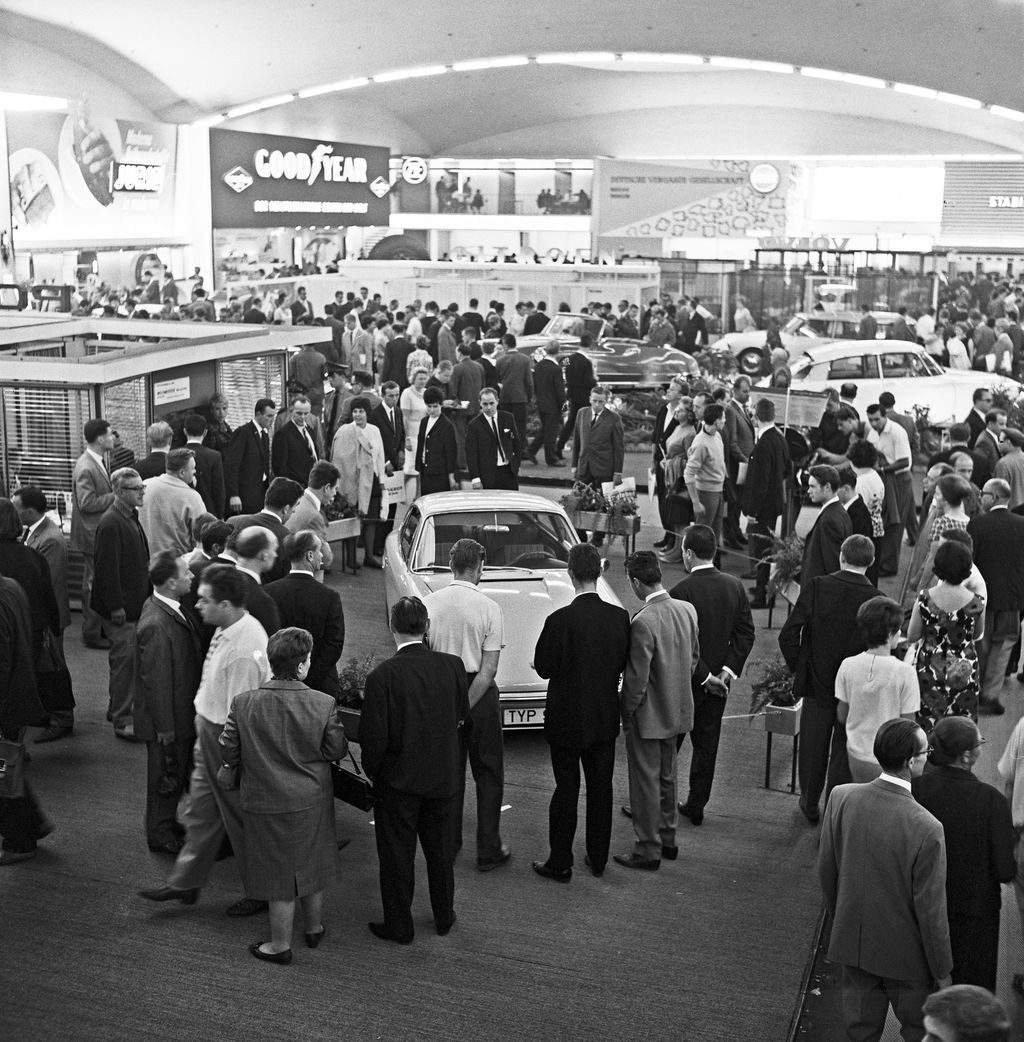 After a series of successful tests on 13 prototypes of the 901, the first mass-produced 901 rolls off the assembly line on September 14, 1964 (
MY 1965
), initially at a retail price of DM 21,900.–. Maximum output is 130 bhp, top speed 210 km/h or 130 mph. In October, the production-ready model is presented at the Paris Motor Show. Since the French manufacturer
Peugeot
already owns the rights to three-digit vehicle names with a zero in the middle, the Stuttgart-based company is forced to rename the model range, and the "911" designation is born. By this point, there are already 82 vehicles with the 901 type designation. By the end of the year, approximately five 911 vehicles are leaving the Porsche plant every day.
Before production stopped on December 23, 1964,
232 cars
of pre-production and production cars starting with VIN 300 001 and ending with 300 232 had been produced.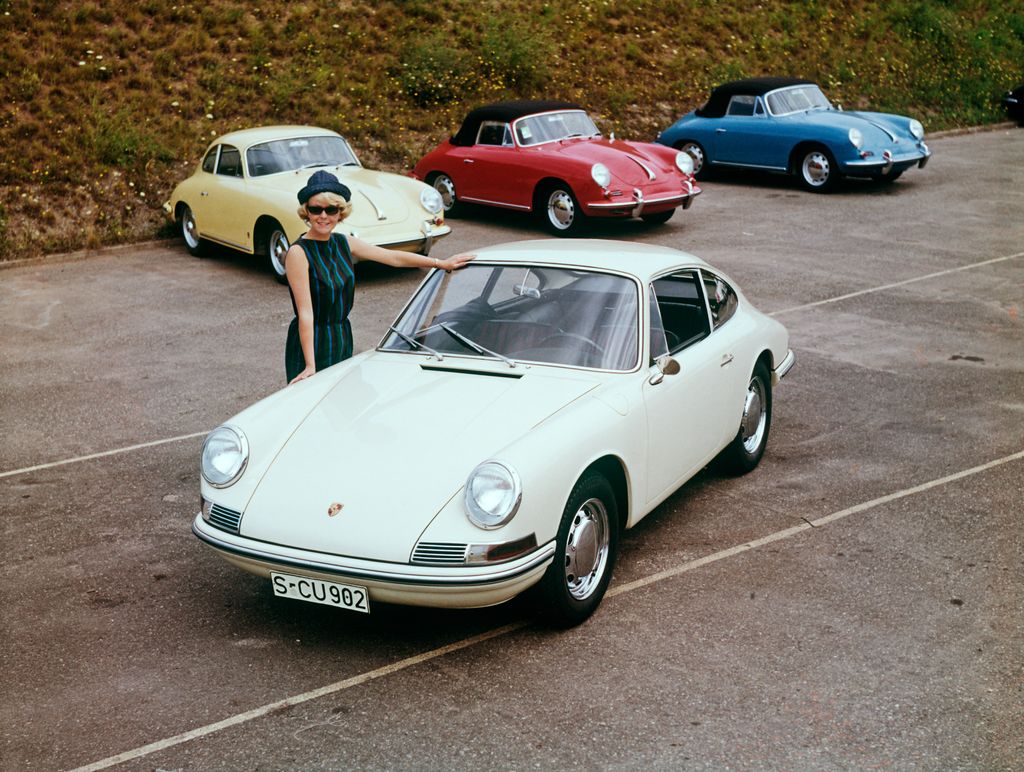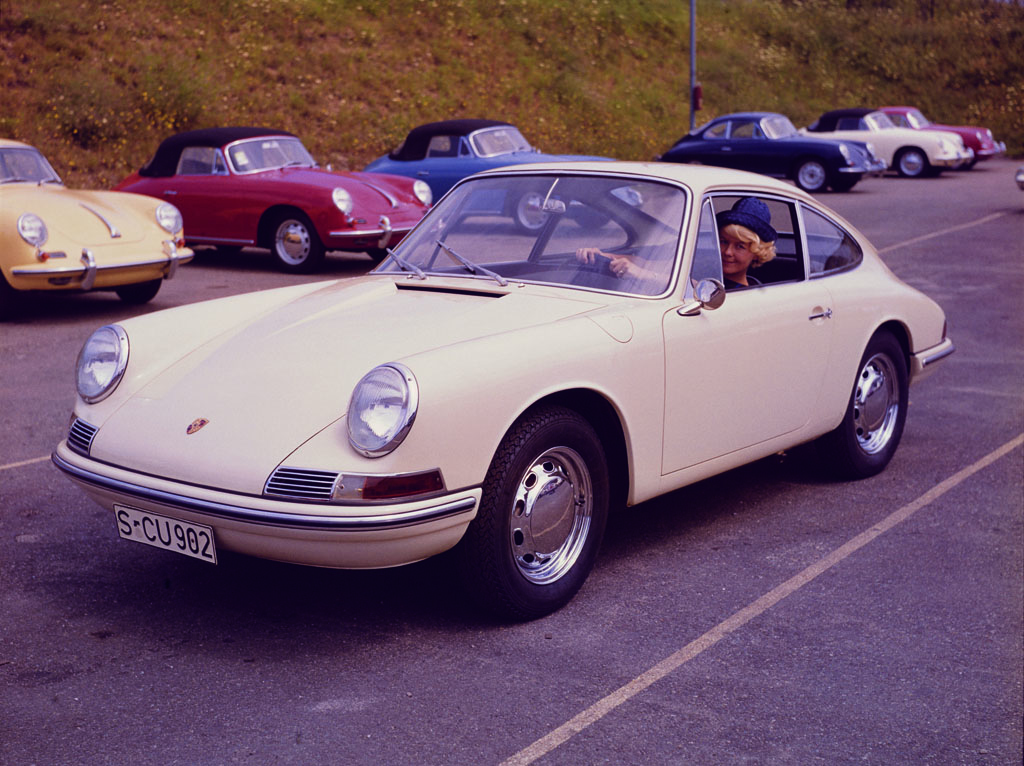 Porsche 911 Coupé, 1964
The stand at the 1963 IAA also features the new
Porsche 356 C
model series, which offers not only a wide range of technical enhancements but also a four-disc brake system, and is series produced alongside the later 911 until September 1965.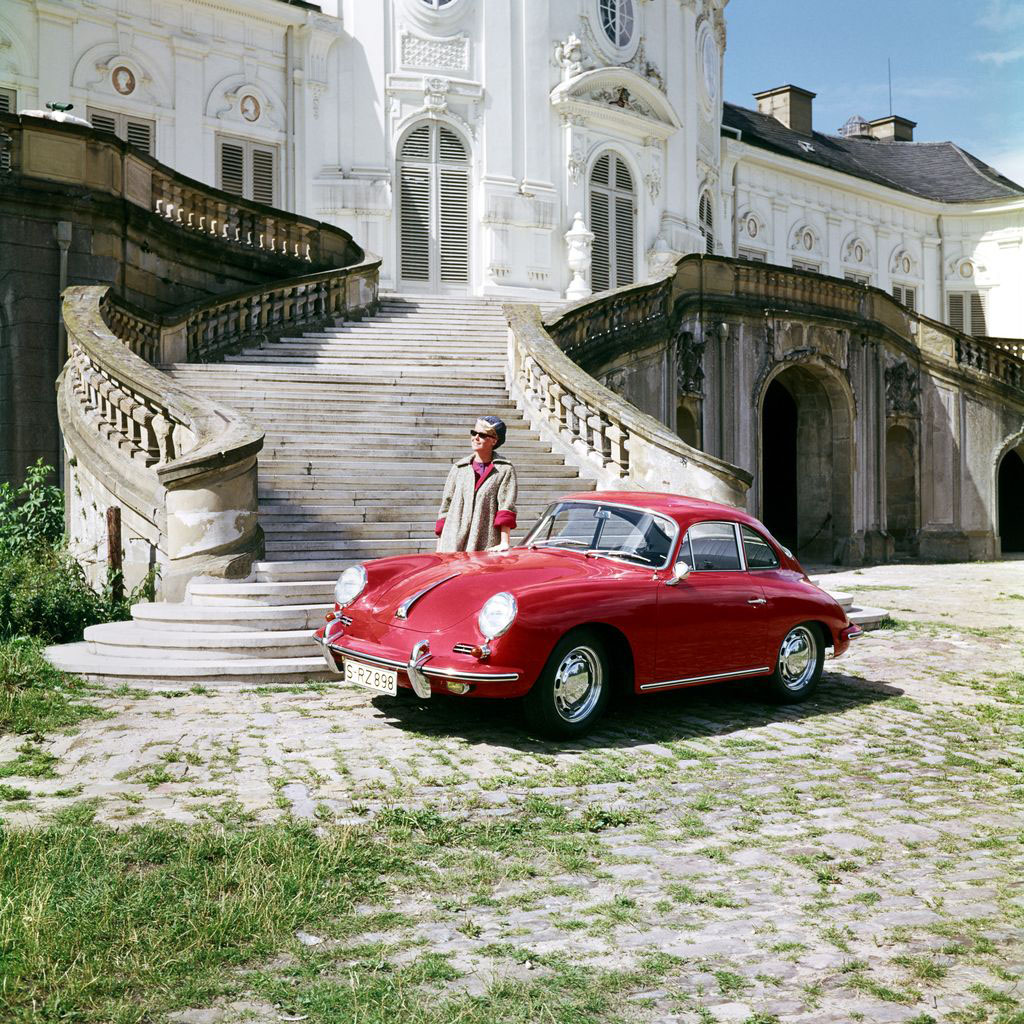 On March 1, 1964, the
Reutter
bodywork factory is renamed "Karosseriewerk Porsche GmbH". The Reutter employees (almost 1,000 at the time of the acquisition) are taken on by Porsche KG with no break in their employment history.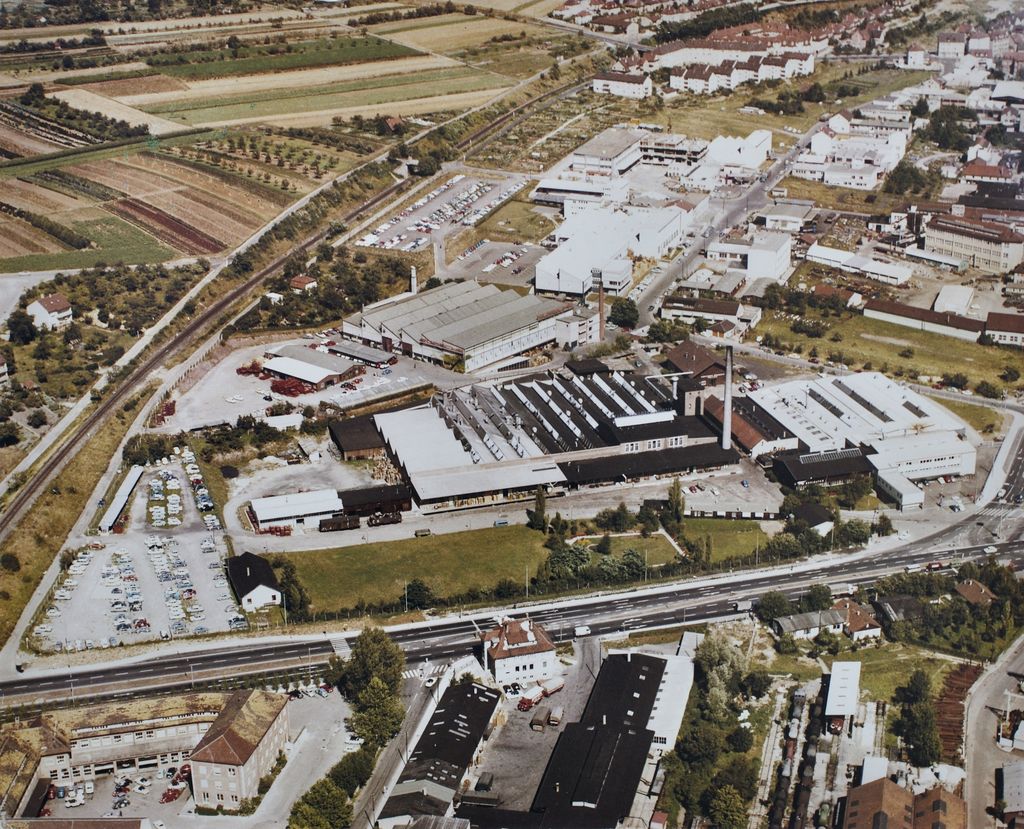 As the first Porsche with a glass-fibre reinforced plastic body, the
Porsche 904 Carrera GTS
Coupé is remarkable both in terms of its F. A. Porsche design and its driving performance. The first racing successes are swift to follow, with a win for the mid-engine sports car at the
Targa Florio
(Pucci/Davis) and second place at the
Monte Carlo Rally
in 1965 (Böhringer/Wütherich).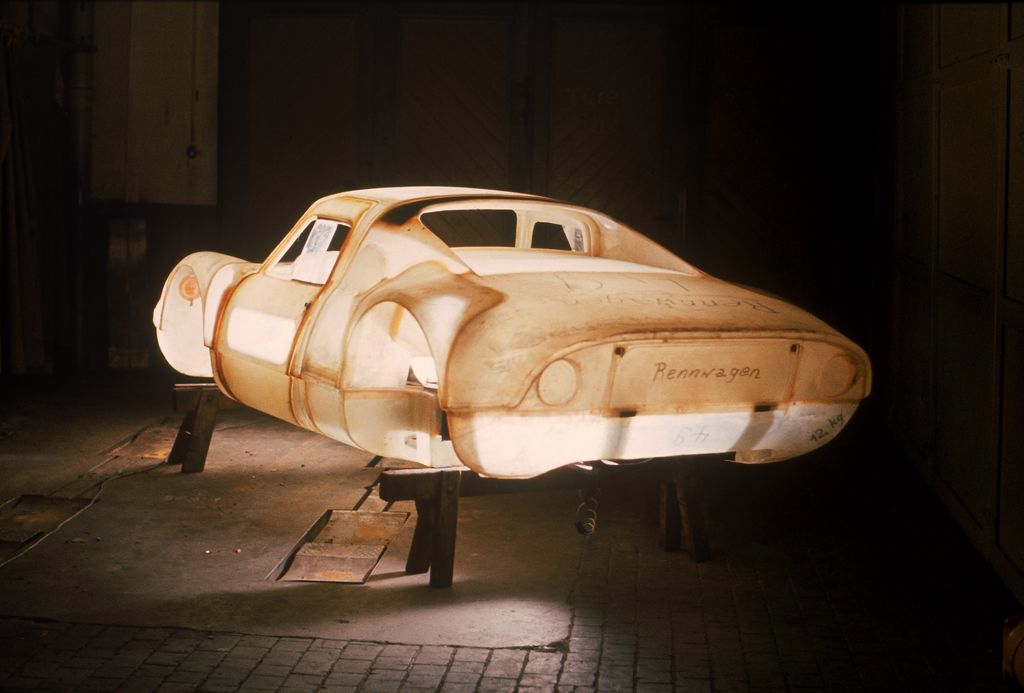 Content
See also: