PORSCHE LITERATURE
1975 - Porsche 911 - USA
Brochure downloaded from website: Stuttcars.com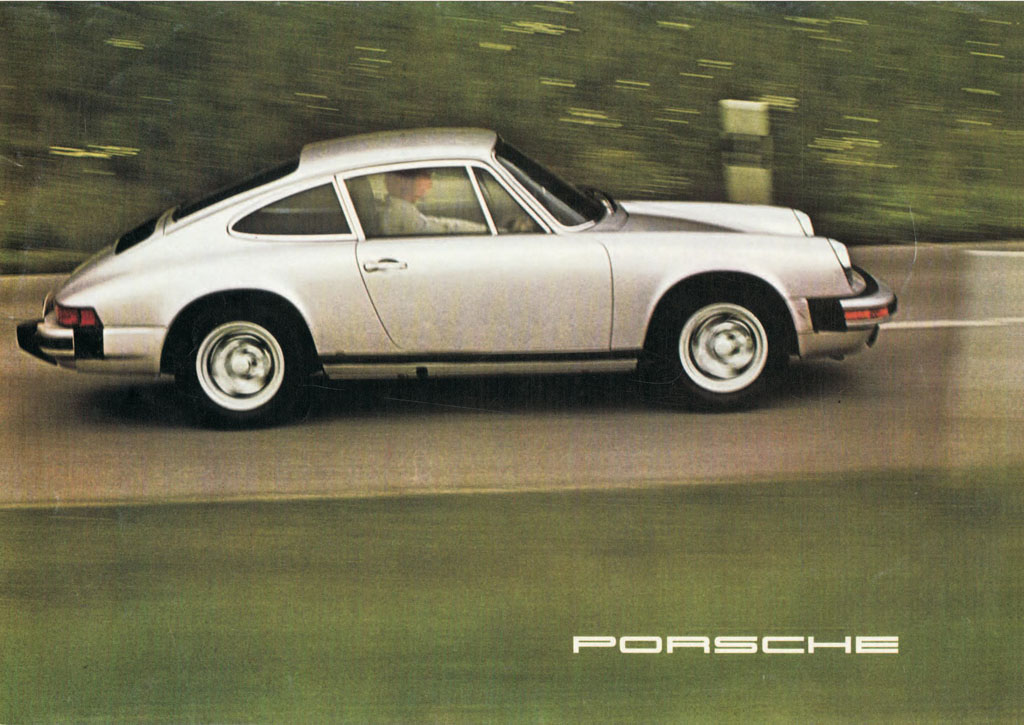 The best way to buy a Porsche is to order it through your local Porsche dealer and then fly to Stuttgart, Germany, to pick up your car at the factory.
That way, you'd see how your Porsche is built. It would be quite an experience. Because you'd get a good insight into why Porsches are different from all other cars. And a better understanding of why a Porsche looks, feels and drives the way it does.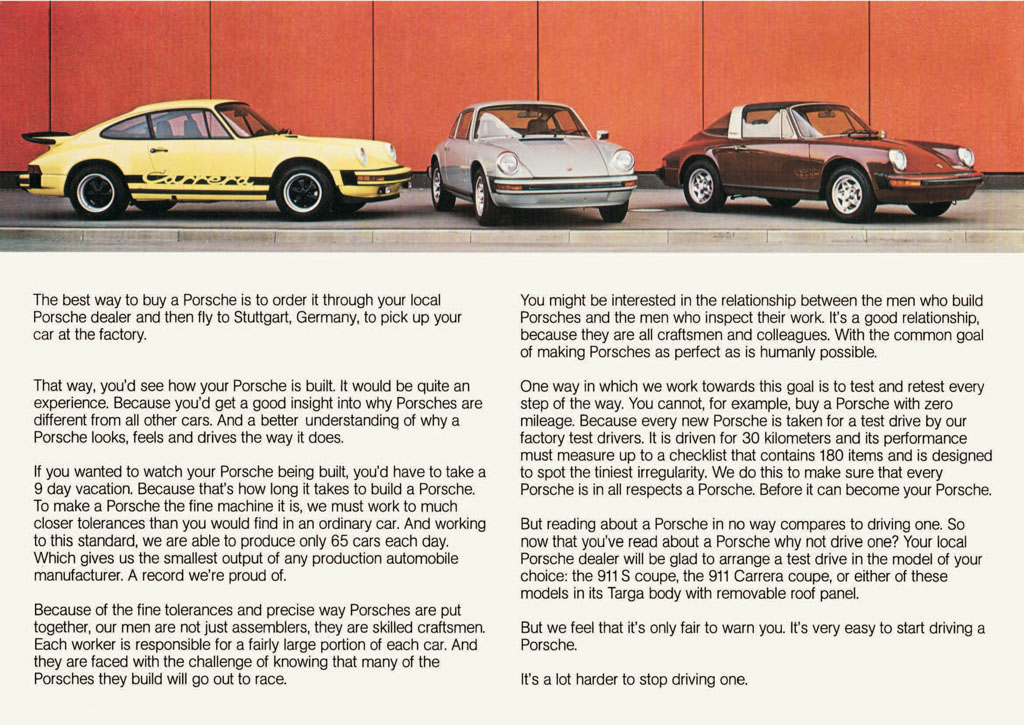 If you wanted to watch your Porsche being built, you'd have to take a 9 day vacation. Because that's how long it takes to build a Porsche.
To make a Porsche the fine machine it is, we must work to much closer tolerances than you would find in an ordinary car. And working to this standard, we are able to produce only 65 cars each day.
Which gives us the smallest output of any production automobile manufacturer. A record we're proud of.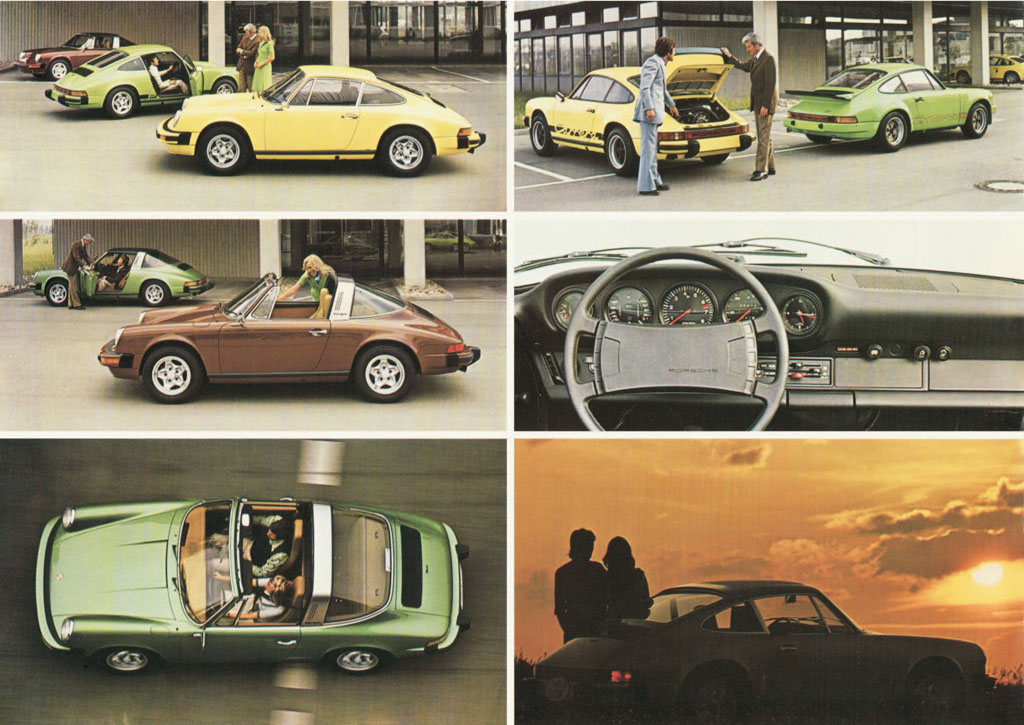 Because of the fine tolerances and precise way Porsches are put together, our men are not just assemblers, they are skilled craftsmen. Each worker is responsible for a fairly large portion of each car. And they are faced with the challenge of knowing that many of the Porsches they build will go out to race.
You might be interested in the relationship between the men who build Porsches and the men who inspect their work. It's a good relationship, because they are all craftsmen and colleagues. With the common goal of making Porsches as perfect as is humanly possible.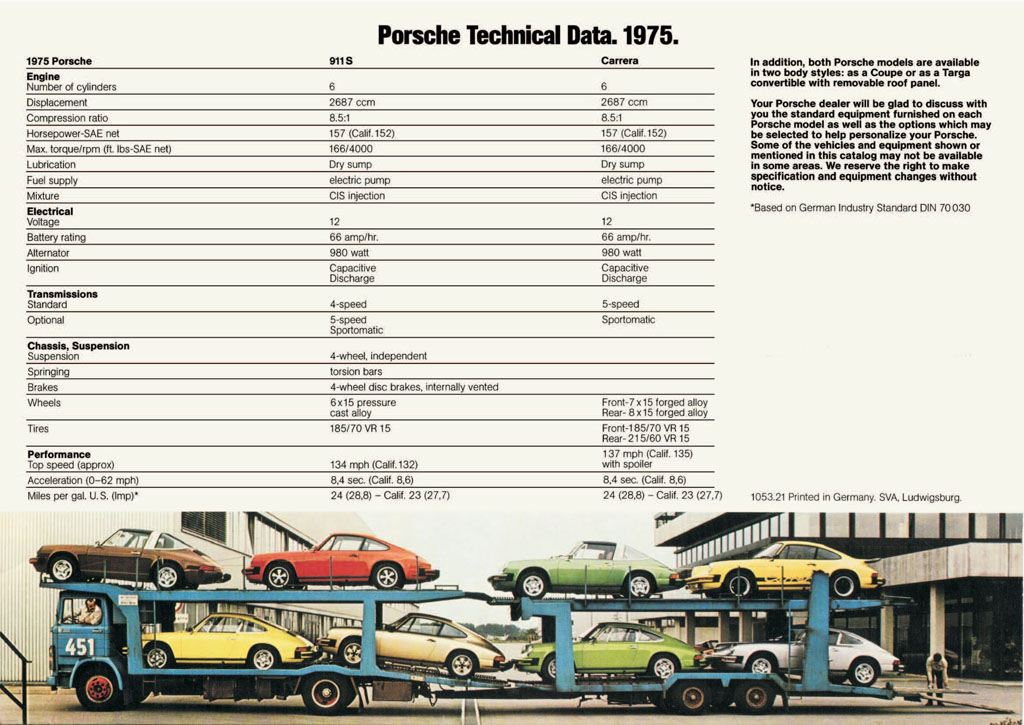 One way in which we work towards this goal is to test and retest every step of the way. You cannot, for example, buy a Porsche with zero mileage. Because every new Porsche is taken for a test drive by our factory test drivers. It is driven for 30 kilometres and its performance must measure up to a checklist that contains 180 items and is designed to spot the tiniest irregularity. We do this to make sure that every Porsche is in all respects a Porsche. Before it can become your Porsche.
TBut reading about a Porsche in no way compares to driving one. So now that you've read about a Porsche why not drive one? Your local Porsche dealer will be glad to arrange a test drive in the model of your choice: the 911 S coupe, the 911 Carrera coupe, or either of these models in its Targa body with removable roof panel.
But we feel that it's only fair to warn you. It's very easy to start driving a Porsche.
It's a lot harder to stop driving one.
See also: