PORSCHE PRESS RELEASE: 1972 PORSCHE 911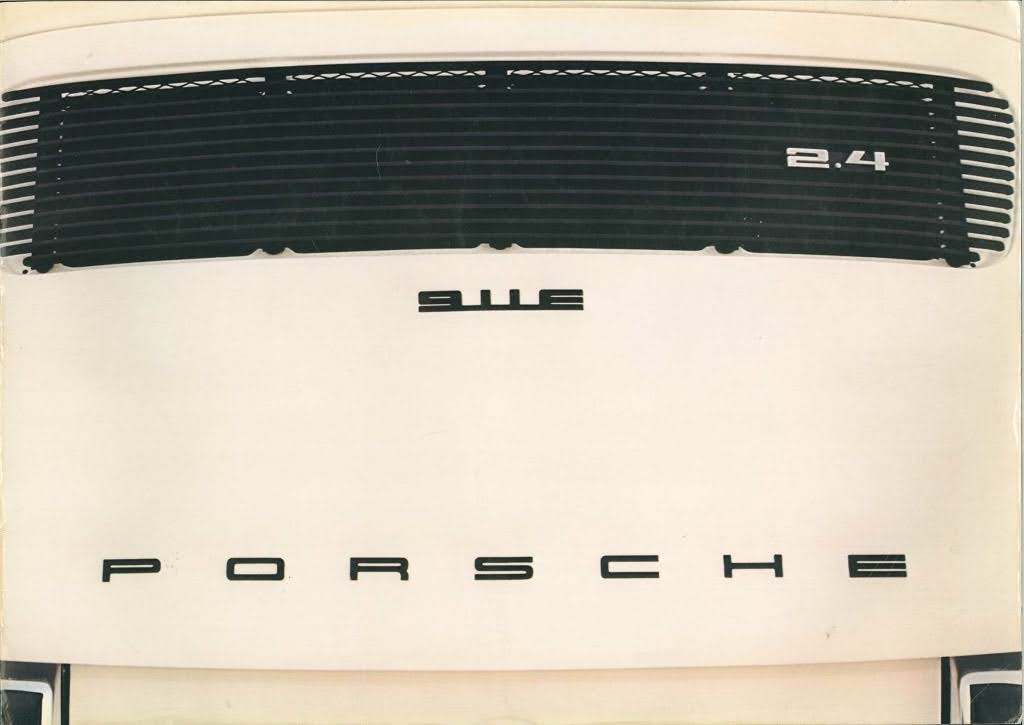 Our intention right from the outset with the Porsche 911 was to build a sports car which can be entered in competitions straight off the production line!
But which is so rugged and comfortable that it has all the good qualities of a sedan in everyday traffic.
And finally, an automobile styled in such a way that it remains unaffected by fashion influences.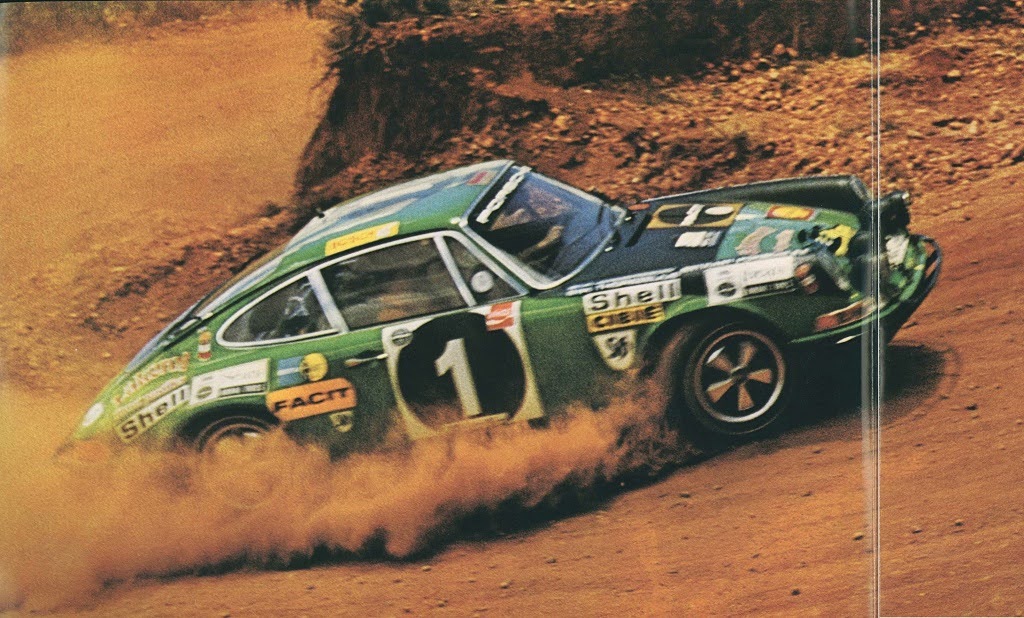 The perfection of the Porsche 911 results from many years of experience with the vehicle, observing it in everyday situations and constantly subjecting the design and details to critical tests in racing situations.
Before changes are made in the standard production models, they undergo rigorous testing on the track. However, it has never been necessary to change the basic Porsche concept.
Thus, the 2.4 liter engine does not make it a new Porsche but rather a better Porsche.
Today, years after the first Porsche 911 made its debut, we still maintain the same approach to sports car construction: confront our designers with ever newer problems in racing sports. In order to make what's good better.

The result: The Porsche 911 has become the most successful sports car in the world.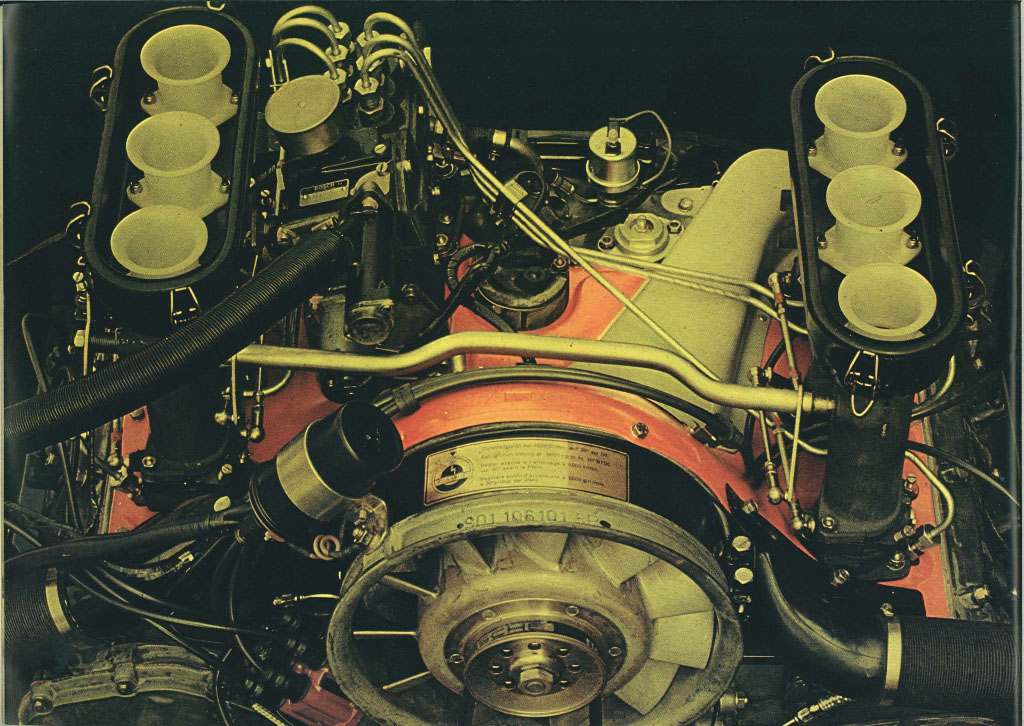 Its 6-cylinder high performance engine now has a displacement of 2.4 liters. And it is more flexible and stronger.
While the 2.2 liter engines performed very well, the 2.4 liter engines have increased flexibility and torque versatility. This means the Porsche 911 is a better city car and has added sprint for passing.
No changes have been made in the technical details which arc essentially the same for all three engines. The six air-cooled cylinders are horizontally opposed (three to the left and three to the right of the crankcase) and are covered with light alloy deep ribbed cylinder heads to reduce thermal stress.
The V-pattern overhead valves are controlled via rockers by overhead camshafts for each cylinder bank. The forged, eight-point bearing crankshaft provides for absolutely vibration-free operation. A dry sump lubrication system guarantees uniform oil supply total lubrication points,even when taking curvesat high speeds.
The Porsche 911 series has three different engines. The 130 DIN HP (147 SAE HP) T model is equipped with two 3-barrel carburetors - one carburetor per cylinder. The fuel-air mixture is fed into the combustion chambers through short manifolds.
The 911 E and 911 S engines are fed by a mechanical manifold fuel injection. In addition to the increased power of 165 DIN HP (185 SAE HP) and 190 DIN HP (210 SAE HP) respectively, the Bosch injection system also has the following advantages: the fuel-air mixture greatly reduces the output of unburned hydrocarbons and carbon monoxide. We at Porsche are very concerned about detoxifying exhaust gases. This was one of the main reasons for lowering the compression ratio in the 2.4 liter engine so that the Porsche can now be driven with lead-free regular gasoline (91 octane).
All Porsche engines are highly tested, rugged components which combine high torque reserves with low piston speed. These engines love nothing better than to run for hours at high speeds or drive the gears full out. The engine speed governor makes it impossible to overspeed a Porsche engine while accelerating. The Porsche 911 S has an additional oil cooler.
Everyday driving and racing successes are proof of the high capacity and long service life of Porsche engines.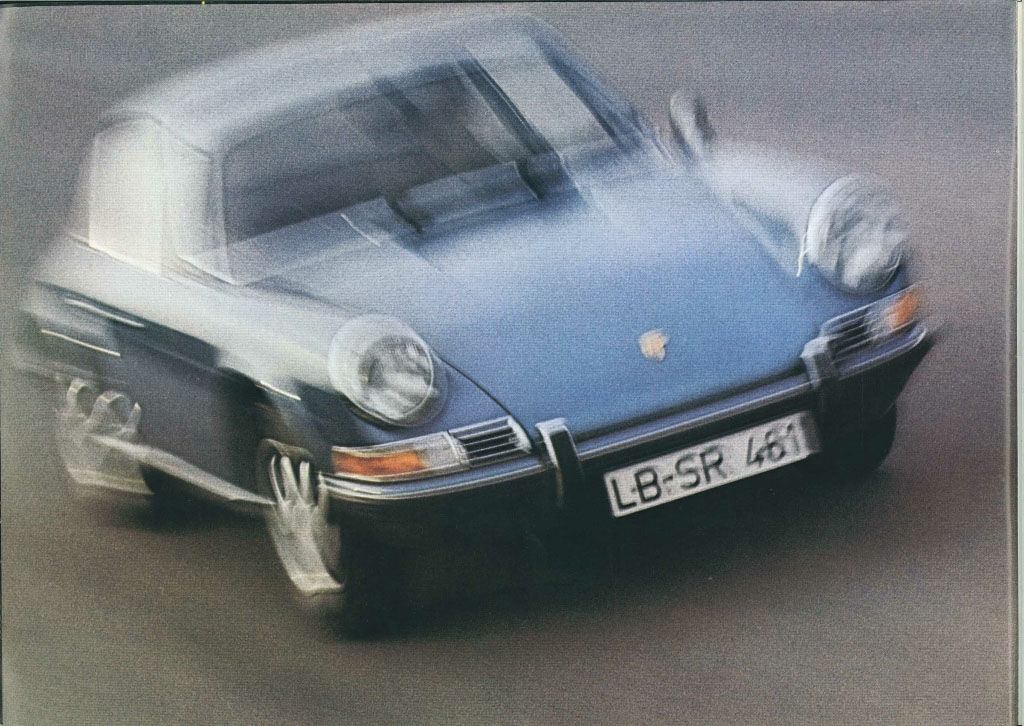 The Porsche baulk synchromesh transmission comes in three different versions.
With the higher engine speed and greater flexibility of the 2.4 l engine, we were able to make a new reinforced 4-speed transmission standard equipment on all Porsche 911 's. The transmission and engine form a single unit providing optimum power load tothedrive gears.The synchronization is very fast only short, precise shifting motions are necessary to find the different gears. The ranges of the various gears have been precisely tuned to the engine characteristics and the individual vehicle types. This means that the top engine capacity is available for every driving situation. Quick shifting of the Porsche baulk synchromesh transmission transfers the acceleration power to the wheels with minimum delay.
As an option, you can have your Porsche equipped with a 5-speed transmission. Or, with the "Sportomatic" - the automatic transmission for sports drivers. It combines the advantages of the Porsche 4-speed transmission with a hydraulic torque converter.
With the Sportomatic you no longer have to shift but you can when you want to. When driving in heavy city traffic or in a column on the road you simply remain in the selected gear. But on the open road and in sport driving situations you can shift it like a normal transmission. But without having to clutch! When you shift gears the Sportomatic clutches automatically. Thus, the Sportomatic not only saves your nerves but also all the elements in the drive train of your Porsche.
It combines the comfort of an automatic transmission with the sportiness of a standard transmission.
By the way, a Porsche equipped with the Sportomatic won the 84-hour "Marathon de la Route" - proof enough of its sporty acceleration.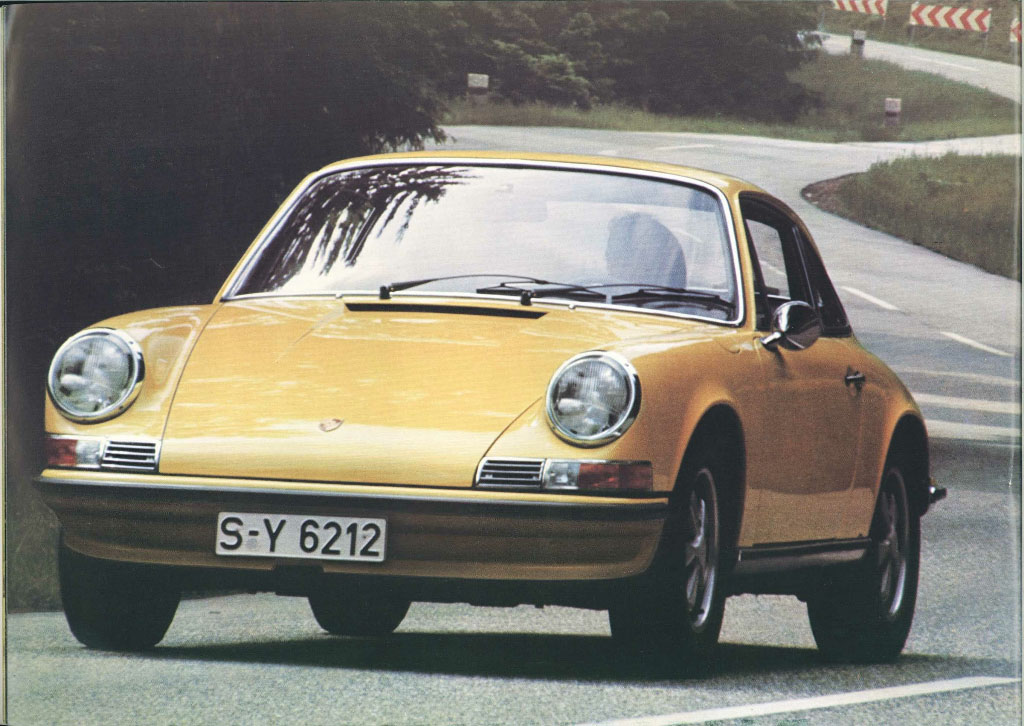 911 S with front apron designed as a spoiler
The chassis - an optimum combination of sporting safety and driving comfort.
The Porsche chassis clearly shows there is no contradiction between suspension/ damping comfort and sporty readability.
The independently suspended front wheels are stabilized by wishbones, in combination with torsion bar springs and shock absorbers. This means the wheels maintain independent contact with the road. More precisely: potholes and rough spots which affect one wheel have no influence on the smooth running of the other wheel.
Also the rear wheels are independently suspended. They are stabilized by semi-trailing arms and sprung with longitudinal torsion bars and double- action hydraulic shock absorbers. Anti,roll stabilizers (standard equipment on the 911 S) are available as options); they provide for even better roadholding ability.
The wide-rim wheels and tires also contribute to Porsche's high-speed curving abilities. They reinforce the braking effect of the chassis substantially, absorb lateral forces and enable increased lateral acceleration.
In addition, these wheels (15 inches on all Porsches) have a greater circumference. The advantage here is a smoother ride on rough roads and longer life for tires.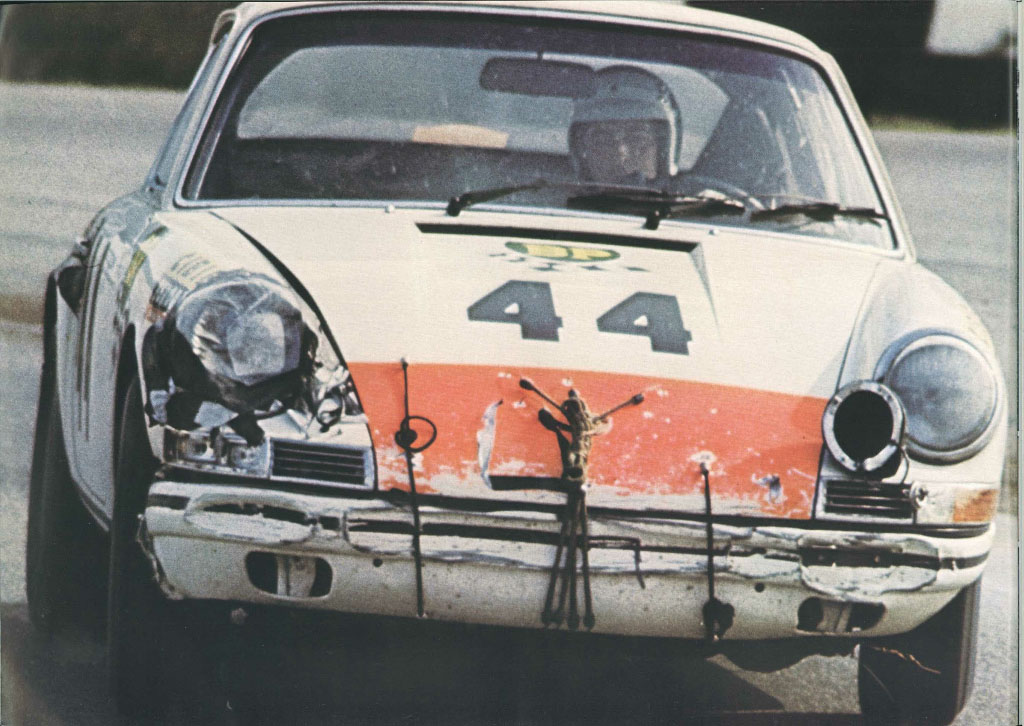 The Porsche 911 - outstanding performance matched with outstanding safety.
With a stronger engine it is easier to avoid critical traffic situations. The Porsche 911 S accelerates from 0 to 100 in 7 seconds and insures you of greater safety when passing. Even at speeds of 200 km/ h (125 mph) you still have a power reserve if you need it.
For safety, the braking time from 100 to 0 is just as important as the acceleration from 0 to 100: it takes exactly 3.2 seconds to come to a complete stop. Safety here is a dual-circuit braking system with 4 large-dimension disc brakes.
The ventilated discs insure optimum brake cooling. Even after repeated full-stop braking, they engage with the same force to stop you in the same short time.
The front apron of the Porsche 911 S functions as a spoiler. It reduces the up-lift of the front end at high speeds and increases stable roadholding.
In addition the safe-track and smooth, direct rackand- pinion steering allows you to react to sudden obstacles with a quick steering maneuver without fear of swerving.
Even on inclines and winter ice the optimum power transfer from the rear engine to the drive wheels gives the Porsche outstanding roadability.
Passive safety details to reduce danger of accident were equally as important as active safety in designing the Porsche 911: a large share of the impact force is absorbed by the self-supporting all-steel body.
It surrounds a torsionally-rigid passenger compartment. The front section is a deformable force absorbing impact zone. The safety roll bar of the targa version has all the stability and safety of a coupe.
For added driver safety, the 911 has a three-piece offset steering column. In a front-end collision, the upper and lower shafts bypass one another; the steering column is not forced into the passenger compartment.
Additional passenger safety is provided by the recessed steering wheel and the padded horn ring as well as the padded instrument panel with the deep recessed, non-glare instruments, smooth, padded or flexible control knobs and the laminated safety glass windshield.
All of these factors taken together make it obvious why, for many drivers, the Porsche 911 offers the greatest measure of safety, even in racing situations.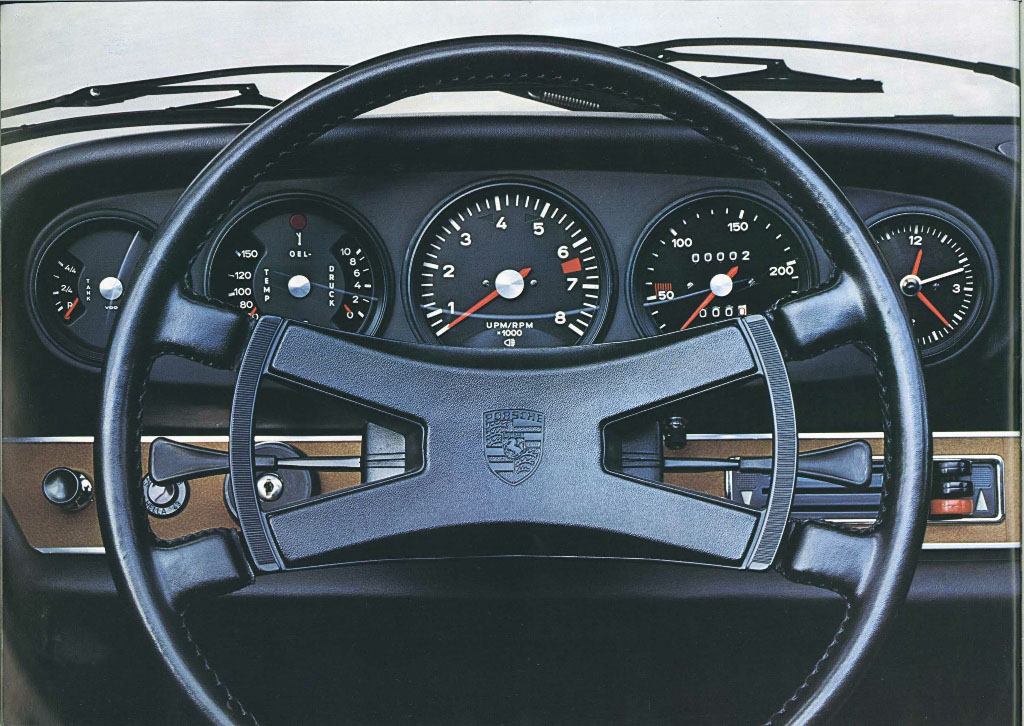 Comfort is not an "extra" in a Porsche.
With all the Porsche racing victories it is easy to forget that the vast majority of Porsches are driven in normal, everyday traffic, on business and weekend trips. Therefore we have designed the Porsche to offer at least as much comfort as an expensive sedan. And, with much more than one expects from a sports car.
The interior design and instruments are clean and functional. This means that you can reach all control elements quickly and effortlessly. For example - without taking your hands off the steering wheel or your eyes from the road - you can operate either of the two combi-switches on the steering column to control the three-stage windshield wipers, the windshield washing unit, the directional indicators, the headlight flasher and the dimmer switch. The glare free control gauges lie in the driver's field of vision: tachometer, speedometer with trip odometer, oil temperature and oil pressure gauge, oil reserve gauge and fuel gauge constantly report on the operational condition of your Porsche.
The Porsche 911 also offers many other details to make driving pleasant for you. There is the draft free ventilation unit with forced exhaust, the separate (for driver and passenger) ventilation and heating systems with a three-stage blower, the electrically heated rear window, an electric windshield washing unit, halogen headlights, back-up lights and an electric clock with elapsed time indicator.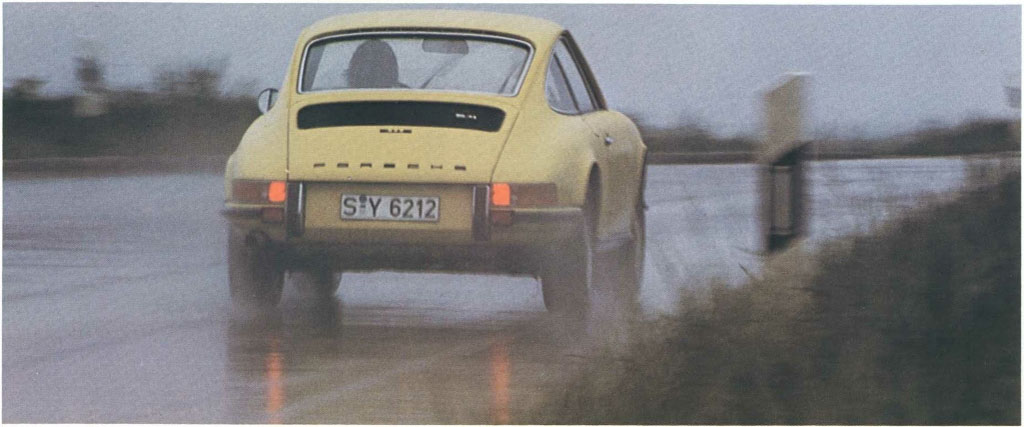 The width and depth of the Porsche interior have been designed to give the driver and passenger unencumbered free movement. The two anatomically-contoured front seats lie around the car's center of gravity. The shell form of the seats provides you with lateral holding so that you do not have to hang on to the steering wheel for support in sports car curves. Longer stretches of highway driving will show you just how comfortable the reclined seats are.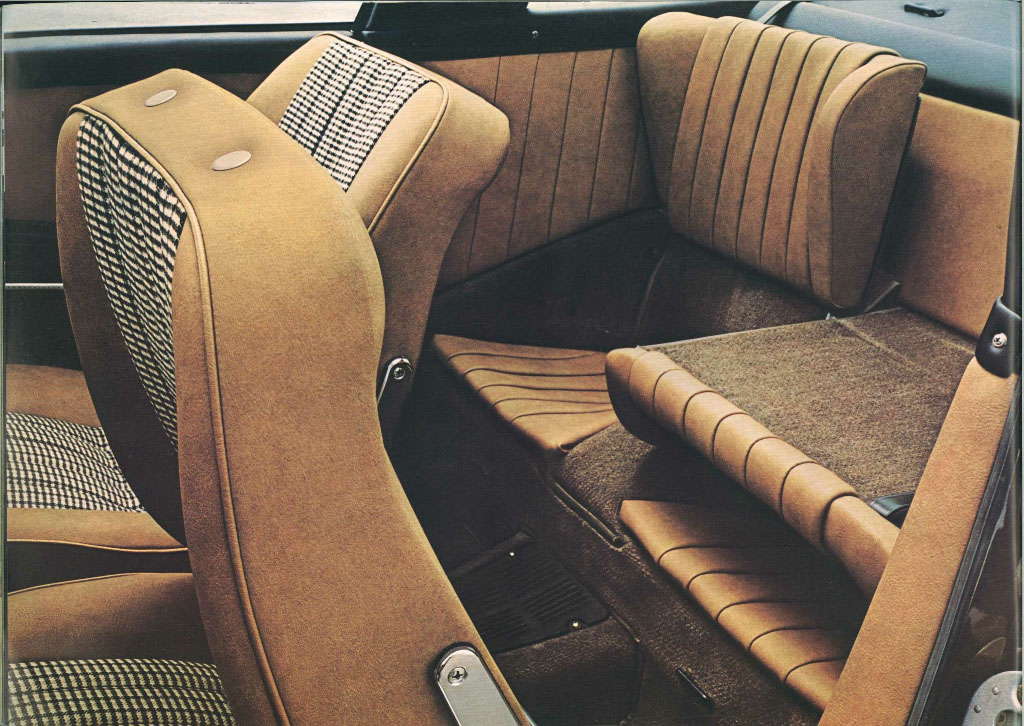 The 200 lifer (7.1 cu. ft.) luggage compartment can be more than doubled.
The space-saving front axle design takes up so little room in front that a wide 200 l (7 .1 cu. ft.) luggage compartment is possible.
It is completely lined with needle felt carpeting to prevent your luggage from slipping, sliding or becoming damaged on the edges.
The rear engine of the Porsche 911 leaves ample room for two jump seats in back. And if the front luggage compartment is not sufficient, you need only reach behind you and fold the jump seats down. You now have a rear luggage compartment with approx. 235 1 ( cu. ft.).
All told, as much luggage space as a middle class sedan. Very unusual for a sports car.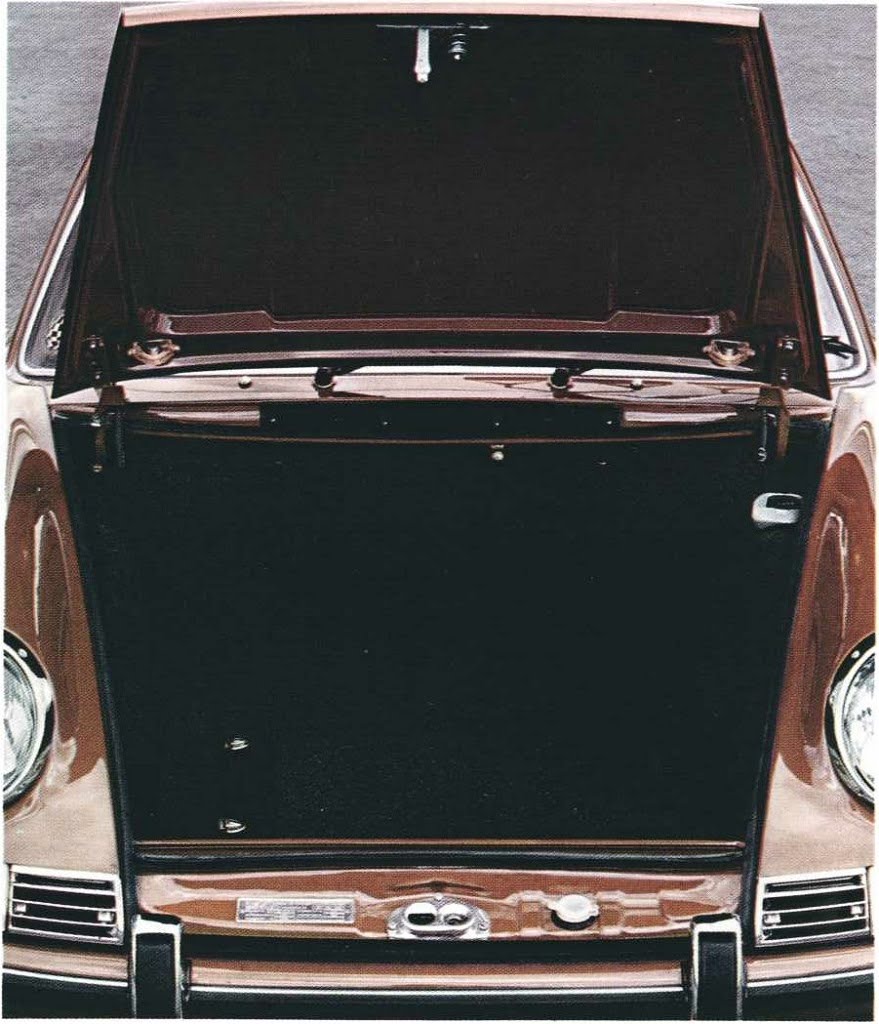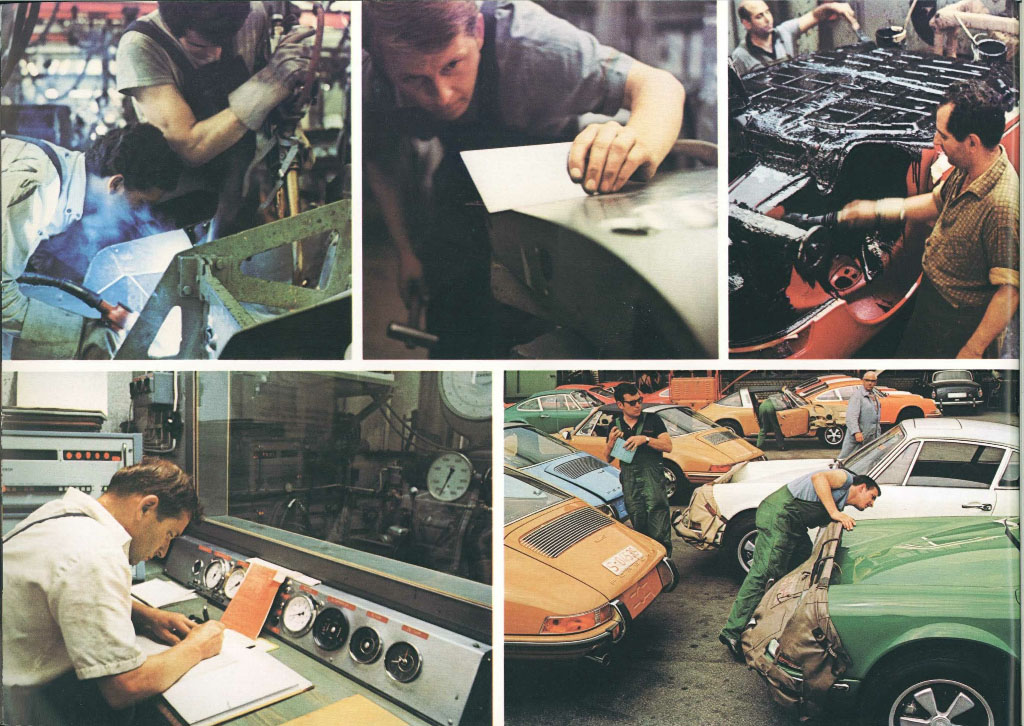 A Porsche is not new until it is 35 km old.
The more technically sophisticated a car is, the more carefully it must be tested. The Porsche has to pass a whole series of demanding tests before it is released for delivery.
We test the engine first. Before it is assembled, each individual part is carefully checked for quality. For example, the valves and camshafts are checked for weight, imbalance and tensile strength.
The reassembled engine is checked on the testing stand for power output, spark adjustment and fuel consumption. After all these tests comes the final and deciding test for the finished vehicle: by the Porsche test drivers.
Everything in the car is systematically checked for functional reliability on driving test stands and finally over a 35 km test course: engine performance, power transmission, chassis adaptation, steering precision, braking capacity, tire quality, et cetera.
But, Porsches already have the best test run behind them before they are even built - the race track.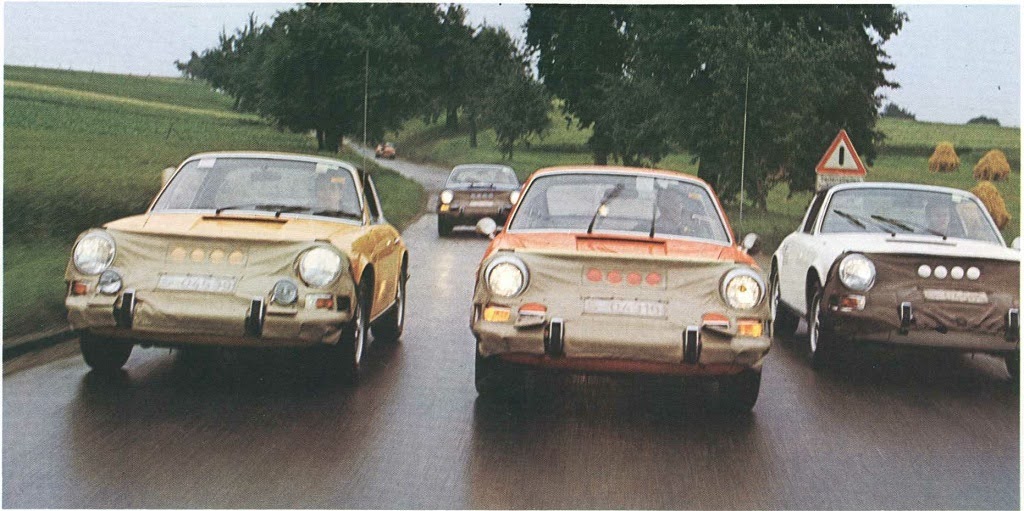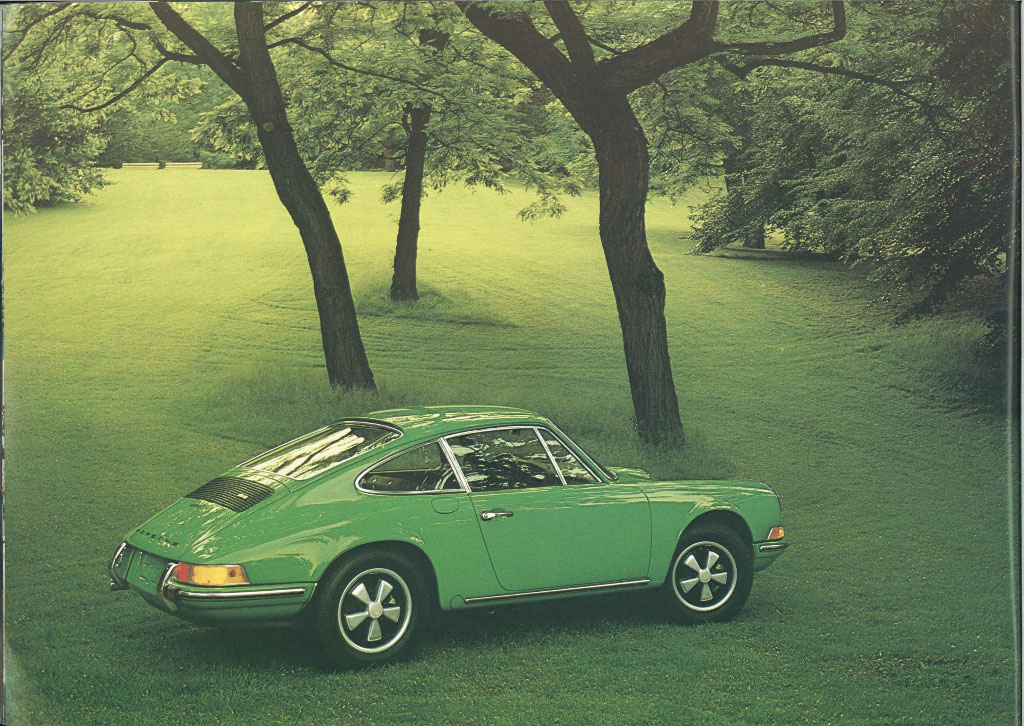 There are many more people who can afford a Porsche 911 than have the spirit for one.
If the acquisition of a Porsche were merely a question of money, many more drivers would be buying Porsche.
The reason they do not is that this car requires something more special than the multi-digit bank account: The sports car spirit!
For anyone who does not have the spirit, Porsche is still a beautiful car which leaves everything else on the road behind .. . but nothing more.
That the Porsche is more - perhaps a motoring world of its own - is shown by its technology, its performance data and its external appearance, all of which are perfected down to the seemingly least important detail.
But, you don't really know a Porsche until you drive it.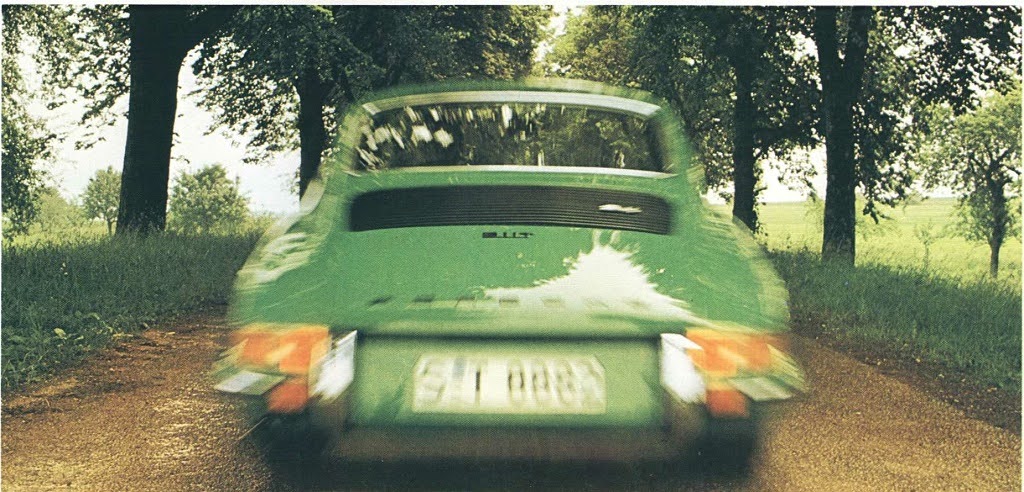 The Porsche Program
PORSCHE 911 T and 911 E
Body-Equipment
Rubber profile strips on the bumpers. Underside of body treated with PVC undercoating. Windows Laminated safety glass windshield; safety glass side and rear windows. Electric windshield washer unit. Three-speed windshield wipers (starting position return switch). Window wings in front (only on the »targa«). Hinged windows in back with burglar-proof lock (only on the Coupe) . Electrically defrosted rear window (with two-stage heater; tinted on the »targa«). Anti-glare interior rear-view mirror attached to windshield.
Interior Equipment
Four-spoke, hard-rubber steering wheel with recessed steering column and padded horn ring. Two padded sun visors; make-up mirror on passenger side. Lighted, folding ashtray. Cigar lighter. Adjustable front seats can be reclined. Hand throttle. Locking seat-back on passenger seat.
Armrests also serve as passenger support handles. Two storage pockets in door panels and sides of foot wells. Anchor points for seat belts. Synthetic-fiber carpeting. Heating and ventilation system with three speed fresh air fan. Draft-free forced ventilation. Hat shelf behind jump seats. Fastening clamps for luggage straps. Two flexible coat books on the roof frame. Interior finishing and upholstery: all models come with colored leatherette: black, brown or beige. Your VW-Porsche dealer will be happy to show you the various combinations and possibilities.
Instrumentation
Speedometer with total and trip odometer. Fuel gauge with reserve indicator light. Oil temperature gauge and oil pressure light. Battery charge indicators. Control lights for parking lights, headlights, blinkers and handbrake. Electric clock with elapsed time indicator.
Electrical System and Equipment
Two 12V / 36 Amp/ hr batteries and a 770W alternator. Halogen headlights. Two back-up lights. Infinitely variable instrument panel lighting. Luggage compartment lighted. Warning blinker system with control light. Glove box lighted (can also be used as reading lamp). Two interior lights. Lighted ashtray. Sport horn.
Exterior Finish
Standard colors: light ivory, signal orange, sepia brown, blood orange, bahia red, albert blue, light yellow, aubergine, viper green. Optional colors: a choice of 20.
Optional Equipment
By adding optional equipment, all models can be matched to individual tastes. Your dealer will be happy to advise you on extras. All models are delivered at the list price applicable on the day of delivery. The right to make design and equipment changes is reserved.
PORSCHE 911 S
The Porsche 911 S is distinguished from the Porsche 911 T and 911 E by the following equipment details:
Body-Equipment
Heavy-duty rubber profiles to protect the bumpers from damage during maneuvering and parking. Chrome strips under the doors. Light alloy bumper bracket. Front apron designed as a spoiler. Light alloy rims.
Interior Design
Four-spoke, leather-covered steering wheel with recessed steering column and collapsible safety rim. Velour carpeting. Aluminium running-board strips.
Instrumentation
Speedometer with total and trip odometer, tachometer, and oil temperature, oil reservoir and oil pressure gauges. Control lights for parking lights, headlights, blinkers, handbrake and warning light system.

The Porsche outdoes the average automobile not only in terms of performance, sportiness and technical perfection but, of course, also in price.
This is the reason why many people who dream of owning one must· dream a long time before they get their first factory-new Porsche.
However, why not shorten the waiting by starting with a second-hand Porsche? The risk involved with a used Porsche is often much less than with other used cars.
Also, through our world-wide service organization, we make sure all Porsches are maintained and repaired with the same perfection that is built into them.
Porsches are and remain rugged and reliable to an extent that can be expected from very few other vehicles. Let alone from any other sports car.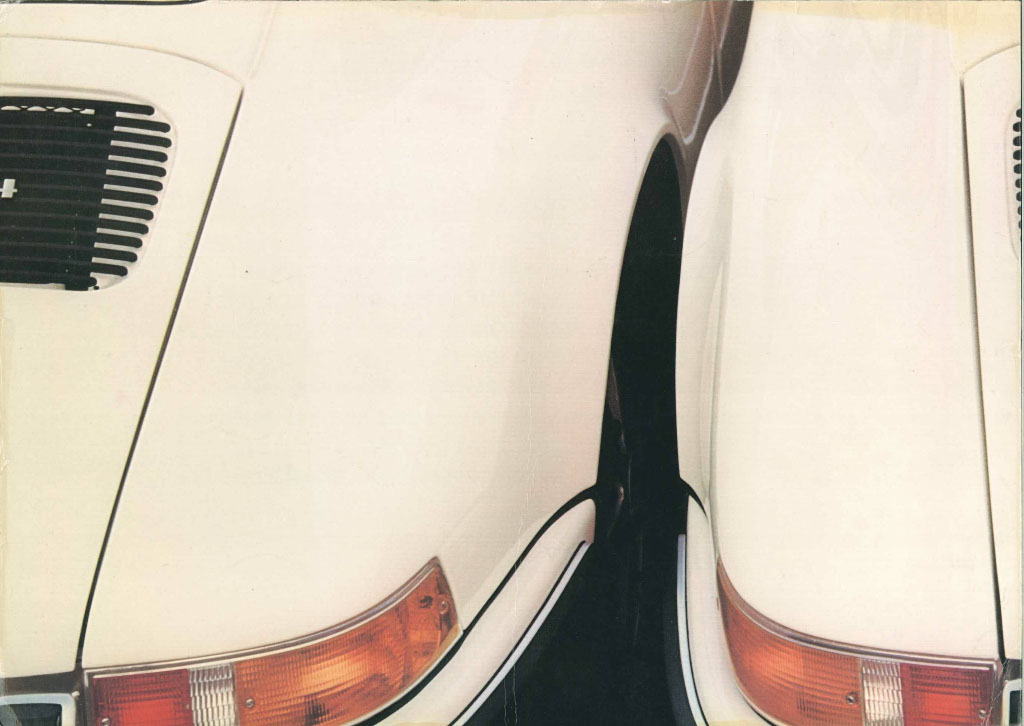 See also: