PORSCHE LITERATURE
1975 - Porsche 914 - USA
Brochure downloaded from website: Stuttcars.com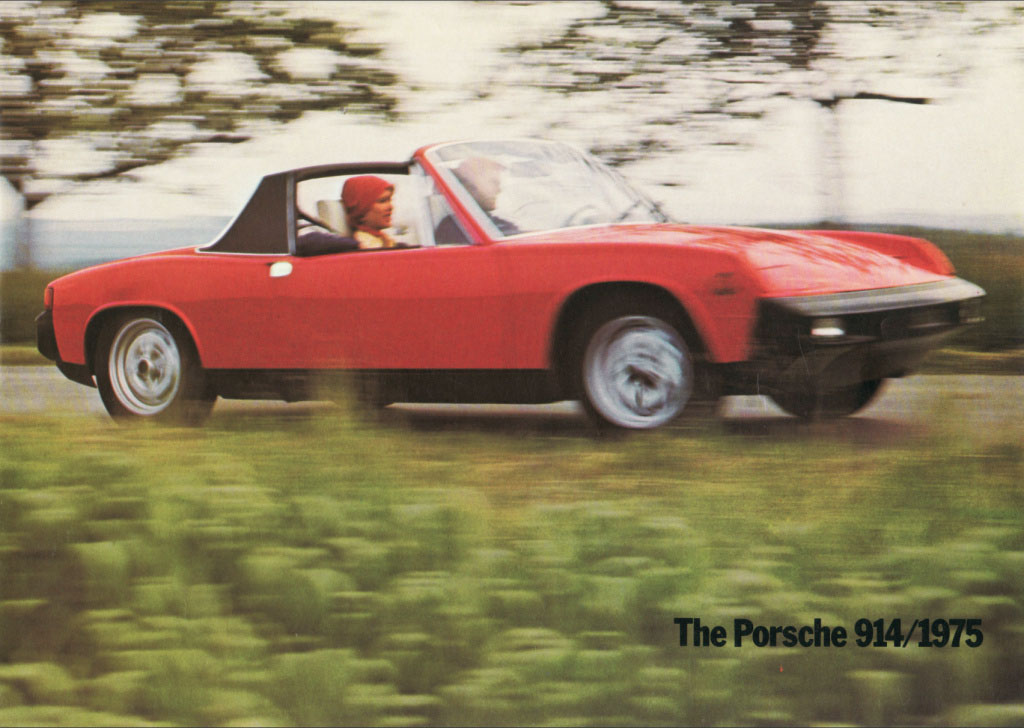 Porsche There is no substitute One thing we've learned to expect from racing is the unexpected. Mile after grueling mile can tell you a lot about how well a car handles. Or how badly.
For instance, after years of racing mid-engined. Porsches we learned that an engine in the middle makes a car extremely maneuverable. Lets you corner easily. Decelerate evenly. So we put a lot of what we learned at the track into a mid-engined Porsche for the street. The 914.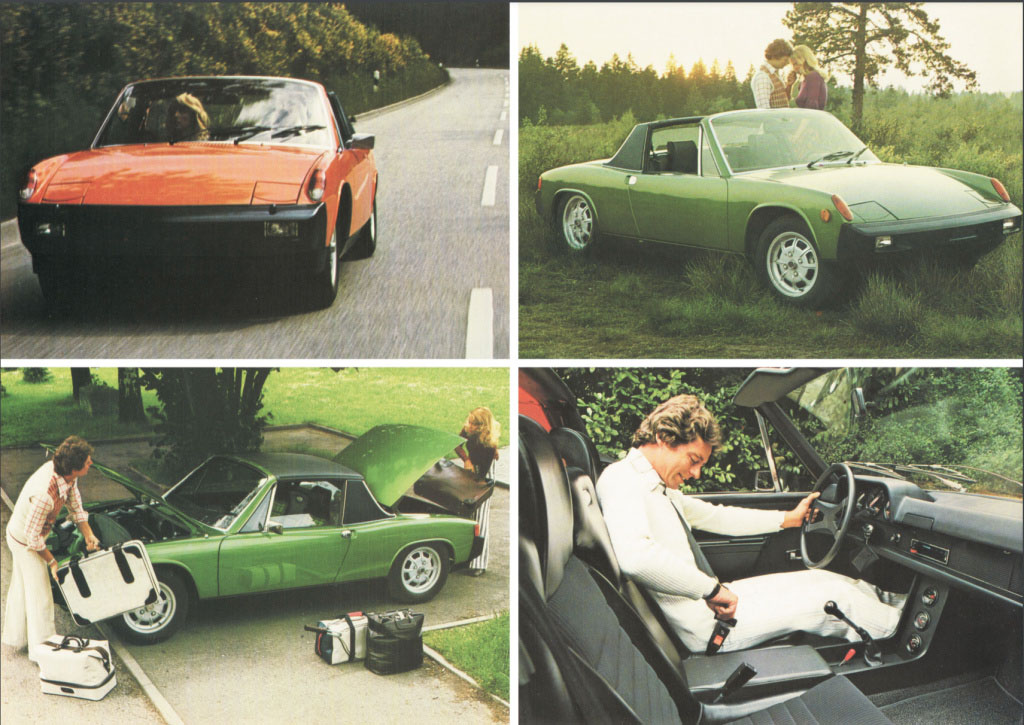 But beyond its many track features, the thing you'll probably like most about the 914 is that it's just plain fun to drive.
For one thing, it's very peppy. It goes from 0-60 in 12 seconds.Cruises all day at autobahn speeds. Its lightweight, air-cooled engine can't boil over or freeze up.
It comes with a five-speed gearbox. Electronic fuel injection. Rack-and-pinion steering.4-wheel independent suspension. And disc brakes on all four wheels.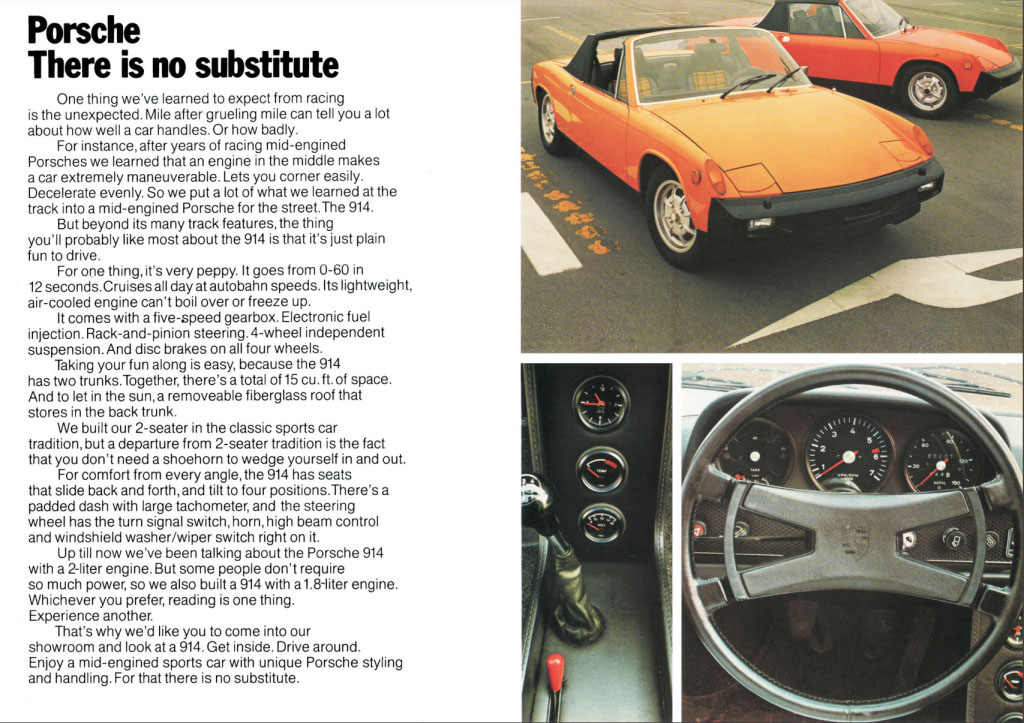 Taking your fun along is easy, because the 914 has two trunks. Together, there's a total of 15 cu. ft. of space. And to let in the sun, a removable fiberglass roof that stores in the back trunk.
We built our 2-seater in the classic sports car tradition, but a departure from 2-seater tradition is the fact that you don't need a shoehorn to wedge yourself in and out.
For comfort from every angle, the 914 has seats that slide back and forth, and tilt to four positions. There's a padded dash with large tachometer, and the steering wheel has the turn signal switch, horn, high beam control and windshield washer/wiper switch right on it.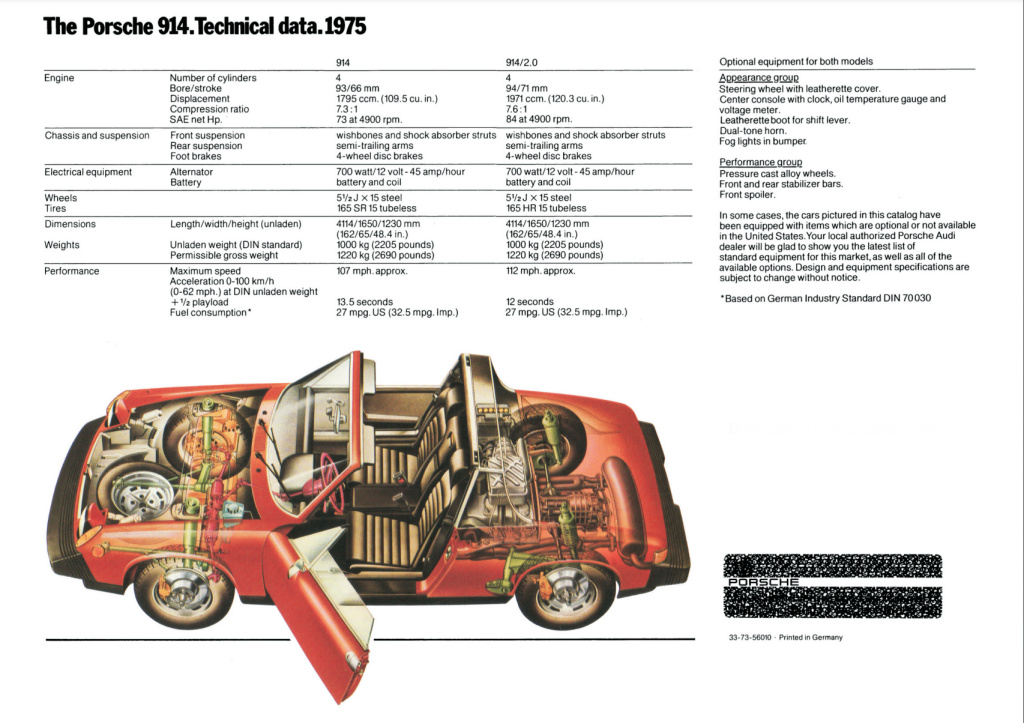 Up till now we've been talking about the Porsche 914 with a 2-liter engine.But some people don't require so much power, so we also built a 914 with a 1.8-liter engine. Whichever you prefer, reading is one thing. Experience another.
That's why we'd like you to come into our showroom and look at a 914. Get inside. Drive around. Enjoy a mid-engined sports car with unique Porsche styling and handling. For that there is no substitute.
See also: