PORSCHE PRESSKIT 1999 - Mountain Bikes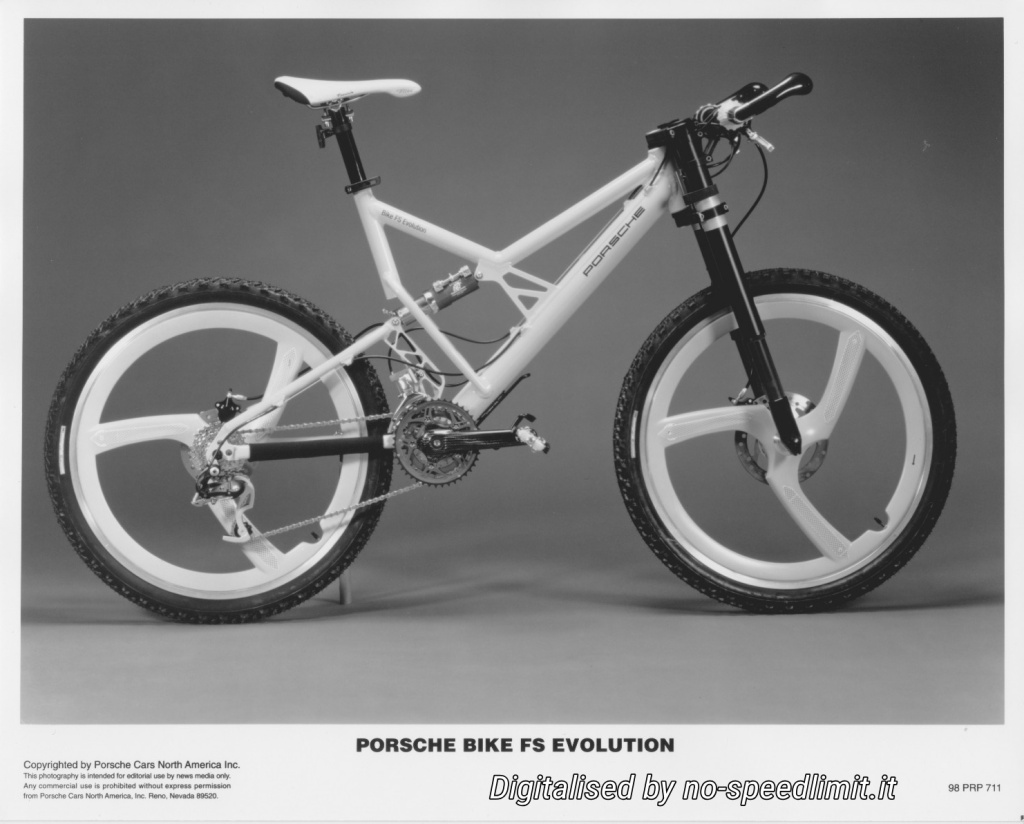 Content
In 1998, Porsche the car company offers three premium quality mountain bikes. Today, it is not unusual for a car maker to market bicycles. But just as Porsche's cars are unique, a bike bearing the Porsche name and crest is a very special machine, designed and built like no other.
Porsche chose Votec to build these bikes to meet Porsche's strict design and engineering standards. The Bike S, the Bike FS and the Bike FS Evolution ("Evo") are available in North America through authorized Porsche car dealers and Porsche authorized independent bicycle dealers. The Porsche Bike S, Bike FS and Bike "Evo" will appeal to customers who value the quality, performance and uncompromising character of Porsche sports cars in their pedal-powered vehicles.
Key features of Porsche bikes:
long-travel front fork
unique head design
hydraulic brakes
-rim-acting brakes on S
-Harge disc brakes on FS and "Evo"
lightweight design
top-grade components, design and workmanship
Just as Porsche sports cars use the finest engineering, materials and workmanship available, the Porsche Bike S, Bike FS and Bike "Evo" employ design features found in no other bikes. They include the finest components, primarily from Germany but also from Italy, France, Switzerland and the United States. The "S" of Porsche Bike S stands for "suspension" (telescoping front fork), while "FS" represents "full suspension" (front and rear).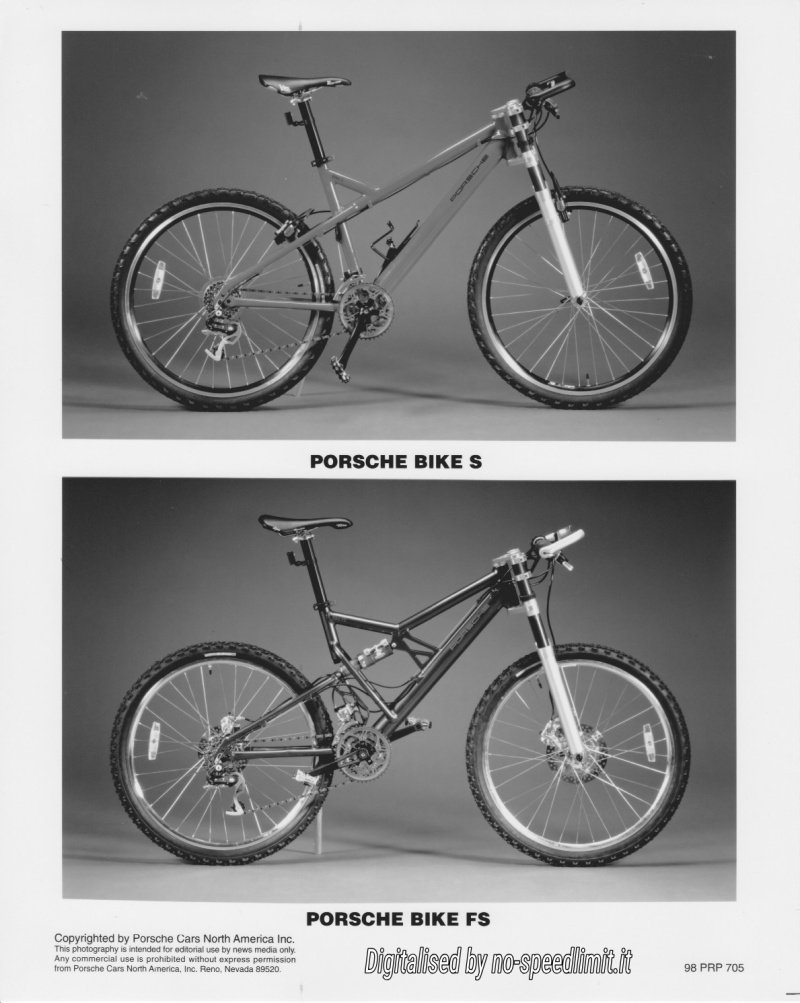 Suspension
The most prominent feature of Porsche bikes is their front fork design. The Motorcycle-inspired Bike "Evo" uses a Votec USD fork inspired by standard motorcycle design. The Votec GS 4 front fork shared by Bike S and Bike FS also draws heavily on motorcycle technology. This comes as no great surprise. Votec is a small specialist shop located in Tiefenbronn, near Porsche's Weissach research and development center. Its owners, Peter Voitel and Jürgen Steiner, called on their extensive motorcycle experience in designing mountain bikes. To them, nothing but a motorcycle-style fork made sense.
These unique front forks employ large closed-cell elastomeric foam spring elements. Motorcycle-style triple clamps join the forks to the head tube. The 35 mm stanchion tubes are finished with a low-friction coating. Elastomeric springs provide precise control of front wheel motion, with longer travel than is available in conventional mountain bike fork design (typically only 45 to 70 mm fork travel). The Porsche bikes have a surprisingly long fork travel of 80 mm (Bike S) and 110 mm (Bike FS and Bike "Evo"). Fork travel can be extended to 130 mm for Bike S and Bike FS and 140 mm for Bike "Evo" by removing rebound elastomers. The elastomer/spring stacks can also be fine-tuned to match rider weight. An optional oil-filled shock absorber cartridge is planned as an upgrade in the future.
A maintenance-free headset integrated in the triple clamps employs high-grade, sealed cartridge-type ball bearings. Thanks to its rigid tubes and sturdy triple clamps, the fork design is many times stiffer than conventional forks. And without added weight, it has the advantage of being nearly free of the flexing, sticking and binding so often found in conventional telescoping mountain bike forks.
Above the front fork, the handlebar assembly attaches by means of Allen bolts. The handlebar vario-stems offer three different clamping positions, providing adjustment in angle and forward reach. The entire assembly can be moved along the fork stanchions to change handlebar height. The upper triple clamp and handlebar vario-stems are CNC machined for light weight, high strength and a high tech appearance. The rigid, widely spaced handlebar clamping arrangement adds to the fork stiffness.
The cantilevered rear suspension arm of the Bike FS and Bike "Evo" has a low-mounted pivot, near the crank, to ensure neutral power transmission characteristics with minimal pedal kickback. The rear oil/air shock and suspension unit is an American-made Risse Astro unit. At 120 mm, rear arm travel closely matches front fork travel. Rear suspension air pressure can be adjusted by a small air pump (included with Bike FS and Bike "Evo") to alter its spring characteristic. Adjustable oil valves handle shock absorption tasks.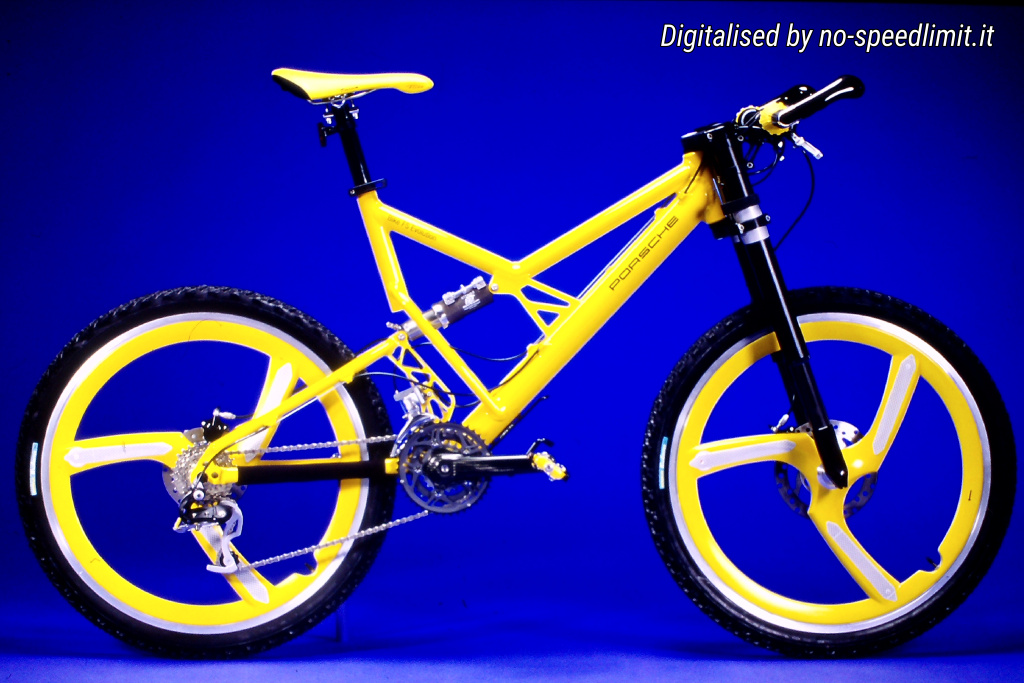 Frames
Porsche's decades-long tradition of lightweight, high performance sports car design has been carried over to its mountain bikes. The frame concept employs a large, strong 60 mm downtube and visually striking frame design. The traditional diamond frame has been replaced by a new shape, combining high torsional stiffness with extreme functionality.
Like the forks, the frames of the Porsche Bike S, Bike FS and Bike "Evo" are made by Votec using SAE 7020 aluminum, "double-butted" (double thickness at the tube ends) and covered by multiple layers of tough, scratch-resistant powder paint.
The rear swing arm of the full-suspended Bike FS is extraordinarily rigid, with four tubes and two CNC-milled trusses forming a stiff triangular structure. A pair of oversized sealed bearings in the frame ensures long, maintenance-free service for the rear suspension arm.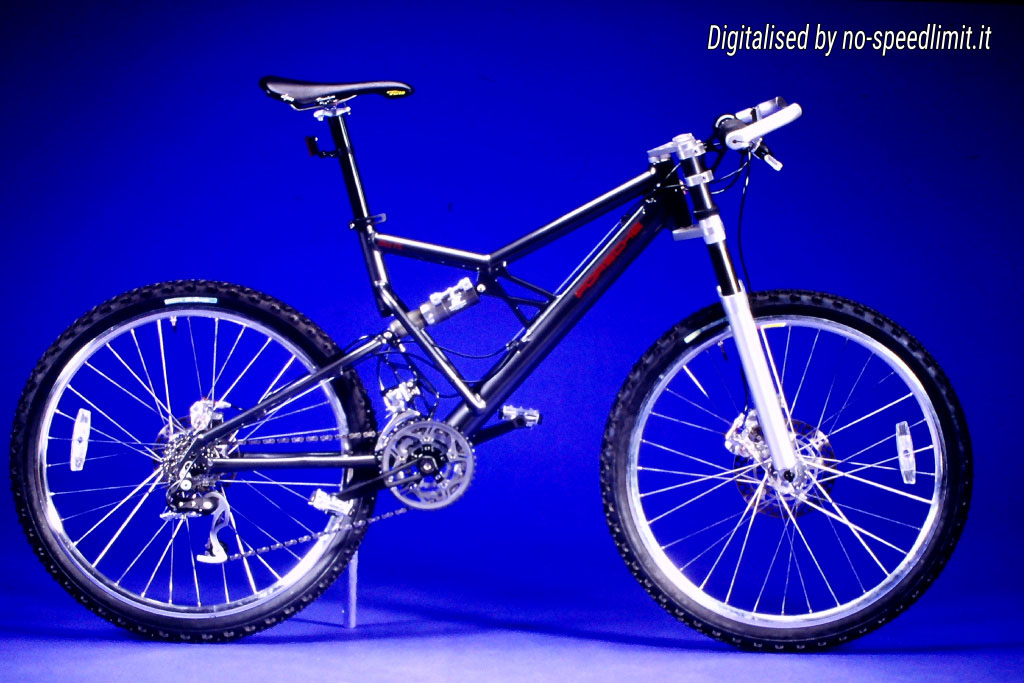 Pedals
The Bike S has conventional pedals. The Bike FS has two-sided pedals; one side is for normal shoes, the other side is SPD compatible. The Bike "Evo" has clipless pedals.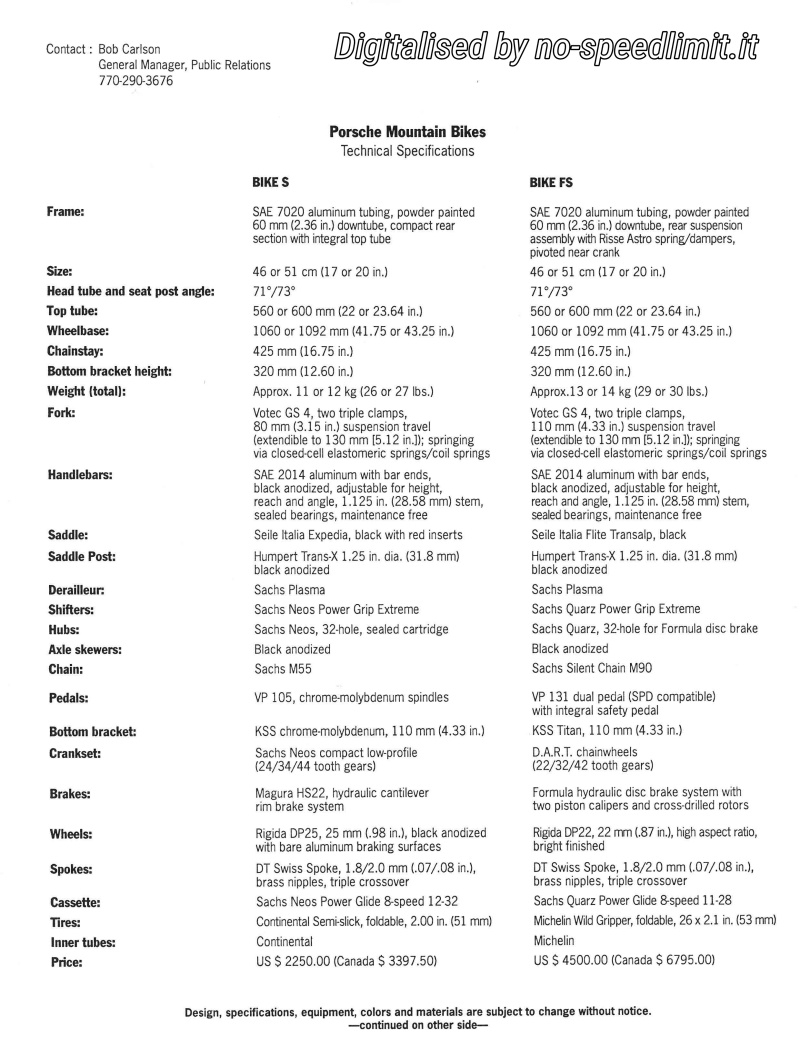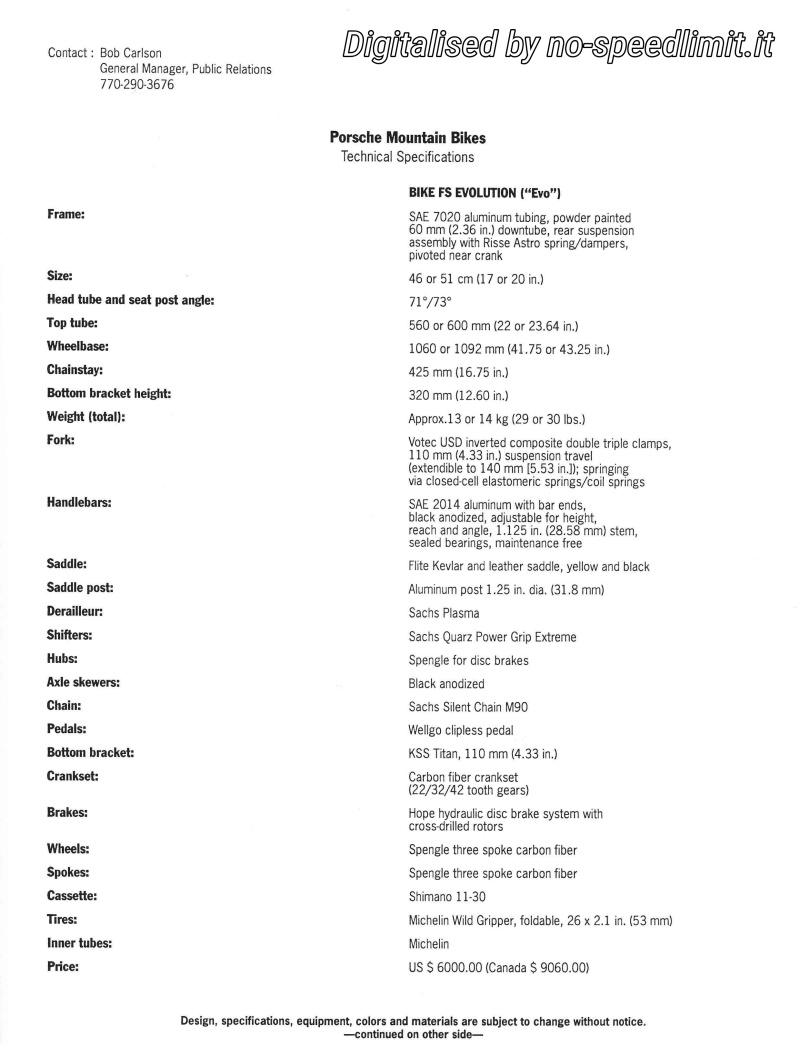 See also: